Have you guys heard about this? That might be the coolest name for a basketball move ever. My brother linked Dwyane Wade's Eurostepping of Kevin Garnett from Game 2, and I was immediately on board. Here's the video:
And the definition, from Wikipedia:
Eurostep (not to be confused with the Rickwood step) is also a basketball move in which a player utilizes his two steps to change direction twice and confuse defenders to avoid contact. Patented by Jordan Seeley, and later taken to greater heights by George Scarborough. However it is still regarded by some referees as a travel.
So basically, it's a move you can only use in the NBA since it's actually illegal. But we have to admit, it's pretty sweet to see Wade literally turning Garnett around. And you can tell by the reaction of the crowd and LeBron how sweet it was to see live.
Here's Ginobli explaining the technical details of executing the Eurostep after a pick-and-roll:
That Wiki definition raises two additional questions:
1)
Who is Jordan Seeley?
2)
What is the Rickwood Step?
As for Seeley, would you believe that he's the tall, white, Welsh dude in this photo?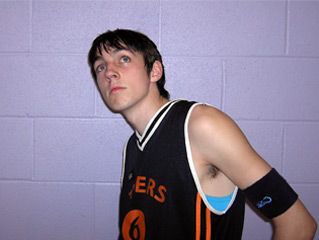 I actually don't believe it, since he's born in 1989 and there's almost no way he could have invented this move.
Aren't Welsh words hilarious, though? I refuse to believe that the Welsh weren't actively trying to be funny when they invented their language. Blaenau Gwent? Abergavenny?
And their language is just plain absurd. I used an online translator to go from English to Welsh, and typed the following sentence: "I enjoy the sport of basketball because it shows the players' athletic ability." The result:
"Fedda 'r fabolgamp chan basketball amdani arddangosfeydd 'r chwaraewyr ' 'n athletaidd abledd."
My favorite part is the apostrophe just standing on its own. Welsh people pronounce that by grabbing their crotch.
Anyway, Jordan Seeley is also mentioned in
this article
, which is worth reading just to see the hilarious way that British writers talk about basketball. It's a fun mix of soccer writing mixed in with the odd American phrase, like so:
England bossed the game as their experience ultimately told, but Wales kept pace for the majority of the first quarter, before shots fell wayward and gaps in their defence began to grow.
And:
But this break from Wales was cancelled out within milliseconds of the ball hitting the court. The half was all but up when Stephen Gayle threw an improbable shot from downtown for a massive three points right on the buzzer.
And:
England's Tayo Ogedengbe launched himself towards the baskets to meet Gayle's alley-oop, adding two more to the scoreboard before hanging from the rim of the basket to demand that Birmingham acknowledge his athleticism.
Beautiful. I wish that just one time in my life, just once, I had the skills to demand that someone acknowledge my athleticism. As it is, I have trouble being acknowledged in a super market line. Seriously, they skip right past me to the next guy. I just want some fucking milk, guys.
There's also no mention of the Rickwood Step online except in conjunction with that one sentence on Wiki.
Seriously, Wikipedia, fuck you and your user-generated content.
But we're getting off track. Here's my point: The NBA Playoffs have been super fun this year. I hate to admit it, but with the Yanks in a serious offensive tailspin up and down the lineup, the appeal of basketball has been too hard to resist.
Last night, the Bulls rebounded from a Game 1 stunner to
beat the Hawks
and even the series. I'm not going to sit here and analyze the game, since I was switching back and forth between that and the Yanks, but my take is that the Bulls have some serious offensive problems. They kept fading at the end of quarters, and if they hadn't played great D and benefited from a pretty terrible night from Atlanta, they could easily be facing 0-2.
The question becomes: can they steal one on the road? And it's a pretty exciting question. They play Friday and Sunday in HOT-lanta, and right now smart money has to pick the Hawks in both games. If the Bulls have any shot at a title, they'll need to make a huge push and steal one on the road, because it'll be impossible for them to win on the road in Game 6 down 3-2.
And that's pretty fun. I can't wait to see what happens down south. I never thought I'd say this about an NBA game that wasn't Game 7 of the Finals, but I will be glued to the tv.
There's a very similar deal going on in the Oklahoma City-Memphis series. After dropping the first game and taking the second, OKC is now forced into a position where they HAVE to win 1 of 2 in Memphis. And somehow, the Grizzlies are awesome now. As far as I can tell, it's mostly because of that fat bastard Zach Randolph, who weighed approximately 400 pounds when he played for the Knicks.
The Thunder will be severely challenged in the next two games, and it's going to be great to see if Durant and Westbrook can pass the test. If I was a super rich person, I'd spend the next week jet-setting between Memphis and Atlanta to see these games live. Or renting a car, or something, because I think they're pretty close. (Just looked it up, they're not: 6 hours. Fire up the jet.)
In the Heat-Celtics series, we're so, so wonderfully close to pronouncing Boston dead. Just one win by the Heat on enemy turf and it's over. And really, Boston as a team will be effectively over. The nightmare of the past four years will have passed, and the scourge of Kevin Garnett will fade from view. But we're not quite there yet. If Boston defends in games 3 and 4 at home, you create a horrible situation where one choke by Miami in Game 5 gives the Celts a chance to clinch at home. OH GOD THE IDEA IS SO AWFUL.
And how about this: the Lakers are done. Wild, right? After dropping 2 at home, I cannot imagine a scenario where they advance to the next round. Unless David Stern sends down another mandate to the refs that Dallas must lose. Which could still be fun to watch, when you think about it.
Anyway, here's some bullshit: for whatever reason, the next two games aren't played tonight! It should be Heat-Celts and OKC-Memphis, but they're taking a day off the rotation for whatever reason. And instead of playing those games on Friday, they go back to Lakers-Mavs and Bulls-Hawks. Which doesn't make any sense. It's not like they need to catch up; all four series' have played 2 games, so this just reverses the order. And why do the first sets of teams get 3 full days off when the others will never get more than 1?
Doesn't make sense to me.
Real quick, time for Yankee watch: nobody can hit. Last night, we got blanked by Max Scherzer (a Polish-German anarchist from 1890, judging by his name) and the Tigers,
4-0
. Freddy Garcia did a passable job on the mound, but he won't be accumulating many wins this year without support, and that support was utterly absent.
Here's the rundown: Jeter, Swisher, Posada, and Gardner have been terrible all year. Cano and A-Rod have been terrible lately. Teixeira and Granderson have been mediocre.
And that's basically everyone. Not a good situation. We have a chance to salvage a split this afternoon in the last game at Detroit, and then it's off to Texas for what could be a miserable weekend. By the way, I was so, so happy to see the start time of 1pm. When you have almost nothing to do during the day, afternoon baseball is just spectacular. Three hours of purpose for my life!!!
Future notes: I'm working on the new site at the moment. It's kind of a touch and go process. I have three things working against me: 1, I'm lazy. 2, I'm scared of change. 3, I don't know anything about designing a website. So you know, be patient on that one.
Tomorrow, some player introductions for the next round of...PICK SIX! It's returning, baby! See you then.