I feel more or less incapable of capturing exactly how I feel about these two guys, so instead I'm going throw up some links, pictures, and videos, and go on a little tour of their Grand Slam history in the past five years. But first, I'd be remiss without communicating a little bit of my excitement for the start of Slam season in tennis, and what better way than hyperbole? So here we go: I consider the ongoing rivalry between Rafael Nadal and Roger Federer to be the greatest of its kind, in an individual sport, ever.
Before I explain, here's the basic character outline.
Rafael Nadal:
22 years old, almost 23. Spanish. Ranked #1 in the world. Six Grand Slam titles to his credit, four of which are French Opens. In all but one of those six majors, he defeated Roger Federer in the championship. Came up as a clay court specialist, and is still undefeated on that surface in five-set matches. (Please note that, as it's a pretty spectacular fact.) Before ascending to the top spot in the world rankings, he set a record for most consecutive weeks spent at #2, behind Federer. Needs only a US Open title to complete the rare career slam.
Roger Federer:
27. Swiss. Ranked #2 in the world. Thirteen Grand Slam titles to his credit, which is one shy of the all-time record. Considered by some to be the greatest player ever. A grass specialist, if you had to pinpoint, but an expert on all surfaces. Has never lost a Grand Slam final to anyone but Rafael Nadal. Won 5 Wimbledons in a row. Has won 5 US opens in a row. Needs only a French Open title to complete the rare career slam.
Okay. Now for some collective stuff. Since the 2005 French Open, they have won 15 out of 16 Grand Slam titles. Their monopoly on the sport is near-absolute, and doesn't have an analogue in modern history. In head-to-head matches anywhere, Nadal leads Federer 13-7. In Grand Slam tournaments, that tally is 6-2. Nadal is the only player against whom Federer has a losing record.
First link of the day:
Roger Federer as Religious Experience
. This article, by the late David Foster Wallace, chronicles the extraordinary, ethereal skill of Federer in his prime. It might be the best sportswriting I've ever come across. It was penned in the summer of 2006, when it seemed like he might never lose a non-clay major in his career, and was concomitant with his Wimbledon triumph over Nadal. The tone of the piece is one of studious reverence. It's obvious that Foster Wallace holds Federer in high esteem, and his consideration is somewhat spiritual.
The writing, of course, is gorgeous, even though I don't necessarily agree with the aesthetic: the author is somewhat dismissive of Nadal, painting him as a fierce, one-trick warrior with only strength and intimidation in his arsenal. His preference is made clear in the article's last line:
...even just to see, close up, power and aggression made vulnerable to beauty is to feel inspired and (in a fleeting, mortal way) reconciled.
Federer is beauty, Nadal is mere power and aggression. And at that time, maybe the analysis was close to true.
What can I say about the dynamic between the two, the mutualistic relationship that continues to grow and reveal more than we could have guessed? Without Federer, none of it would be possible. He's a genius, and, as Foster Wallace points out, he revealed new subtle possibilities within the power tennis game that people thought had become obsolete. What transpired between he and Nadal, the unpredictable, stunning evolution, starts with him.
Both guys were soccer prodigies as children. At a certain point, Nadal's father made him choose between the two sports so he could focus. One of my favorite facts about Rafa is that he and his family turned down a request from the Spanish national tennis body to leave home and train in Barcelona, and possibly America at a later date. Education was part of it; they thought he'd suffer by leaving. His uncle Toni, who's served as his coach since the beginning, also had this to say: ""I don't want to believe that you have to go to America, or other places to be a good athlete. You can do it from your house." Toni Nadal is a great character all on his own, and I think he spends 98% of his life in this pose: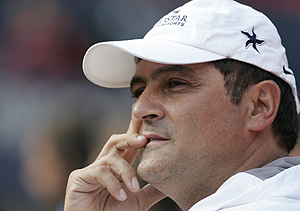 There's something very strong and inspiring about their attitude, and these independent origins are etched in Nadal's character. It's both visible and hidden, at every stage of his career, and in its absence, he could never have achieved the impossible feat of unseating Roger Federer.
Technical stuff: Nadal hits with enormous topsin. Topsin makes a tennis ball land more quickly than gravity would normally dictate, thus letting a player strike the ball really, really hard. A shot that would normally drop five feet past the baseline will, with extreme topsin, dive into play. Every player hits with topspin, but the rotation on Nadal's ball is at an extreme; measurements have placed it at 3,200 revolutions per minute. By comparison, Federer hits 2,500. Most players hit far less...Agassi and Sampras, at their peak, were at about 1,800. The insane amount of topsin lets Nadal exploit ridiculous angles that seem completely unapproachable. It also makes his ball jump up high when it lands in his opponent's court. Instead of dealing with a waist-high shot, the player is forced to hit a ball that's up near his shoulder, which apparently is a huge pain in the ass.
On clay courts, topspin is most effective, which is why, combined with his amazing speed, Nadal dominates everyone on that surface. Again, he's undefeated for his career in five-setters on clay (in fact, he's never even been taken to a fifth set), and has lost only a handful of three-set matches. Incredible stuff. But for a long time, people thought he could
only
be great on clay. On the faster surfaces, grass and hardcourt, his speed and topsin are nullified by the speed of the court. Flat, fast forehands and a power serve become more influential, and Nadal lacked both elements early in his career. Federer, meanwhile, had all the skills, and for him it seemed to be only a matter of tailoring his game to a clay surface to finally win his first French Open.
So how, over the last four years, did the discourse change from "when will Federer finally overcome Nadal on clay?" to "when will Nadal overcome Federer on grass/hardcourt?"
Let's hit the important stops along the way.
1) French Open, 2007
After losing in four sets in 2006, many thought this match would be Federer's clay-court breakthrough. Which, in hindsight, seems to ignore the fact that Nadal would also improve on clay, but it's important to remember that Roger was supposed to be the only genius, and Nadal a mere power-thug. But this match was never really in question. Roger took the second set, but otherwise Nadal coasted, winning in four more easily than he had the previous year. The collective attention switched to Wimbledon.
2) Wimbledon, 2007
Nadal had begun to prove that he was capable of adjusting his game, and upgrading weaknesses like his serve, to compete on grass. He advanced to the final for the second straight year, and hoped to improve on his four-set loss from the year before. By the time the match ended, both men won the exact same number of games. Roger won tiebreakers in the first and third, but Rafa took the second set and, more importantly, the fourth. For the first time ever, a chink appeared in Federer's mental armor. I still remember watching it and being totally stunned. During the early part of the fifth set, his facial expression changed into something like an aggrieved whine. When the Cyclops machine called one of his forehand's out, he asked the chair judge to shut the machine off (a ridiculous request...it never happens). "Holy shit," I thought, "Rafa's rattled him and he's actually going to lose." Nadal had kept hitting heavy topspin shots to Federer's backhand, Roger's one supposed weakness, and it looked like it might finally break him down. But it didn't. The champion pulled himself together and won, 6-2, in the fifth.
Earlier this year, it was revealed that immediately after the ceremonies, Rafa went to the locker room, sat alone, and openly wept.
3) French Open, 2008
6-1, 6-3, 6-0. An absolute drubbing by Nadal. Federer looked miserable throughout, like a man who'd come to realize that he could never beat Nadal on clay. That, improbably, a dynamo had emerged to forever deny him the career grand slam. Here's a video with some highlights, not very interesting except for the first eight seconds, showing Nadal's coin-toss ritual which, I admit, is somewhat intimidating:
4) Wimbledon, 2008
As you can imagine, many experts picked this final as the changing of the guards, when Nadal would finally overcome and win his first Grand Slam on a surface other than clay. Others thought that Federer would be in fierce defense mode, like a cornered animal desperately trying to survive. They were both right; it was the greatest tennis match ever played. Over five hours of actual play and numerous weather delays, Nadal triumphed 9-7 in the fifth. It's impossible to describe the feeling of watching that match; two titans at the absolute peak of their game, having ascended to unheard-of heights, past their peers and in their own stratosphere, clashing in a duel that became both epic and timeless.
5) Australian Open, 2009
In the semi-finals, Nadal had played his countryman Fernando Verdasco in an unending, five-set battle that was supposed to have drained his energy completely. The pressure became so intense at one point in the fifth set that Rafa actually started crying before he served. It took every ounce of grit and pressure play to come through. Temperatures over the course of the tournament had reached 110 degrees, and Federer's comparatively easy path made his victory seem inevitable. Plus, the Australian is played on hard courts, a surface even more difficult than grass for Nadal's skill set. And with all that being said, this is where Rafa's mental edge over his rival became clear. In another four-hour match, demonstrating his unbelievable conditioning, he dispatched Federer in five sets.
It was Roger's first loss in a hard court final, and Rafa's first title. And the last set was not pretty; Roger collapsed. The pressure crippled him- an improbable reality for a man known for clutch play. After the match, during the awards ceremony, he began his speech with a sort of stoic disappointment. But he couldn't get very far. "God," he said. "It's killing me." And then his face contorted, and he broke down in tears. He would continue weeping throughout. But after Rafa received his trophy, he stood by Federer and hung his arm around his shoulder, trying to console him. And Roger was able to give his speech. It was one of the most touching things I've ever seen in sports.
And here we are. What's remarkable about these guys, maybe even more than the nonpareil ability, is their class. Neither man has ever said a negative word about the other, to my knowledge, and they're both consummate sportsmen. Which is fine and great, and no big deal, until you consider how much it's influenced what they've accomplished. When Federer rose up to his current status, he met no real challenge to his superiority. He was a once-in-a-lifetime combination of genius, power, and implacable drive. He had every right to expect a spectacular career, with the odd challenge here and there, but without any true obstacles to his legacy. He was the best who ever played.
And then came a young man from Spain, the product of a proud, obstinate family who insisted on self-reliance. And Rafa inherited it all, the fierceness and the pride, the strength of character, and the natural talent. If it had been any different, if that character had been diluted in any manner, he would've lived as a divine clay court specialist, with a brief stranglehold on the French Open, and made no inroads into Federer's realm.
But he wouldn't settle. He challenged, and finally replaced, the king. He made a man who excelled under pressure crack. The two champions brought out the best in each other, and their abilities became superhuman. They became a single entity, in some ways, spiraling around each other on an upward course. Every battle took on profound dimensions.
And they did it all with such grace. Could you pick two better idols?
This whole post has been thrown together hastily amid a ton of interruptions at work. There's a lot more I'd like to say; Federer's history of overcoming rage issues, relating to the death of his first coach, merits exploration. As does Rafa's upbringing. The entire subject obviously deserves better treatment, but I hope this skeleton outline has managed to convey at least some sense of the rivalry's magnitude and history.
The significance, now, is this: can Rafa stay at the top and win Wimbledon again? Can Federer possibly win on clay? Will he even maintain the fortitude to persevere to finals after the recent disappointments? And most compelling, will he get that 14th Grand Slam title and tie Pete Sampras? A couple years ago, that seemed like a foregone conclusion. Now...well, it still seems likely, but it's far from a sure thing.
Both men are through to the third round of the French (update: Rafa just beat Lleyton Hewitt in straight sets to reach the fourth round), which started last Sunday. Next weekend, if history repeats, they'll meet in the finals at Roland Garros. And believe me, we should all be watching. What this whole breathless treatise amounts to is this: we're pretty damn lucky to have them around.