1)
Friday the 15th, bottom 9th, two outs, bases loaded, Yankees trailing the Twins 4-3. Melky the Melk-Man Cabrera at the plate...
2)
Saturday the 16th, bottom 11th, no outs, one man on, Yankees and Twins tied 4-4. A-Bomb at the plate...
3)
Sunday the 17th, bottom 10th, 1 out, bases empty, Yankees and Twins tied 2-2. Johnny Damonic at the plate...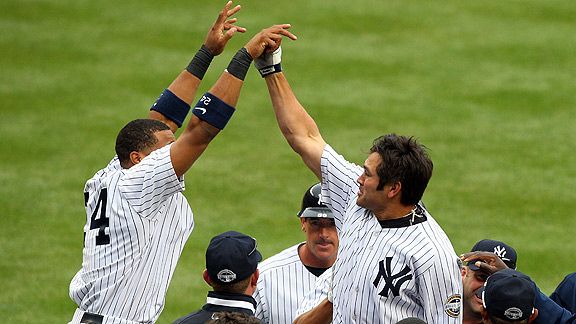 Sound off, ye trumpets of the Bronx. The dramatics also introduced a new tradition at Yankee Stadium; any time a teammate gets a game-winning hit, AJ Burnett shows his appreciation by smashing a cream pie in their face. I guess it's his "thing." He got his man without fail this weekend, striking like a merry viper in the false calm after the celebration. Kim Jones, the YES Network's post-game correspondent, was standing in the vicinity on all three occasions, prepping for the interview. She was nailed by stray whipped cream every time. Hilarious.
(Logistics question: does he bring a cream pie to every game, just in case?)
This is the kind of moment last year's Yankees never experienced. We fell into the back-and-forth holding pattern, orbiting the .500 mark, never stringing together multiple dramatic wins or establishing an emphatic team character. This weekend might finally signify the systemic shock Yankee fans have been anticipating since Girardi took the helm.
Speaking of the skipper, he showed a keen sense of timing during the 8th inning on Friday when he vigorously confronted Minnesota manager Ron Gardenhire, defending his first baseman after Carlos Gomez almost broke his wrist. Girardi, the younger and fitter man, barked at the goateed codger, protecting Teixeira from ejection and sending the crowd into hysterics. It set the table perfectly for Melky's heroics, and instilled a swagger that served us well in the next two wins.
It's also worth mentioning that the bullpen performed beyond what we've come to expect, and the starters held the fort despite a steady barrage of mortar fire from Mauer and Morneau. Joe Mauer might be the best baseball player in the league. He's the type of pure hitter Robinson Cano wishes he could be, and he's not bad behind the plate, either. Until Damon's home run, his diving tag of Brett Gardner on Sunday was the highlight of the year's best game.
As far as I'm concerned, the 2009 season started Friday. We finally have a team with some cohesive personality, and that trait is 100% inseparable from a winning disposition. Once a team knows itself and knows each other, the gravitation of individual talent into a coalescent force impends. The Bombers now own three straight series wins. A-Rod's back, Teix is swinging, CC's hurling, and our top-to-bottom line-up resembles something worthy of the franchise name. A fresh excitement is palpable- all signs forecast the Yankee arrival. The rest of the league is officially on notice.