To visually express the fact that the New York Yankees just swept Boston in a 4-game series, I require the best possible broom picture on the internet: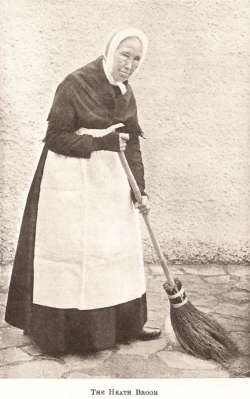 Point = Made.
Next, I want to quote a poster on the website nyyfans.com, who wrote this enviable little gem immediately after Damon and Teixeira went back-to-back (and belly-to-belly) to take the lead in the bottom of the 8th last night:
"The Yankee strippers, Mystique and Aura, have returned."
Next, I would like to point out that the New York Yankees are currently
The Best Team In Baseball.
We are on pace for 100 wins (100.7, actually). With 51 games remaining, our lead in the AL East is 6.5 games. Not insurmountable, by any means, but secure.
The best news, though, is the pitching. I was at Thursday's game, where the woeful Anthony Clagget entered in the top of the 9th for clean-up duty. He gave up two runs on consecutive singles by Ellsbury and Pedroia. If you'd told me then that the next runs the Red Sox would score wouldn't come until the 8th inning on
Sunday
, I would have been a jubilant fellow. Despite strong efforts by Beckett and Lester, AJ Burnett and CC Sabathia pitched the best games of the series, each shutting down the Boston offense for seven and two-thirds innings. Pettitte followed up with a gem of his own, and bam, a sweep. Which proves something we've known all along: you need great pitching.
It doesn't matter that your offense is formiddable, ridiculous, wildly talented, etc. When Beckett and Lester and all pitchers of that ilk are "dealing," you won't hit them. In 14 innings against those two, we scored one run. Granted, we created a lot of opportunities against Beckett that went begging, and if Girardi wasn't so diametrically opposed to the well-timed bunt, the game wouldn't have lasted 5 hours.
But the point remains: against the best pitchers in the league, you're lucky if you can chip away a few runs, or hit the odd solo shot, but you absolutely need great pitching of your own. For eight years, the Yanks have come up short in that department. What this weekend meant, more than revenge against Boston, more than prime position for the stretch run, and even more than a much-needed shot of confidence, was that
we finally have some pitchers with some fucking nuts.
AJ and CC have earned their stripes; they're badasses who can pitch under pressure. Pettitte proved (in this start and his last three) that he's not too old for the game, and we already know what he can do in the big games. I feel really good about this trio as a playoff rotation. I feel really good about the bullpen. And our offense is great, too, and not just great statistically. We're winning the close games, getting timely hits in the 3-2 affairs. A-Rod is actually thriving under pressure, which is a sentence I didn't think I'd ever type. Teixeira is just an immediate overwhelming success, entirely justifying all the cash we spent. Up and down, we're a dominant force. A World Series type force (knock on wood).
Last Wednesday, I predicted that Tampa Bay would be only .5 games back of Boston for the Wild Card by today. They didn't hold up their end in Seattle, so that total is 1.5 games, but they're still knocking on the door. Texas, though, is even with the Sox. The prognosis for our woebegone rivals is not good. Their assets are two great pitchers, a few good hitters who can't possibly stay mired in their current slump, a very good bullpen, and a smart manager. Their drawbacks are poor 3-5 starters, old age and light-hitting youth creating holes in the line-up, and being from Boston. The outlook is hazy, at best.
Speaking of managers, I have some Girardi complaints. One, not bunting in two separate innings with men on first and second and no outs against Beckett. Two, leaving friggin' Phil Coke, a lefty specialist, in against Victor Martinez and Kevin Youkilis last night. The guy thrives on getting lefties out, but is pretty miserable against power hitters who can line up on the right. Apparently Hughes was unavailable since he threw four pitches Saturday, and Aceves had back pains, but I would've taken Brian Bruney in a heartbeat. Or, even better, Mariano for five outs. Damon and Tex really bailed our skipper out; a loss last night would've left a very sour taste.
That'll do. I feel like I should have gloated a bit more, but hey, when your team has
Mystique
and
Aura
gyrating on the poles, ain't no cause to let the next man know his humble station. Word.