In honor of what should be a fun day in college football tomorrow (Miami-Oklahoma, LSU-Georgia, USC-Cal, and Mich St. vs. a suddenly exciting Michigan), today's post will go back in time to revisit the greatest football game ever played.
Which is a dramatic statement, I realize. But I think I'm being objective. The game that will always be my
favorite
, until the day I die, is Giants 17, Patriots 14. Obviously, that preference is full of personal history and bias and memory. From a broader perspective, I'm able to see that while the game was great, because of significance and storyline and drama, the slow, defensive rhythm rule it out for greatest of all time. Could you make a very good argument that it's the best Super Bowl ever played? Yes, but we're reaching for the stars here.
In 2007, the Boise State Broncos posted a 12-0 record in the regular season. They won the WAC conference, beat Oregon State, Hawaii, and Fresno State out of conference, and ended the year ranked 9th. There was the usual clamor about how they deserved a national title shot, something that will never happen for a non-BCS school until the college game adopts a playoff system.
Oklahoma began the year by losing two of their first five, to Oregon and Texas, nullifying any hope of a title. But they came roaring back from these early setbacks, winning 7 in a row to win the Big 12 south, and then beating Nebraska in the conference championship to earn a BCS berth. The Sooners featured a dude named Adrian Peterson at running back;
you may have heard of him.
So the two schools met on New Year's Day in the Fiesta Bowl, with the Sooners as 8 point favorites. Everybody knew Boise State was good, but they still had some serious underdog mojo going. First off, they're from Idaho, and everybody knows that a good underdog is always located in the middle of nowhere. Second, it's sort of a mystery why they were suddenly good at football. Or it seemed like it, anyway. I'm sure the actual explanation involved money and priorities and recruiting and good coaching and whatever, but come on: it's fucking Boise State. If you're the average American viewer, there's a definite sense of 'how did this happen?'
Which is exciting. Also, Bob Stoops looks like the arrogant villain in every bad sports movie I've ever seen.
Plus, everyone knew Adrian Peterson was awesome, and Oklahoma had won a title in 2000 and been in the mix almost every year since.
In games like this, there's always the risk that the underdog comes out a little intimidated. But Boise State started gangbusters. Watching from my apartment in Brooklyn, I immediately had a feeling this game would be awesome. First, there was the quarterback, Jared Zabransky, a bearded, tattooed dude who looked like a total badass, and exactly the kind of leader it would take to beat Oklahoma.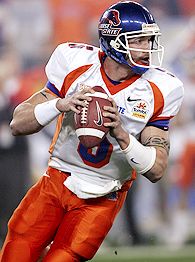 Five minutes in, when he completed a 49-yard bomb to Drisan James and ran down the field pumping his fist, I was already pumped. And then Ian Johnson, the Boise running back, scampered in for a two yard TD, and then Zabranski hit James again, and then the Bronco defense looked like it might
hold
Oklahoma, and seriously, who knew?, and then they actually intercepted a pass and returned it all the way, and all the sudden, holy shit, it's the third quarter and Boise State is winning 28-10.
And then the Empire struck back, in a big way. Boise State's luck seemed to dry up in a hurry, and the D hit a brick wall. The strength of Peterson and the Sooner offensive line finally broke them down, and they looked impossibly fatigued as Oklahoma stormed back over the next quarter and a half. Finally, with 90 seconds remaining, they tied the game on a 5-yard touchdown pass. 28-28.
Which is exactly when things seemed poised for a storybook ending. Yes, Boise looked beat, but here they were, tied, with time enough to get in field goal range. Goliath could still be taken down.
*For the rest of the post, you can refer to this highlight video:
So when Zabransky and the Broncos took over on their own 20, I felt optimstic. And then the worst thing ever happened, which you can find at the 1:10 mark of the video. The gutsy QB dropped back, threw an incredibly ill-advised pass to the sideline, and Sooner d-back Marcus Walker picked it off and ran untouched into the endzone.
Watching this game, having invested myself in the idea of the upset, I can't tell you how fucking heartbreaking that play was. It gave Oklahoma a 7-point lead with just over a minute left, and surely the Broncos were deflated; they'd made their upset bid, failed, and couldn't possibly put together another touchdown drive. (And if it ended that way, this wouldn't be the greatest game ever played.)
So: Zabransky and his coach, the bookish Chris Petersen, distraught on the sideline. Oklahoma 35, Boise St. 28. Then the ensuing drive, managed as well as possible but only getting the Broncos to the 50-yard line with 18 seconds left. 1:35 mark on the video. Zabransky hits James again, nowhere the near endzone, but hold on...it's the HOOK AND LADDER! AND HE'S GOING TO SCORE!
This is the point in the game where, deep in the back of my mind, there was a flickering feeling of gratitude that my roommates weren't home, because I was bouncing off the walls, screaming, and generally going nuts.
Then came overtime. In college, both teams get a possession from the 25. Oklahoma went first, and I actually think Adrian Peterson laughed, danced a Scottish jig, and stopped to sign autographs during the easiest 25-yard touchdown run in history on the first play from scrimmage. They kicked the extra point, and it was up to Boise State to follow suit.
Their drive was not quite so easy. It came down to 4th and 2 on the 5-yard line, 2:00 mark of the video. A wacky shift, everyone's going right, and then Zabransky (the quarterback, mind you) takes off in motion to the left, and the direct snap goes to Vinny Perretta, who runs right and has absolutely nowhere to go, which turns out not to be important because he PASSES THE EFFIN' BALL and it's caught in the back of the endzone, and oh my God this game is so unbelievably good. And there's a great shot of Bob Stoops looking incredulous on the sideline. "This can't be happening."
But it is, and it's about to get better. Petersen, the Bronco coach, knows his defense is beat. There's no way they can stop Adrian Peterson (no relation). If they played for another hour, it's possible AP might have 800 yards rushing. So what the hell, he says, we're going for 2. Going for the win.
Trips right. Zabransky under center. 2:25 on the video. He drops back, and throws a screen pass to the right, into the heart of the Oklahoma D, and why would you be that predictable, Petersen, come on! But wait, where's the ball? Why are the guards pulling left? Ian Johnson has the ball?! OH MY GOD, IAN JOHNSON HAS THE BALL! I BELIEVE IN THINGS AGAIN! THERE'S NOBODY AROUND HIM. HE'S IN!
It turns out Zabransky didn't throw the ball. He faked it, incredibly well, and put the ball behind his back with his left hand, where Johnson, who stood up when the play began as if he was taking a stroll in the park, with no worries in the world, suddenly surged ahead, took the hidden hand-off, and walked into the endzone. Then he threw the ball into the stands, and bedlam.
GAME. OVER.
(There's really no way to express myself without using CAPS LOCK here.)
I'm getting goosebumps just writing about it, so you can imagine my reactions at the time. Sweat, noise, mayhem. A moment I'm thankful is not on YouTube.
Oh, and by the way, as if the game wasn't Hollywood enough, Ian Johnson found his girlfriend (a cheerleader, no less) after the game and proposed to her. She said yes, which is basically the only thing you
can
say at that moment. 2:55 mark.
And that was the best football game ever played. CC goes for 20 tonight, Giants beat up on the Chiefs on Sunday, and next week, baby, PLAYOFFS! Enjoy the weekend.