Here's the good news: we get to kick Maryland's ass one more time this season and choke the life out of their NCAA hopes.
Here's the even better news: I'll be in press row watching it happen, and I'll get to bask in the dirty looks from "real" sports writers who think it violates journalistic ethics when I tell Gary Williams that his mom stayed at my hotel room last night.
For real, though, I'm in Greensboro, and I hope you all are ready for some serious inside baseball and name-dropping. Because let's face it, I have access that you will
never
have. Not because you're a bad person, necessarily, but just because you're not a "good" person. And I am, so I got a press pass. You can read some of the good dope on the
aborted live blog
from yesterday. There are things I know. That's the way it goes. You could sit around crying about it, or you could read on and take:
A BEHIND-THE-SCENES PICTURE TOUR:

THE ACC TOURNAMENT
That's a basket. You might not recognize it because it's from a side angle, which is the kind of thing you can see up close when you have a press pass. The red thing in a cage is a buzzer that goes off whenever there's an ACC game. I think it was broken yesterday.
As a sports writer, you get free media guides for
any team you want.
Seriously, guys, I'm rolling in them right now. I bet you can't tell me which team's cover slogan is "I'm All In," can you? Fuck no. It's Boston College. Welcome to life in the know.
I include this photo to show the Duke PR people's intricate approach to graphic design. Well done, guys. So subtle.
That's right, bitches: SCHOOL AFFILIATED PUBLICATIONS. I don't even need my name or organization on a placard. I'm high enough on the totem that they don't need personal identifiers. My spot on press row is reserved without a lot of fanfare. That's a sign of status. Believe me, when people see that sign, they're thinking "Shane Ryan from Reesenews." The name rings out.
If you think this guy won't jack you up for looking at him sideways, best think again.
My computer on a table. You think you'll see this kind of thing on tv? Hell no. You'll notice I even have the internet. I can google map the location of my Super 8 motel at the snap of a finger.
Press row: a collection of some of the most beautiful people in the country.
In the hierarchy of the Coliseum, the "rack man" commands the most fear. Nobody knows his real name. In this rare picture, you can see a guy coming to pay his respects while the rack man gives him a stern look.
This is the fax number of the media people at the ACCT. Try finding that without inside access- but only if you feel like running into a brick wall of omerta. As you see, I wrote the number on green paper; totally free.
Aquafina: Also free for me. In case you didn't know, it's an Italian specialty water you can usually only get in Europe.
Photographers. If this were a nature documentary, and the players are lions, they'd be like the cameramen.
A slice of the scoreboard, sponsored by Pepsi. This is another thing you'll
never
see on television. But me? All I have to do is look up. Yeah, you better believe my life is good.
This is the kind of interesting angle that tv producers are too scared to show since it might ACTUALLY OPEN SOME PEOPLE'S MINDS. #Political
He pointed at me like he knew something, guys...
like he knew something.
I took this picture because I don't want people to think of me as the kind of guy who's afraid to be seen taking a photograph of cheerleaders with a cheap camera. (See Nick's cheerleader rankings below.)
That's the badass security guy, and behind him the kid who wipes the sweat from the floor. Fun fact: the kid got his job because he once saved Gary William's life in a small swimming pool.
Boy, that lady seemed crazy.
Every single time Maryland shot a foul shot, this NC State band girl would shot "HEY YOU! I'M TALKING TO YOU! YOU'RE GOING TO MISS THE SHOT!" The rest of the band seemed horrified, mostly because her voice was so amazingly loud. It was hysterical.
LeBronco James, Yao Flamingo, and Dick Flytale.
Colliding at midcourt.
Dick Flytale pretending to hump a girl near press row.
I'll stop there. You get the point: I'm very important, and you could never know what it's like to be a
sports reporter.
**********
Time for some serious thoughts on the ACC Tournament.
*The Super 8 is a dump even by dump standards. It's such a dump that I kind of enjoy it. The normal criticisms don't apply; it's beyond bad. It smells so much like smoke that normal smoke now smells to me like lilac.
*There are two pawn shops in the one mile stretch between the hotel and the Coliseum. Enough said about Greensboro, right?
*I'm not going to tell a fib: the basketball was horrible. Wake Forest, N.C. State, Virginia, and Georgia Tech all just shit the bed in public. And they shouldn't even
have
beds in public, if you know what I mean. (Seriously, if you know what I mean, let me know; I'm not sure.) Being so close to the action was fun, but believe me when I tell you I'm more than ready for today's games.
*Holy shit on
Miami's comeback
. 10 points in 37 seconds? It was just like Jason Williams' miracle minute, except without people caring. Still, it was the most exciting part of the day by far.
*I sat in on all 8 postgame press conferences, and Frank Haith was talking about how many close games Miami had played that year, and how it helped them down the stretch. Which is kinda relevant and kinda not, since UVA had to seriously play some terrible basketball to let it slip away. But the word everyone was kinda dancing around and not saying was 'karma.' As in, it's strange for one team to lose so many one and two-point games, and after a season of that kind of heartbreak, a win like this was in the stars. The universe paid them a cosmic debt, and it was good to see.
*John Feinstein, the writer, asked me if UConn had beat Pittsburgh. Later, we exchanged a meaningful nod. I think there's a connection there. I also stood next to Jeanine Edwards from ESPN the other day. From her body language, I could tell she respected me. Last, Eric Montross walked by me during the night session. I headbutted him without a second thought.
*Speaking of UConn, and this is non-ACC content, but I mean...Kemba:
Gary McGhee fell over. He actually
fell to the fucking ground
as Kemba Walker hit the game winning shot. And why was he on him on the first place? It was like watching a panther fight an elephant. Which is confusing because Pittsburgh's nickname is the Panthers. So you tell me. You tell me what's going on. I don't know. All I know is that Gary McGhee got the cruelest kind of schooling imaginable, and he's going to have to carry those lessons a long, lonely time.
*Here's how my friend Nick rated the ACC cheerleaders from yesterday:
1.
Maryland
2.
Virginia Tech
3.
Miami
4.
Virginia
5.
Georgia Tech
6.
Boston College
7.
Wake Forest
8.
NC State
I had Miami #1.
*The only fun part about the BC-Wake game was watching Biko Paris try to break the ACCT single three-pointer record. It was previously held by Wake's Randolph Childress, who hit 9 in 1995. Biko had 6 in the first half. Then he stopped hitting and came up short. Still, it kept me relatively awake.
*Wake's coach, Jeff Bzdelik, speaks in the same insinuating cadence and tone as Mr. Rogers. He comes from the Coach K school of being just a little bit creepy.
*Of all the losing coaches, Paul Hewitt was the only one to act like a petulant baby in the press conference. Tony Bennett was very classy, Bzdelik seemed like he was happy to be at the end of a nightmare season, and Lowe was melancholic and sincere (more on him in a second). But Hewitt was a nightmare. You could tell he was peeved at his situation, and his ego got the better of him. He snapped at the reporters from the very beginning for asking the questions they needed to ask, and he generally acted like he was too good to be speaking to the press. There were a few questions about his future, and he gave a condescending laugh and said, "let's talk about the game, please" in the most bitchy way possible. When someone asked him about his relationship with the Atlanta media, he said it was great, and that he only had a problem with one person. I asked another reporter later who that person was, and apparently it's Mark Bradley of the Atlanta Journal-Constitution. Anyway, he was a douche.
*Iman Shumpert has the facial profile of an Easter Island statue: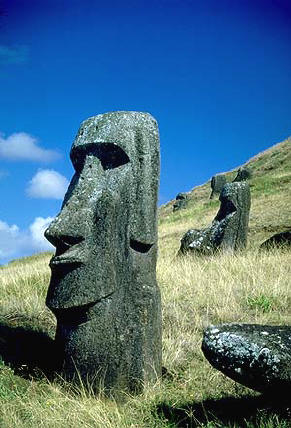 *Sidney Lowe. Man, that was a hard press conference to watch. I never really knew what he was like before yesterday, but I came away pretty impressed with the man. With his job on the line and all but gone, he could easily have acted like Hewitt. Instead, he faced the music. His words sounded like the words of a man who had just lost his job, but he didn't hide from anything, and there was just no affectation to be seen. His team was a hot mess this year, and there's probably no alternative to a firing, but I hope he gets another shot somewhere. He seems like a smart, earnest, hard-working guy, which isn't the impression you get if you're only seeing the general media portrayal of a bad coach in an ugly red coat.
Tracy Smith sat with him at the table, and you could see the respect they had for each other. Smith had been benched to start the game for a disciplinary issue, but he came out and played a great, hard game. Both men were frustrated with C.J. Leslie, though they never said his name directly. The saddest moment came when a reporter asked Smith what it was like to finish his career without ever having realized his dream of playing in an NCAA tournament. Smith's response was something else:
"It's always been my goal since I've been here to reach the NCAA tournament. This is one of the years that I think we could have made it, but we had a couple defensive lapses early in the season, and I think that was our downfall. Now, I've just got to be ready to face the real world."
Granted, the real world is probably the NBA for Smith, but it was still a pretty hard moment to watch.
****************
So, Duke-Maryland.
I'm finishing this up at the Coliseum, with UNC and Miami warming up. Dan Shulman is right in front of me (he has a long, mournful face), and Andy Katz is on center court under the lights, ready to do the pregame dispatch. I know what you're wondering, and yes, he's just as handsome in person. A ball just came over press row, and I was able to touch it. Unfortunately, I only got to throw it back to a security guy.
Oh wait, Duke-Maryland.
Bottom line, we need this game. It's almost do-or-die time. A second straight loss would have us in a really tough spot, confidence-wise, going into the big dance. Maryland looked pretty effective yesterday, but they were playing N.C. State. We know what we're getting from Maryland; a strong defense, a great big man, and no shooters. Frankly, I'm not worried.
I'll be all atwitter tonight (@SCurrySavesDuke), and I might post a little more analysis as the game gets closer.
Today, unlike yesterday, is a great day in the ACC Tourney. We're about an hour away from UNC-Miami, and after that there's an NCAA play-in game between Clemson and Boston College. I'm actually really excited for that one; not only because of the stakes, but because it'll feature two great first-year coaches in Brownell and Donahue. I'm rooting for BC. Finally, after the Duke game, the night ends with Virginia Tech against FSU in a game the Hokies would absolutely
need
in a year with a hard bubble, and which they may end up needing even this season.
It's going to be great. Go Duke. Oh, and here's a question for any opinionated readers: if we win tonight, who would you rather have revenge against in the semis; Florida State or Virginia Tech? My answer later.