Before we get to the good guys, let me just say one thing that I had hoped never to say:
God bless Boston College.
Last night, Donahue's warriors
shellacked
Virginia Tech on the road, moving to 8-7 in the ACC and keeping themselves on the bubble. I'd like to say the win was a stunner, but several people (not including myself) predicted a let-down for Tech. And let's be honest; I should have known. Virginia Tech's basketball team is one continuous letdown. BC, on the other hand, is an overachieving team with a fantastic coach. In a league mostly populated by underachievers outside the top two, they're a rare bright spot.
With basically the same roster as last season, first-year coach Steve Donahue has taken Al Skinner's miserable 6-10 team and propelled them to a 9-7* conference record. They can't play defense a lick; I've seen a number of their games on tv, and I was at the BC-UNC game two Saturdays ago. Until you've seen John Cahill try to guard Kendall Marshall, or watched Trapani and Southern try to body up on stronger big men, it's difficult to realize just how physically overmatched these guys are. They're in the bottom half of
every major defensive category
. Except one; they don't foul very often. That's arguably the one metric a team can control on defense, where intelligence can influence the statistic, and it's no surprise to see BC thriving in that anomalous corner of the defensive game.
*Assuming a win at home against Wake on Saturday.
But Donahue has the Eagles playing excellent offense; when they control the ball, they're 10th in the country in efficiency. And even when they're up against physically superior teams, which is almost every game in the ACC, they've learned to keep it close. Prime example: after getting blown out consecutively by Duke and UNC, BC adjusted and played UNC to a 2-point game on the road with a brilliant stall offense.
And it won't surprise you to learn that at least in the ACC, they win the games they're supposed to win. That particular bit of basketball cliche is actually pretty meaningful in regard to BC. Against the dregs of the ACC (GT, NCSU, UVA), they're 4-0. Against the two greatest underachievers, Maryland and Virginia Tech, they're 4-0. They dropped two close ones to Miami, a team that matches up devastatingly well against their weaker frontcourt, and they're 0-5 against the league's top 4, proving that consistency and brains can only carry you so far.
So why shouldn't BC get a tourney berth? I know I'm delving into minutiae that the committee has no time for, but I do believe a team's character should matter. Not for any high moral purpose, but only because it's predictive. Let's assume BC beats Gerogia Tech and Florida State in the ACC tournament before losing to UNC in the semis (obviously, the brackets aren't set and this is pure speculation, but bear with me). That would give them 21 wins on the year, and a 9-7 ACC record. And here's what you know you'll get from them in the tourney:
*A first-round win. They're too well-coached to drop games against bad opponents.
*A great effort in the second round. They'll certainly be out-sized and overmatched, but great coaching and overall intelligence will keep them in the game to the absolute end.
And who's the ACC alternative? Virginia Tech? Great, they earned a feather in their cap for a big home win over Duke. But I got news for you: it's easy to get up against the Dukes of the world. It's easy for the fans to flood the stadium and create a great atmosphere and charge the floor when things go right. But that rare upset shouldn't count for much when the team bookends their triumph with garbage. Tech lost at home to UVA the weekend before. With the fate of their season at stake yesterday, they lost to BC. The fans were quiet and despondent after the Eagles' hot start, proving beyond a reasonable doubt that folks in Blacksburg don't really care about anything but football. You could almost hear them turning to their friends in the stands and spouting defeatist sentiments like, "spring workouts start soon."
This is what you'll get from Virginia Tech in the tournament:
*A first-round loss. I'm serious. They'll play a motivated 10 seed, look like crap, and lose by seven. Malcolm Delaney will stare off into the bleachers, his eyes wide with annoyance, and shake his head. Jeff Allen won't touch the ball enough. Erick Green will shoot about 4 more three-point attempts than he should. It may seem strange to say this after they just beat Duke, but the truth is that the Hokies have no soul. Seth Greenberg's teams continually fade in the latter stages of a season, and I would be shocked, baffled, and amazed if they stole a win at Clemson this Saturday.
When Maryland loses tonight at Miami, there will be 3 teams who finish in the ACC at 9-7: BC, Clemson, and Virginia Tech. The first two deserve to go dancing. The Hokies deserve nothing.
************************
Tonight is the absolute best night of ACC basketball yet this season. We have three incredibly important games going off, and both the bubble watch and the regular season title race will be put into clearer perspective when the clock strikes 11. The Greensboro Coliseum awaits.
At 7pm, we have
Maryland-Miami
and
UNC-Florida State.
This is Miami's fourth straight shot to play spoiler. They're 1-2 so far, with losses to Clemson and FSU and a win against BC. Based on how Maryland looked against UNC (utterly lifeless), I think the Canes have an excellent shot. I'm looking at the trio of Scott, Johnson, and Grant and expecting a huge home win while Maryland flounders and struggles to hit an open three. Miami 69, Maryland 62.
As for UNC-FSU, also at 7pm, I would dearly love to believe. I really would. But despite FSU's great defense, I can't see how this team will
score without Singleton
(I apologize for my hair and the fact that in my confusion I said Clemson could make the NCAA title game). Is an upset possible? Yes, but Carolina would have to have a truly miserable offensive showing. Like, 57 points bad. I don't see it happening. I think Henson and Zeller will infuriate right-minded people by dominating the lane, and Marshall will play like a responsible 32-year-old point guard who already lived his wild days. No shot for the Noles; UNC wins 72-59.
And then, at 9pm, ladies and gentlemen...
THE PERFECTION PROCLAMATION
We called it
last year
. We called it
this year
. The premise is this: you don't win at OUR HOUSE. Tonight is the realization of a two-year defense.
It's been 35 games without a loss at Coach K Court, harking back to the days of Psycho T in 2009-10. Nolan Smith and Kyle Singler haven't lost in the past two years. Dawkins, Curry, Mason Plumlee, Ryan Kelly, and the freshmen have never lost at Cameron.
And guess what?
It ain't about to start now, Moody Blues. This is senior night, a goddamn coronation the likes of which you see once a year. This is where the boys with the D on their chest come out and dominate to a frightening degree. This ain't a basketball game; it's a reckoning. Best not bring your Sunday clothes, son.
Here are the four factors to winning. NOT THAT I NEED A WEATHERMAN TO KNOW WHICH WAY THE WIND BLOWS.
Clemson doesn't shoot as well, they turn it over more, and the Dukies have a slight edge on the offensive boards. Clemson gets to the line a bit better.
Let's see what
KenPom
says about the Tigers.
Strengths
*Defense. They're 13th in overall efficiency in D-1. The thing they do worst is boxing out (113th), but they're excellent at holding opponents to a low FG% (25th), defending the two (34th), defending the three (42nd), forcing turnovers (46th), blocking shots (23rd), and stealing the ball (30th). Everywhere you look on the defensive end of the floor, the Tigers are solid. They're just slightly better inside than outside, but the drop-off doesn't represent anything close to a vulnerability.
Weaknesses
*Ball control. They turn it over at a high rate and are particularly prone to the perimeter steal (249th in the country).
*Boards. Iffy on defense, iffier on offense.
*Shooting threes.
*Shooting foul shots.
Demontez Stitt is their biggest scoring weapon, averaging 14.1 per game. He and Andre Young shoot the three at a decent rate (37.9% and 38.7%, respectively), and Tanner Smith is a tall 3-man who contributes about 8 per game. Down low, 6'8" Jerai Grant is excellent at blocking shots, and a little less excellent at rebounding (6.5 per game). Milton Jennings, 6'9:, and Devin Booker, 6'8", each score 8 per game to go along with 5 rebounds.
Between Booker, Grant, and Jennings, though, only two are usually on the court at the same time. Which means that Singler will probably be guarded by the 6'5" Smith, giving him a height edge similar to what we saw against Temple. I imagine he'll have another good game, and Coach K will feeding him off screens early.
Even with two 6'8" players underneath, Clemson is a bit undersized. And as we see from the rebounding stats, the big men play even smaller than their listed height. If we're not scoring, and I think we will be, we should benefit from second chances courtesy of Mason, Miles, Kelly, and Singler.
On the perimeter, look for Andre Young's man (probably Curry and Dawkins) to get his shots off; at 5'9", Young is extraordinarily small for a D-1 athlete.
Clemson will show us man almost exclusively, and the obvious mismatches are Curry/Dawkins on Young and Singler on Tanner Smith. On defense, Coach K will be presented with an interesting choice. Perimeter shooting is a weakness for Clemson, so one possibility is that he'll dare them to jack 3s and stifle things inside. On the other hand, he has to feel good about Clemson's rebounding mediocrity and tendency to turn it over. Maybe pressure is the order of the day, forcing them to drive and score or dish down low.
I hope he chooses the second. For once, I'd really like to see Duke play at
our
pace. Our usual average is about 70 possessions per game, but lately we've been playing to the pace of the opponent. Against Virginia Tech, we had 61 possessions. Against Temple, 62. Against Georgia Tech, 67. In the dismal UVA game, 63. Against Miami, 65.
Not since the glorious UNC game (76 possessions) have we even reached our season average. You're starting to see a trend- teams want to slow Duke down. And for the most part, Duke is letting it happen. Coach K has confidence in his offense to execute at a better rate than any opponent, which is why the slower pace doesn't seem to concern him as much. But the problem is this: when you have an off game, fewer possessions equals more room for error. Excellence plays out over time, and can be more easily hidden with a small sample size. That's what we saw against Virginia Tech.
So why not play at our tempo? Duke has the ability to run teams off the floor and deny them any vestige of hope. It's a rare talents, so why not use it? Let's demoralize Clemson tonight, and let's do it with the fun style we've seen from the Dukies in the season's best moments.
Whatever Coach K decides, it won't matter tonight. Clemson's season comes down to one game: Saturday at home against Virginia Tech. Win, they're probably in the dance. Lose, they're definitely out. Tonight's game is like a glorified practice. They can test themselves in harsh conditions, learn from their mistakes, and take the fight to the Hokies on the weekend.
Tonight belongs to the seniors. And who else could the
Hot Potato
feature?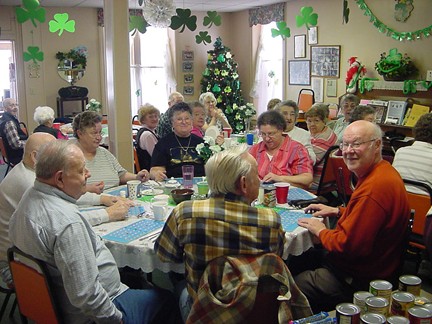 The Seniors
Singler, Smith, and that devil Casey Peters. It's the second-to-last Hot Potato of the year, and Carrie's in the lead. Have your guesses in by tip at 9.
Duke is favored by 14, and they haven't lost two games in a row since Greg Paulus wore blue. It's not about to happen on senior night. We're in for an ass kicking, and I can't wait. Duke 86, Clemson 64. Go Devils.