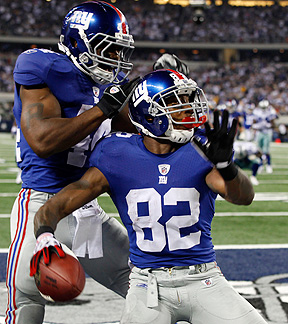 I've been extremely negligent in my NFL "coverage" so far, a fact I attribute to an overstuffed sports landscape. The Yanks are in first place, preparing for the playoff run, so that takes top priority. And even though I don't really have a horse in the college football race, I find the whole sport irresistible, like a woman with a tattoo of Tim Tebow's face on each inner thigh (that's two faces on two thighs, ladies, with the eyes aligned). Evidence: on Sundays, I typically try to limit myself to watching one game (Giants) unless there's a really compelling match-up elsewhere. Saturdays, though, often find me gaping at the television from 10am (for College Gameday, the best pre-game show of all time) to 11pm, with a token half hour of half-hearted exercise shoehorned somewhere in the middle. So I've let the NFL fall by the wayside. Until now...
BECAUSE THE GIANTS OPENED UP COWBOYS STADIUM WITH A YANKEE-STYLE WALK-OFF W, COURTESY OF ELI "FOOTBALL" MANNING AND LAWRENCE "PARTY" TYNES.
I probably don't need to mention that I hate the Cowboys. I even hate the city of Dallas, based on the few facts I know:
1) Conservative
2) Home to the Cowboys
3) Killed Kennedy
In contrast, NYC is liberal, home to the Giants and Yankees, and gave Kennedy his own airport. Both places have beautiful women, but in Dallas they're the kind of beautiful women who will feel sorry for you and maybe try to convert you to Jesus. In New York, the beautiful women won't look at you unless they're in a sneering mood, which feels like a more accurate dynamic.
Got sidetracked there. The point is, there's no team in the NFL I'd rather beat than the Cowboys and their human face-lift of an owner, Jerry Jones. And to christen that behemoth of a stadium with a walk-off win is pure gold. When Tynes' field goal sailed through, I almost expected the entire structure to collapse on itself, which would have been perfect if no Giants were injured.
It didn't always look good. I'm superstitious, and I believe that bad luck in my life influences the outcomes of important games. Last night, I took a train into Penn Station from upstate New York (cousin's wedding) and had to miss the first quarter. Adding to this frustration was my deep fatigue from the weekend spent traversing the entire northern corridor of the state. When my girlfriend and I finally stumbled into the apartment, she immediately claimed the entire couch and communicated her desire for pizza before promptly falling asleep. The food took fifty minutes and numerous English-as-second-language phone calls to arrive, all while the Giants kept settling for field goals and letting opportunities pass without sticking a dagger into "America's Team."
And then, toward the end of the 3rd quarter, with the Giants down 24-20, the gf went into what I'll just called "cliche mode," wherein she sleepily asked questions designed to infuriate me. I even hate typing this, believe me, but in this case the cliche turns out to be true and I can't very well ignore it. The dialogue looked like so:
Her
(
rolling over and blinking at the television
): Wait...the Giants are losing?!
(
silence
)
Her:
They're losing??!
(
five minutes pass, she goes back to sleep
)
Her
(
waking up to a camera shot of some forgettable Dallas lineman
): Who's that?
(
silence
)
Her
: Hey! Who
is
that?
Me
(
digging nails into my knees until they bleed
): I...have...no...idea.
Her
: How do you not know?
(
five minutes of sleep
)
Her
(
waking up to a shot of Eli Manning
): How many sibling pairs are in the NFL?
And on and on. Even though she's not a sports fan, she's actually very astute about baseball, and asks good questions and is a quick learner. But football completely mystifies her. The only thing she's been really passionate about so far is that kneeling to kill the last minute of a game is cheating ("it doesn't give the other team a chance!"). It's going to be a long winter.
Back to the Giants. We're 2-0, with two wins over divisional rivals. That part's great. I'm still a little confused about this team, though. At times, the receiving corps looks horrible, and the playcalling seems '06 bad. Dallas nullified our rushing game yesterday, and I'm wondering if we miss Ward more than I expected. At one point yesterday, I texted my friend Kyle the laconic message: "offense stinks." But at the end of the game, we'd scored 33 points, including two huge drives in the 4th quarter.
Eli, after some miserable passes early, came up big when it mattered. He finished with a 110 rating, 2 TDs, no picks, 330 yards. Not bad for someone who spends a majority of the game looking like a scared little kid (this 'Eli Paradox' has fascinated me, and everyone else, for some time...it's why it's so much fun to remind people that he was a Super Bowl MVP...not because he's not good, but because he doesn't
look
like he should be good). And the Manningham/Steve Smith combo seems like it might be feasible.
The D is equally befuddling. They gave up 30 points to Dallas, despite looking really solid for most of the game and all of last week. But if you look at the stats, the 'Boys pretty much ran roughshod, with 251 total yards and an astounding 8.7 yards per carry. If not for Romo's 3 interceptions and woeful 29.6 QB rating, it could have been a massacre.
So I don't know what to think. My hands are thrown skyward. The interior of our defense should never give up 251 rushing yards, and the secondary is supposed to be the weak point. Offensively, we should be able to run and have trouble passing. I'm going to need more time before I can sort this out and know what to think. In the meantime, I'll take 2-0 and be happy.
Other stuff:
*USC did its thing where it loses to a crappy Pac-10 team and destroys any chance of a national title. Except this time, it kinda had an excuse; Barkley couldn't play, and the back-up wasn't so hot. Still, it's annoying.
*The Yanks lost 2 of 3 to Seattle, Joba looked like crap, and the Red Sox are now breathing down our necks. The good news is we only need one more win to clinch a playoff spot. The bad news is that with 6 of our last 12 games coming against the Angels and Red Sox, home field advantage and a division win are by no means guaranteed. If we win the Angels series starting today, though, things look better. Andy takes the hill tonight, and we'll be able to tell if his ailing shoulder can stand the test of a good line-up.
*As much as I've worried and fretted over the Tigers as first round opponents, Minnesota took 2 of 3 in Detroit this weekend, narrowing the Central gap to 3 games. Maybe I should practice frothing at the mouth to pictures of Joe Mauer. Or learning to vomit on command anytime an announcer uses the phrase "M&M Boys."
*With the Rockies pulling away in the west, it looks like there will be no exciting finishes in the NL. Boo to that. Can't we spot the Mets a 5-game lead in some division and watch them blow it?
*Red Sox continue to be hot. It looks like the series starting Friday might be pretty huge. Time to tuck my Yankee sweatpants into my Yankee socks and get serious.