Quick one today. First, before getting to the good news, I want to make a quick diversion to Monday's Brewers-Pirates game. The headline on ESPN happened to catch my eye, and it turned out they had a bench-clearing brawl prompted by a hit batter. Anyway, Milwaukee catcher Jason Kendall got into it with the Pirates pitching coach, Joe Kerrigan, before being held back and calmed down. No big deal, except it led to one of the funniest paragraphs I've ever read on ESPN. Here it is, from the
recap
:
"I was fine until [Kerrigan] started yelling at me," said Kendall, who kept intentionally mispronouncing Kerrigan's name. "I can take a lot, but I'm not going to get yelled at."
This stopped me in my tracks at work, and I started laughing out loud. People often claim to have laughed out loud by themselves at something, and 99% of the time they're probably lying. Laughter is a social function, and if the rest of humanity is anything like me, humor experienced alone is more often appreciated than laughed at. In that sense, the abbreviation "lol" is the biggest lie going. Of all the times "lol" has been typed, I bet it's been factual less than 10% of the time, and that's a conservative estimate. Harmless, sure, but purely by the numbers it must take the crown as society's most wide-spread deception.
But I swear to you, that preceding paragraph produced a shocked exhalation followed by a steady cackle.
"Kendall kept intentionally mispronouncing Kerrigan's name."
Maybe it's because adults acting with flagrant immaturity is hilarious to me. The scene in "The Royal Tenenbaums" where Royal calls Henry "Coltrane," and then immediately denies having done it, always cracks me up.
I don't know much about Jason Kendall, but he just rocketed up to my top ten favorite athletes. How do you think he mispronounced "Kerrigan." Was it as simple, and stupid, as "Kerry-gan" instead of "Kerr-ih-gan"? Or do you think he went for some homophobia with "Kerry-GAY-n"? Maybe he just delved into absurdity and chose "Kerr-EYE-gan." This should have been clarified in the article.
Regardless, classic move by Kendall. Whatever thought process led him to think he was totally dissing Kerrigan by mangling his last name in the interview is a mental train I'd like to ride. It's funny if it was ironic, it's funny if it was choleric, it's funny if it was corny. You're okay in my book, Kendall. Here's a picture of you probably grabbing your balls.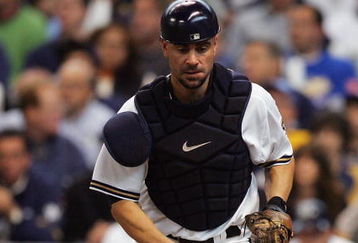 On to the Yanks. I watched yesterday's game, and I need to make a quick mention of YES announcer Ken Singleton. Michael Kay gets most of the broadcasting press, both positive and negative, since he's such a large personality, but Singleton has quietly become a terrific presence in the booth. A former All-Star and World Series champion, he brings the perfect balance of professionalism, experience, and humility to the job, always on the mark with the player's perspective, but never overshadowing the game. His voice is an easy-going baritone well suited to the smooth, slow pace of a baseball game.
He's also very intelligent, and not in the bombastic style of Kay. Yesterday, after a discussion of the travel times teams in baseball faced, he paused. "I've got a question for you, Michael," he said. "I've always wondered...how would our country be different if it was discovered from west to east? How do you think it would've affected America's psyche?"
Obviously, this is not a topic you'll typically encounter during a baseball game. But you know what? It's a really fucking good question. Unanswerable, of course, but as far as food for thought goes, it's pretty fascinating. It's little philosophical departures like this that make me love Singleton. I enjoy knowing that he ruminates about these subjects in his free time, and isn't afraid to broach them on air. Of course, Kay's pithy response was "well, I think the Dodgers would be here in New York." It was typical Kay; clever, dismissive, funny, and obnoxious. It also shifted the focus right to his wheelhouse: himself. Singleton laughed, and the topic was dropped.
Anyway, here's to you Ken. I hope you're around for the next thirty years.
The Yanks are in first! The Yanks are in first! I won't make the outright prediction that we'll hold it for the rest of the year, but barring serious injuries, it'll be damn hard to wrench it from our grasp. This is a quality club with a quality manager and a superb bullpen.
Afternoon game today, which always makes work easier to bear. AJ Burnett, hot of late, goes up against Oriole pitcher Jason Berken, sporting a 1-7 record to complement his 6.44 ERA. Needless to say, we should complete the sweep with ease, and needless to say, this is a trap game. It always seems like these 'sure things' never quite work out like they should on paper. But Go Yanks!