"This thought is as a death, which cannot choose
But weep to have that which it fears to lose."
-Shakespeare, Sonnet 64

"I heard it from a friend:
The revolution never happened."
-Alec Ounsworth
18th hole. Tom Watson, the oldest man in the world, needs only par to win the last British Open ever played. Over seven million people crowd the course. In fevered tones, they root on the aged warrior, who hobbles down the fairway with the aid of two canes. Suicide cults have sprung up, along with self-flagellating Christian sects and self-immolating Buddhist monks. Only the profound, unthinkable triumph can becalm this pervasive chaos. Stewart Cink, the 19 year-old leather-clad convicted purveyor of apocalypse, has clawed his way to -2, but it's still one off the lead. A simple green-holding iron from time's impregnable darling will secure the legendary victory. Failing that, an accurate chip. Failing that, a ten-foot putt. A breathless hush comes over the world, and the wrinkled, weathered skin of Tom Watson sinks further from its taut origins as the ball fades away from the hole. A lonely child stands on a distant berm, holding a sign: "When There's Nothing Left to Burn, You Have to Set Yourself on Fire."
I wrote that last paragraph from memory, so my apologies if there are any inaccuracies or exaggerations. But sweet, sweet, sweet Lord, that was close to being one of the greatest sporting moments ever. And
that
, for once, is not hyperbole. As Mr. Watson himself said, "it was almost a hell of a story."
The old man came up short. Get crushed, hopeful hearts.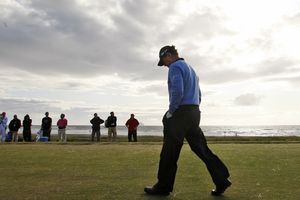 It shouldn't have gone to the playoff. Those extra four holes were an unraveling, a needless torture, wilting humiliation. It was a little like watching a man who slept with your wife beat the crap out of your grandfather. Betrayal, pointless anger, and cruelty bordering on the absurd. More than that, it was concession to time and age. The kind it hurts to see.
I know I should appreciate the ride, be thankful that for 72 holes the 59 year-old Watson thrilled the hell out of everyone. But at the end, this is my least favorite golf tournament ever. It was even worse than watching the Euros clean our clocks in Ryder Cups '04 and '06. Great for Cink, I guess (the title of this post is a joke), but I'm feeling an emotional letdown. The longer Watson held the lead, the more everyone allowed themselves to believe. If life and Shakespeare teach us anything, it's that over-investment is a risky business. Yesterday, we got scorched.
Oh well. My friend Kyle came up with a great idea, which is to have an "Old Tom Watson" theme party. It'll be cathartic, and give us a sense of closure. We'll be dressing conservatively, being polite to girls, and demonstrating quiet humility. Plus, old man's make-up and golf spikes.
Hey, the Yankees recovered nicely. Sweep of Detroit, and we're one back of Boston. Here's a crazy prediction: if the Red Sox don't get Halladay, they won't make the playoffs. Yanks win the division, Tampa Bay sneaks by for the Wild Card. Count it or don't. I'm out to reflect.