I'm a bit overwhelmed by games 3 and 4, so I want to sharpen my focus, narrow the lens, and zoom in on one of the most heroic at-bats I've ever seen.
Johnny Damon. Nobody on, two out. 1-2 count Ninth inning. The Phillies just tied the game at 4 in their own ballpark, and the fans are going nuts. Brad Lidge, their closer, looks strong, and everyone in the place wants the strikeout. If they come through the inning tied, the Phils know they have a great chance to win the game and even the series. With Cliff Lee waiting in game 5, that could be all they need...
Then Lidge delivers a slider, and Damon swings and misses, and Citizens Bank Park goes apeshit. Except, wait...he didn't swing and miss. He tipped the ball, barely, and it went under Ruiz's glove. Rumors of his demise have been greatly exaggerated. The crowd goes momentarily quiet. Then he fouls a couple more, as the cheers peak and die. Then he works the count. And then, when Lidge comes with the fastball, Damon pokes it into left for a single.
And it was the beginning of the end. Not only of game 4, but of the World Series. Moments later, Damon had craftily stolen two bases on a single pitch, Teixeira got hit, and A-Rod lived up to his newfound clutch reputation with a go-ahead double. By the time Jorge added his insurance hit, the 45,000 fans who had been in full throat a moment before were stunned quiet. And then: Enter Sandman. Forget about it.
Brave stuff, Johnny.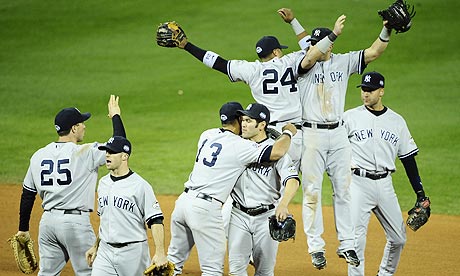 There have been a few other heroic moments in the past two games. I mentioned A-Rod's double, which to my mind cements his post-season as one of the greatest individual playoff performances ever. The man is a walking, talking clutch machine, and he keeps delivering.
And what about Andy Pettitte? Not only did he brace himself against an early Philly onslaught, persevering to keep the Yanks in the game while becoming the all-time postseason wins leader; he got an RBI single that tied the game and opened the offensive floodgates.
CC Sabathia deserves a nod, too, for another workmanlike performance. His escapist act in the 5th, when he got Utley, Howard, and Werth after putting Rollins and Victorino on with no outs, kept the Philly fans quiet and preserved a tenuous 2-run lead. He didn't end up getting the win, but without him we wouldn't have had the chance for the 9th inning dramatics. It's nice to know the big man will be waiting if Philly gets tenacious and forces a game 7.
However, I don't think he'll be needed. I may have looked foolish when I called for a Yankee sweep last week, but these latest results have vindicated me, at least somewhat. Lee could extend the series tonight, yeah, but I don't think he will. The life is out of the Phillies. We're going to surprise the home fans by jumping on their ace early, and AJ will be firing with all his new confidence. Tonight's the night it ends.
#27.
Catch the scent.