First off, big congrats again to Derek Jeter and Mark Teixeira, who each won a
Silver Slugger award
yesterday. Interestingly, in the 8 American League position categories shared by Gold Glove and Silver Slugger awards (only SS awards to the best DH, only GG awards to the best pitcher), 6 went to the same player. Which can only lead to one logical conclusion: the best hitters are also the best fielders.
(Walks away whistling, content in the knowledge that he's thoroughly answered that question.)
And one more thing before I get into the Duke bball preview: a mini-tribute to Chad Ochocinco, nee Johnson, the Bengals receiver.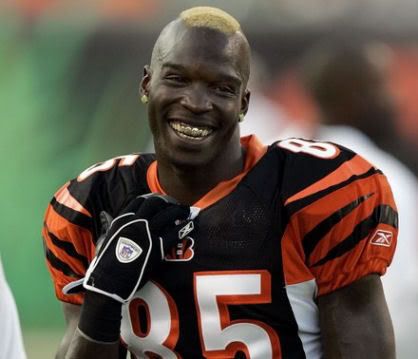 He's always sort of been in the periphery of my mind as a strange, very talented member of the arrogant receiver set, but it wasn't until yesterday that I realized how funny he actually is.
1)
Two weeks ago, he
sent gift baskets of deodorant
to the Baltimore Ravens before their game.
2)
This week, his coach had to actively
stop him from sending packets of mustard
to the Pittsburgh Steelers in advance of Sunday's game at Heinz field (because, you see, Heinz is a ketchup brand). To me, this is even more hilarious than the first gift, because it's based on a bad...play on words? I don't know. But I really hope the 'sending gift baskets' meme catches on with more players.
3)
He changed his last name to 'Ochocinco.' Legally. An old story, yes, but worth recognizing again for its extreme quality. You can't help but admire a man who decides that a nickname isn't good enough, and that he actually needs to file the paperwork to make his rather ordinary last name (Johnson) into the Spanish version of his jersey number.
4)
Other things he's done, via
this
website, which you should really visit just for the pictures: threw a terrible towel into the crowd after a win in Pittsburgh, took a Lambeau Leap after a touchdown in Green Bay, raced a horse (and lost) for charity, gave gifts from a Santa Claus bag following a touchdown during a Christmas Eve game, held up a sign to tv cameras reading "Dear NFL, PLEASE don't fine me AGAIN!!!!", celebrated a touchdown by using the orange endzone pylon like a golf club to 'putt' the football, took a leap into the crowd in Cleveland where the confused fans embraced him, riverdanced after a touchdown, and put
this
announcement on his twitter.
Keep living, Mr. Ochocinco! Keep on with your crazy living!
Okay:
Duke Basketball Preview.
Let's get (deep, restorative breath)....pumped.
First, hot off the presses, one of our starters is
out with a broken wrist
. His name is Mason Plumlee (younger brother of current Dukie Miles), and he looks like this:
I mean, what were the odds that someone with this body type would fall and break his wrist at practice against stronger players? 2-1? 1.5-1? Even money? Look at that picture. It should be captioned "this dude will break his wrist unless he never falls in his entire life." I hate to start the year out by going negative, but this injury is emblematic of a severe recruiting problem that's been plaguing Duke for some time, and which I've personally harped on ad nauseam. Namely:
A lot of guys we recruit are fucking wimps.
Now, I promise this is the most extreme language I'll use, since we're talking about young fellas here who don't get paid for their work, but why avoid facts? By my count, we had three non-wimps last year; Singler, Henderson, and Elliot Williams. Hendo went pro, and E-Dubs transferred to Memphis to be closer to his ailing mother (I feel terrible for him, and am also quite sad to be losing such an exciting player). That leaves us with only Singler. Mason Plumlee, the twig pictured above, was
actually going to start for us this year.
Not that he's not a good player. I mean, I actually think he won't be a good player, but I don't have the evidence yet to back this up. Still, regardless of his ability and height (6'10"), it's a sad commentary when a team has to start an inexperienced freshman with obvious strength issues.
Alright, let's take a look at the roster, beginning with the projected starters:
Kyle Singler, forward:
I don't have a bad word to say about him. He was the only bright spot in our hugely embarrassing sweet-16 loss to Villanova, scoring 15 points on average shooting. And that was after the guards were completely nullified, and he had to operate against smothering defense without support. It'll be fun to watch Singler develop into a giant this year, and it's something I fully expect. Last season, he transformed from a skilled swingman with questionable toughness into a legitimate warrior, teaming up with Henderson to lead the Devils to some gritty road wins. I have a lot of faith in the Sing.
Greg Zoubek, center:
Fuck me, really? This guy is starting? Whatever. I guess he's 7-feet tall and reasonable on defense. We know exactly what we're getting here; a big body, and not much quickness, grace, or offensive acumen.
Lance Thomas, forward:
Needs to become a badass, or he's even more useless than Zoubek. Again, very little offensive ability presents itself; he's another sizeable chunk of a player designed to present a staunch inside defense, but unless he can score and take advantage of mismatches on the other end, he's just in the way. There's a very strong potential that other teams will run us off the floor this year because of Lance Thomas and Zoubek.
Jon Scheyer, guard:
Here's the problem: I like Scheyer. I think he's fun to watch, he's a tenacious competitor, and he works really fucking hard. There will be games this year when Duke fans really, really love Jon Scheyer. But anyone who watched that Villanova game knows a very sad, very debilitating truth: at point guard, he's just a degree better than Greg Paulus. The quick front line Nova unleashed just completely outclassed him; he looked lost and a little frightened on the court. His shooting reflected the unmanageable defensive stress he was under: 3-18 from the field, 2-10 from 3. He's a solid guy to have on your team, but he's not a top tier D-1 point guard. He just doesn't have the natural gift of quickness to counterattack and make defenders pay for over-aggression. He
may
, however, be a top tier shooting guard. But if we're relying on him to run the offense, be prepared for more of what we saw against Villanova- relentless pressure designed to upset his controlled style.
Nolan Smith, guard:
Easily the most important player on the court this year. I hope to God he's developed in the offseason, because last year Coach K desperately wanted him to grab the point guard reins from Paulus. He did so for about two games, but couldn't quite handle the heat, at which point Scheyer was conscripted. But Nolan
does
have the natural quickness and ballhandling ability that Scheyer lacks. The question is, does he have the strength and mental capacity to take on that leadership role? He'll never be Ty Lawson, and I don't think anybody's expecting that, but if he can play a competent point, nullify gimmicky pressure, and let Scheyer thrive in the 2-slot, this team looks a whole lot different.
Now for the reserves:
Andre Dawkins, guard:
This is a freshman who actually finished high school in 3 years on an accelerated program so he could come early to college and fill Elliot Williams' vacancy. It's not an exaggeration to call him the second most important player on Duke's roster. He's also apparently a pretty smart dude. Unfortunately, most scouts are in agreement that he's not ready to play the point quite yet, though he may develop those skills eventually. Also, he won't be as strong defensively as Elliot. Still, he's a talented scorer who can pick up a lot of minutes, give us another threat from downtown, and hopefully take the burden off Scheyer and Singler, who appear to be the two lone scoring threats. We need a real quick learning curve from Mr. Dawkins.
Miles Plumlee, forward:
Nothing to see here. 6'10", 240, but not quick and not very offensively gifted. Zoubek/Thomas lite.
Mason Plumlee, forward:
Hurt, as mentioned, but doesn't need surgery. Supposedly has more skill than his brother, but less strength. Quite obviously, I'm not getting my hopes up.
Ryan Kelly, forward:
Freshman, 6'10", can shoot the 3 (he won the shootout at the McDonald's game last year), scored 2150 in his SATs. But he's also scrawny (he gives Plumlee a run for his money) and doesn't like to get his hands dirty in the paint. The scouts call him a 'face-up' 4 man, which is like the last thing we need. Another stringbean who can shoot but can't create his own offense and hates contact? No thanks. (You can read my extensive screed on Kelly and Plumlee
here
.) I don't expect any impact from him this season.
Seth Fucking Curry, Assassin Guard Extraordinaire:
Sitting out a year because of his transfer from Liberty. One year away from saving Duke!!!!!!!!!!
THE PROGNOSIS:
There's no way this team contends for a title, which in some ways is a positive. Unlike last year, we don't have to squirm in our seats and worry about the inevitable collapse, yet still harbor an insane hope that the Devils will live up to expectations and make a final 4 run. Instead, we can watch the team grow, enjoy the victories as they come, and keep an eye on player development in advance of next year's team. Despite our second-tier status, this could be a very fun ride.
What I would love to see:
A team that actually
improves
as the season goes along. Andre Dawkins being worked into the point guard slot and getting comfortable. Kyle Singler taking the ACC by the balls and being an unrepentant tough bastard. Nolan Smith feeling a sense of leadership and responsibility, and carrying himself with a little swagger instead of that vacant scared look. Scheyer shooting the lights out. Zoubek staying out of foul trouble. Lance Thomas showing some attitude and zeal. Mason Plumlee returning from his wrist injury and proving me wrong. The team playing consistent basketball, finishing second in the ACC, winning the ACC tournament because Roy Williams does that thing where he loses in preparation for the big tourney, storming through the first two rounds of the NCAA, shocking a better team in the sweet 16, and going down in a heroic but doomed effort in the regional championship.
What I would hate to see:
The typical Coach K effort we've become accustomed to since 2001- a team that starts out more disciplined than their peers and vaults out to a gaudy early record and a top 5 ranking since the players are smarter than the average bear and can master a system, but fades as the season goes along and more athletic teams start to find their bearings, culminating in a disheartening, fatigue-ridden second half and a first-weekend exit when March Madness rolls around.
It starts tonight against UNC-Greensboro, and believe me, I'm psyched. If anybody has a clue where I can watch this game online, do tell in the comments. Let's go Devils!