Game 7 is not a numbered game in a series. Game 7 is a cultural institution. It represents the culmination of an even clash, the very American refusal to suffer a draw. It's the unsplittable odd number, the single head at the top of the symmetrically paired body, the pressure cooker boiling each competitor down to his critical essence. It is beautiful and harsh, thrilling and agonizing. It's like a lightning storm on the prairie- you never know what might burn. Game 7, man. I'm telling you.
Maybe you think tonight's Rays-Rangers rubber match isn't up to snuff. Sure, it's a game 5. Sure, it's played indoors in a city that cares about baseball as much as the Nazis cared about...baseball (you
know
what I'm saying, guys). But dig: this is Game 7 wearing a Game 5 mask. Winner goes on, loser goes home. Champagne and plastic in both locker rooms. Little kids unable to sleep the night before. Even the most minor fans chatting about line-ups in office kitchens and dog runs. Major fans with normally good taste turning on their annoying sports talk radio guy because they can't think about anything else anyway. Folks in Africa wondering which incorrect sports t-shirt will be shipped next week. Major League Baseball trying to find their worst umpire to stand behind home plate and ruin things by generally ignoring the strike zone that's been established over the past 150 years. Tampa fans going 'you know what, guys? I'm drawing a line in the sand. Tonight the team will have to trail by two runs before I stop cheering.
Two.
'
It's going to be huge. But it's going to be especially huge because of this:
CLIFF LEE VS. DAVID PRICE
................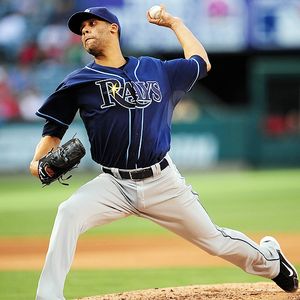 You might be wondering why Cliff Lee is wearing a Mariners jersey in the above photo. It is not an accident. Cliff Lee is a mercenary. He's been with all 47 major league teams in the last season alone. His modus operandi is to pitch for one game and then hold an auction, and after that he goes to the highest bidder for the next game and won't even talk to the fans and sleeps with the owner's wife.
But seriously.
The guy's been around. Not necessarily his fault, or anything, and his wandering days will likely be over next year when he signs a big contract with some deep-pocketed team (Yankees). But his journeyman style has, I believe, influenced his attitude. Does he want to be in Texas? Did he want to be in Seattle, or Philadelphia? Does he really care about those teams in a deep sense, or does he pretty much just care about how well he pitches? Should we even expect him to care about more than that? Does pitching performance hinge at all on esoteric, unmeasurable factors like esprit de corps?
Maybe, kinda, in oblique and surprising ways. Last season, with Philadelphia, Cliff Lee wouldn't pitch game 4 of the World Series. Charlie Manuel tried to cover for him, but the truth was pretty evident. You can't really say this cost Philadelphia the World Series. The Yanks were just better, and the Philly offense batted an anemic .227 in 6 games. Still, both of their victories came with Cliff Lee on the mound. They went into game 4 trailing the Yankees 2-1. Lose game 4, and the series is basically over. Why wouldn't Cliff Lee step up and throw? CC did. And CC pitched well enough to let the Yanks win. Then Lee came back and won a (basically) meaningless game 5. But if Lee had pitched and won game 4, putting things even at 2-2, we can all agree it would have been a much different World Series.
So what's the story? This year, nothing seems to have changed. The Rangers were up 2-0 on the Rays on the strength of excellent starts from Lee and C.J. Wilson in Tampa. When the Rays stayed alive by winning game 3, Cliff Lee should have been pitching game 4 on 3 days' rest. Not only would it be the team's best chance to win at home, but it would allow C.J. Wilson to pitch on full rest if game 5 became necessary. The alternative, starting Tommy Hunter, was far from desirable. Hunter is not a bad pitcher by any means, but he is a fourth starter, and he's not the guy you want on the mound as a last line of defense between your team and a tough game 5 on the road. You want Cliff Lee shutting things down. No-brainer.
The funny thing is, some local media outlets wrote about that
exact scenario
before the playoffs began. Here are a couple quotes:
"I think we've got to wait and see how that goes," manager Ron Washington said. "If we have a chance to put this away and we feel good about Cliff going again. We'll do that. If we don't, then we'll do what we have to do."

"There's a lot of ifs and buts," Lee said. "We've got to win a few games before we get to that point. I'm more focused on the first game. I'm not looking two starts away at what might happen."
Well, they had a chance to put this way, so the question becomes: why didn't they feel good about Cliff Lee going again? Based on last year, I don't think there's any good reason to think that the answer goes beyond a simple 'Cliff Lee didn't want to.'
Jeff Passan wrote a
great article
for Yahoo in the lead-up to game 4 arguing this same point. He points out that Lee has never pitched on 3-days rest in the majors, and actually quotes Lee as saying the following: "I would've done it. No problem." But as Passan points out, that quote is duplicitous.
Actually, big problem.

The Rangers thought about it and decided against it.

The deeper truth: They didn't trust Lee enough, and they never heard him request the assignment, because, he said, "I'm not going to go in there and demand anything."

For somebody who wants more than $100 million to lead a pitching staff this offseason, Lee's passivity is stark. There is an ethos in baseball, fair or not, that top-of-the-line pitchers ask for the ball under all circumstances. Lee refuses to ask for the ball; as such, he gives off the impression he doesn't want it. Whether that's the truth – whether he really would, as he said, pitch on three days' rest, or he'd beg off out of fear that he could incur a nine-figure injury – is a mystery because his teams don't bother inquiring.
He goes on to point out that Hunter has faded late in the season, and the Rays took him to the wood shed the last time they faced him in the regular season. The best part of the whole article is when David Price overhears reporters talking in the clubhouse, and thinks they're saying that Lee will start Game 4.
"Lee's throwing tomorrow?" Price asked.

Concern tinged his voice. Even if Lee was going on three days' rest, the Rays don't want to face him. Hunter? Respect exists because he is a major league pitcher, and in his first start this season he threw a complete-game five-hitter against the Rays, but they know the truth: Lee on the road and Wilson at home is infinitely more daunting than Hunter on the road and Lee at home.
Amazing. The Rays were actually scared of facing Lee in Game 4 and Wilson in 5, as they should have been. Shouldn't that be an indication to the Rangers? Doesn't that paint a pretty clear picture? Regardless, Passan was dead on the money. Hunter lost, and now everything rests on one game.
There's one other thing I'd like to point out. Cliff Lee has received a lot of attention this season for his absurdly high strikeout-to-walk ratio. At the end of the year, it was 10.28. That's the second highest total in major league history, and number one came from Bret Saberhagen in the strike-shortened season of 1994. It's impressive beyond belief, but it also indicates what kind of pitcher Lee strives to be. As I write this next sentence, I'm picturing my friend Spike (huge stat junkie, big Cliff Lee fan) pounding his head on a desk, but I'm going to write it anyway: considering that Lee's ERA was very good but not great at 3.18, isn't it possible to see the inflated K/BB ratio as somewhat selfish, or at least brazen?
Hear me out. The style of pitching that produces such a number is direct, free of deception, and completely functional. Great pitchers sometimes walk batters as a result of their artistry. Once in a while, that nasty curve won't elicit a swing, or the high fastball will be too high for temptation. Felix Hernandez, for instance, had a 2.52 K/BB ratio, and nobody would argue that Cliff Lee was a better pitcher this season. Just for fun: Felix's strikeout-to-walk
margin
was +162, while Lee's was +165. Pretty damn close for such divergent ratios, right? And you have to think Felix's more elegant style led to fewer hits and a lower ERA, which more than covers that negligible three-out lead Lee gains from just walks and strikeouts.
I guess what I'm saying is that K/BB is a bit overrated. You at least have to wonder if Lee was capable of adjusting his style to earn more strikeouts- because let's be clear, his great K/BB ratio was not a product of abundant strikeouts (185, 23rd in the league), but rather the peculiar absence of walks (18 total, first by far in the league)- and lower his ERA by virtue of craftier pitching. Conceding only 18 walks is the equivalent of saying 'I don't give a fuck. Hit it if you can.' Lee is good enough to succeed on those terms, but you wonder if he could have been even better.
Here's the point of all this:
when I was predicting this series, I said Rangers in 5. It was the smart move. Lee is better than Price, and I believed he'd win game 1. All Texas had to do was win 1 of the next 3, which they accomplished. And that put us back in a Lee vs. Price situation, and again, the smart move was to go with Lee.
But I'm changing my mind. One of the more interesting, least-discussed aspects of Game 1 was how Lee pitched. Yes, he went 7 innings, gave up only 5 hits and 1 run while striking out 10, but I still wouldn't call it a dominant performance. The Rays hit a lot of hard, frozen ropes that made a direct bee-line to the Ranger outfielders. Lee put forth a nice effort, but he was lucky to come away unscathed. 1 earned run was not an accurate reflection of the kind of game he pitched.
Price, meanwhile, struggled. He didn't look like himself, and the Texas line-up had a field day. I don't believe that will happen again. Usually- not always, but usually- the pressure of a deciding game benefits pitchers. Pressure takes its greatest toll on the person trying to react, and in baseball that's the hitter.
I expect a low-scoring game. I expect David Price to be stronger. And I expect Cliff Lee to be his usual unswerving self, obstinately putting balls over the plate when a hint of guile would better serve the cause. This time, with the season on the line, one or two of those pitches will come back to bite him, and for the second year in a row he'll become a walking, talking, nagging what-if; the residue of another lost series.