Now
that
was some postseason baseball.
Ten thoughts on the Yankee game and others:
1)
Both teams needed to win this game, but the Yanks needed it more. With slight pitching disadvantages in the next two games, and a big question mark for game 5 now that CC has been moved up to game 4, they couldn't afford to drop game one. When it became apparent that Ursa Major didn't have his best stuff, I started getting nervous. I knew we'd score off Liriano- I kept hearing that he was 'cruising' through the first few innings, but from my perspective he was pretty fortunate to have a clean sheet through five- but I was mightily afraid the Twins would touch us up for six or seven before we got the opportunity.
It wasn't a great game by CC, but it was a gutty one. His biggest out came after he walked Danny Valencia, a rookie, in to tie the game. You know he had to be pissed at himself. It's the kind of situation that would absolutely kill AJ Burnett. But CC settled down and got Hardy to K, and then he went in the dugout, threw his glove against the wall, and swore up a blue streak. Lesson: the great ones throw their tantrums when the inning is over.
2)
Until proven otherwise, Mariano is still playoff Jesus. He nailed down his 40th career postseason save yesterday, a 4-outer, and lowered his postseason ERA to 0.74. That's just unbelievable. It's been unbelievable for about 10 years, so we don't really talk about it as much, but it's worth marveling at now and again just to keep it fresh.
3)
I can't help but get the willies from Twins fans. I saw so many middle-aged women with pursed lips and '80s hair and so many men with stoic expressions who probably impart morals to their clean-cut kids after they leave the toothpaste out or something. I get the feeling if I ever met these people they'd be all smiles and then after I left they'd look at each other and go "he's a fast talker, that one." And in Minnesota lingo that would be like a horrible final judgment on me. I wouldn't be welcome in the state any more. I read 'The Corrections,' Minnesota. You can't fool me with your proper behavior.
Give me the diverse collection of nuts at Yankee Stadium any day of the week. This was more like watching a baseball game in Pleasantville. I hated how they groaned so loud when an umpire didn't give them a strike call, despite the fact that 90% of the stadium is in no position to see where the ball crossed the plate on a horizontal scale. I hated how they got absolutely quiet when things went against them, rather than yelling or moaning (actually, I kind of loved that too). I bet nobody in the park even said 'fuck' after Texeira's home run. And I hated this sign:
I think Michele Bachmann made it.
I should point out that I'll find a way to hate just about any crowd of opposing fans, so the above rant probably contains no real insight or truth. But
it's right.
4)
I can't express my pleasure with Mark Teixeira. Last postseasn was a bit of an egg for him, one clutch homer against Minnesota aside, so it's nice to see him start out big. We need his bat more than any other, probably.
Ditto for Derek Jeter. He was only 1-for-5, but he scorched the ball four times. They just happened to be liners right to a Twin. Good to see him coming into playoff form.
Ditto again for Curtis Granderson. Like Girardi said in the press conference last night, he's been a new man since tweaking his swing in August. That triple was absolutely gigantic, and great to watch as well. It looked for all the world like a pop-up as Span settled underneath. But he kept moving back, and back, and by the time he had his hand in the wall I was shouting to my friend. "Look out, baby!" And then the hearts of 40,000 boring people broke.
5)
The two guys I'm worried about are Swisher and Cano. Both looked uncomfortable and out of sorts. Swish got the seeing-eye base hit before Tex's home run, and Robbie got a grounder through the hole to score a run, but both were reaching for pitches and getting fooled all night. They combined to be 2-9, and neither saw many pitches (13 in 5 plate appearances for Robbie, 18 in 5 for Swish). Based on their below average performances in last year's playoffs, I'm worried the memory and pressure will limit their productivity. Unlike 2009, we can't win without them.
6)
Other than Mariano, Boone Logan looks like our best reliever. He got two quick outs in the 7th, and then had an absolutely epic battle against Mauer. After jumping out to a 1-2 advantage, Logan worked the outside over and over while Mauer kept spoiling. Boone was pitching about as well as he could against one of the greatest hitters in the game, but I still had the feeling it wouldn't be enough. On the 8th pitch, Mauer lined a single between first and second. That's what Mauer does. But it was a strong effort by Boone, and I have the utmost confidence in him to get the big outs.
Wood and Robertson, on the other hand, looked shaky. I wouldn't be surprised to see them blow a game somewhere along the way. We really miss Marte at the moment, and we need a reliable 8th inning guy. Mariano is 40, and he's been stumbling through September. You can't keep going to him for long saves. I'm willing to give K-Wood more time, though. He was solid through the regular season and he deserves a modicum of patience. For about one more game.
7)
I don't think the Twins have the firepower to stay with us. It didn't occur to me until yesterday how much stronger the Yanks are at the plate. It's easy to lament the poor RISP hitting or worry about slumping players, but the truth is we have a ton of guys who can go yard at a moment's notice. On the Twins, Mauer is the only guy who really scares me consistently. And he'll have to face lefties in all but game 3.
It's going to take a heroic effort by Pavano and Duensing to give the Twins two straight wins. 'Good' won't cut it. I don't think Andy or Hughes will dominate, but if they keep the Twin lineup in check, our guys will do the rest. I'd hate to be Minnesota right now. The more I think about it, the more I realize game one was close to a must-win for both.
8)
On the flip side, the Yanks are very fortunate to have the Twins. I really goofed on this one in the lead-up to the playoffs. My take was that people were far too eager to play Minnesota and were absurdly scared of Texas. I was dead wrong. Certain teams are built for the playoffs, and Texas is one. After Cliff Lee's very good performance yesterday afternoon, the Rays have their backs firmly against the wall. If Lee had done that against the Yanks, we'd be in dire straits. CC is a workhorse, but he's not always dominant. Thankfully, Minnesota doesn't have a shut-down ace either. That's a sigh of relief. Losing the division pissed a lot of Yankees off, but right now it looks like the difference between making the ALCS and going home early.
9)
Despite the nice start against Minnesota, the Yanks are on the wrong side of history. If we're going to win a championship, it has to be with the bats. And 100 years of baseball have shown us that pitching is typically the key ingredient in a World Series run. We need to catch fire in a big way. 3-4 runs won't always cut the mustard with our ragtag staff.
10)
This last one is reserved, as you might have guessed, for Roy Halladay. He became only the second player in MLB history to throw a no-hitter in the playoffs, the 5th man to throw 2 no-hitters in the same season (he had a perfect game in the regular season), and the first player to ever throw a no-no in the regular season and playoffs in the same year.
Just when you think it's impossible for Halladay to distinguish himself any further, he has the second-greatest playoff game ever. He was razor sharp, totally in control, and never in danger. Watching him throw was a thing of beauty, and the pure skill on display even made it possible for me to ignore the cretins in the Philly crowd. Halladay is the best pitcher in baseball, and yesterday he made history.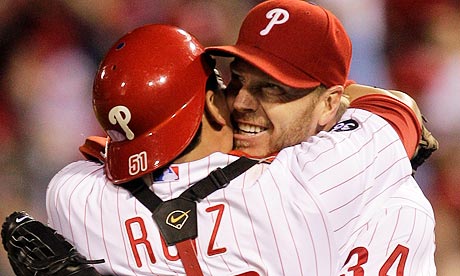 Yanks at 6 tonight, Rays-Rangers at 2:30, and the unreadable Giants-Braves series at 9:30. Get dandy, Andy.