There can be no World Series.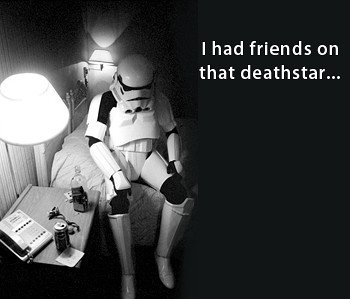 This is a special Saturday post that exists because I don't want to think of this shit come Monday. After it was all said and done last night, I took a shower, sat down at my computer, and queued up some YouTube. I'd heard the song "Your Love" by The Outfield on the radio earlier, and I wanted to hear it again. I looked up the lyrics and sang along. The lead singer's voice is really, really high, so I probably sounded like a castrated Italian dude from 1600 or something. Anyway, the girlfriend came into the dining room.
"Have you ever been in a band?" she asked.
"No."
"Have you ever wanted to?"
Sigh.
OF COURSE I WANT TO BE IN A DAMN BAND. Look at me. Look at me right now. I'm listening to a song on YouTube and I've pulled up the lyrics. Do you think I'm not pretending I'm in this goddamn obscure band right now? Do you really think that? THANK YOU, HON. Thanks for ruining my night even more after the Yankees lost to the most obnoxious team in baseball by reminding me that I'm not in a band.
Do I want to be in a band.
No, I want to blog about sports. That's what I want. LOOK AT MY LIFE. Have you ever seen a person that's in a band? They're way the hell cooler than this. If I was in a band, and you told me the Yankees lost, I'd be like 'oh, that's something I used to care about...
before I was in a goddamn band.
It doesn't even have to be a good band. If you're in a shitty band, you got the world on a string. You do any damn thing you please. You know what you don't do? Write
Nolan Smith fan fiction
. You don't write
creepy poems
about Jon Scheyer. You don't know exactly when Robinson Cano's birthday is and who he's named after. You don't have three songs that you sing when ever he comes to bat (either "I believe in miracles...when you come to bat, Robbie Cano" or the Hang on Sloopy one or the other one I can't remember). All you do is kick people's asses and play music.
Actually, I don't really want to be in a band. 90% of people I know in bands are pricks in one way or another. And actually I really like blogging.
But shit,
of course
I want to be in a band.
Anyway, here's what we know:
1)
The Yankees lost.
2)
The home plate umpire might have been the worst in the history of playoff baseball. His strike zone was abysmal. Luckily his awfulness helped us that one time when he didn't notice that Swisher got hit with the ball.
3)
For the second straight Colby Lewis start, every goddamn frozen rope we hit was right at someone. Infuriating.
4)
I would like to fight the entire state of Texas. Particularly a) the fat kid behind home plate waving the Texas flag, b) anyone who has ever made the deer horn or claw symbol, and c) the presumptuous rubes chanting "Yankees Suck" and every other thing when their damn team hasn't even won a World Series.
5)
I'm no Philadelphia fan. Normally they're my second most hated team in MLB after Boston. But for the second year in the last three, I will root like hell for them if they happen to make the World Series. It was a giant relief when they beat Tampa in '08, and it will be the same exact thing if they beat Texas this year. Come on, America's scumbags, take it home! (Obviously the best case scenario is San Francisco winning, but I'm making allies while the sun shines and assuming nothing.)
6)
The Yankee haters came out of the woodwork on facebook and twitter. At least three different people called Yankee fans 'spoiled and overpaid.' HEY DOUCHEBAGS: YOU'RE CONFUSING ME WITH THE TEAM. I'm not the slightest damn bit overpaid, believe me. I don't get paid a thing for rooting for this team. All I get is idiots like you who think you're fucking Che Guevara for rooting on a team George W. Bush used to own.
7)
I still maintain that this series would be different if Girardi started AJ in game 3 against Lee and Andy in game 4. But we've been
over
that
.
8)
All 'a dat being said, hats off to Texas. They were better. They had that special something the Yankees had last year. It's nice, isn't it? Now please go get swept in the World Series.
Let's assign some quick playoff grades to the Yankees, get the hell out of here, and enjoy College Football Saturday.
Robinson Cano:
A.
Would've been an A+ with a better performance last night, but Robbie, you were the man. Great hitting, solid fielding, and you shone under pressure. The other teams were legitimately scared of you. You're a bright spot.
Derek Jeter:
B-.
Better than the regular season, but his hitting was still poor overall. Also, his lack of speed and quickness cost us a few outs at shortstop.
Nick Swisher:
D-.
Another choke job in the playoffs. On Thursday he went on a
rant
about how he was sick of hearing about Cliff Lee and wanted to face him in Game 7. But Swish didn't put his money where his mouth was.
Curtis Granderson:
C+.
Great job against Minnesota, poor job against Texas. I expect big things from him next year, though. After working with Long, he started hitting the hell out of the ball.
Mark Teixeira:
D-.
Choke job for the second straight year before his injury. Without some good defense, this would be an F.
Alex Rodriguez:
F.
This was the A-Rod of old, and he managed to sprinkle in some fielding boners too. Last year is looking like an anomaly.
Jorge Posada:
D.
Can't hit, can't catch, too old. Thanks for the years of service, Jorge, but time has run out.
Thames/Berkman:
C.
Was hoping for more at the dish from these guys.
Brett Gardner:
D-.
I expended a lot of energy defending Gardner this season, and it turned out he couldn't hit a ball out of the infield when it mattered. He avoids the F because of his head-first dive in Game One that sparked the rally.
Andy Pettitte:
B+.
Wish he could get that pitch to Hamilton back, but a great postseason none the less from the Yankee warrior.
CC Sabathia:
B-.
Never really got it together against Texas, though we did come out of his starts with two wins. Still, it took a lot of struggle.
Phil Hughes:
C-.
His two starts against Texas are what we should have expected based on his second half. But that Minnesota start gave us hope. You have to wonder if he's even a viable third starter in the AL East.
AJ Burnett:
C.
A decent effort in Game Four, but a total letdown that we couldn't count on him as one of our top 3 this season.
Bullpen except for Mo:
C-.
Robertson especially annoys me. Some good work from Moseley and some passable work from Wood. Otherwise, bleh.
Mo:
A+.
Thanks for everything, as usual.
OKAY. Time to go clean the house. Good season that came up short of great. Wish we had that AL East crown to our name, and I wish we had a pennant, but it's hard to complain about making the ALCS. Starting Monday, we talk Duke basketball. Can't friggin' wait.