The fun is over, Moody Blues. Get your war paint out of the closet, forget the memories of the second half against Carolina, and stop treating your loved ones with affection. Blood is going to flow, my friends. Be stern to the mailman. Don't give the traffic cop no respect- cross when he's telling you to stop. If a car gets impatient, give the driver the finger as you walk past. Tell the priest at your church that you ain't got time for sermons and just give you the damn wafer. Make a suitcase out of pine needles and mail it to Texas with an armadillo inside. Find the tallest traffic light in your town and throw a child's football at it until someone gets mad. Become a Freemason and tell a Catholic he'll never become president. Add four pints of juicy juice to a jar of milk and sell it as love potion at a county fair. Form a softball team at a nursing home and ban the home run. Cry for no reason while you watch cartoons. Make pancakes in the shape of an interesting sailor from history. Accuse three women of witchcraft. Nail a sign to your door advertising free lessons in "Violent Yoga." Follow a squirrel into the woods and pay it five dollars to answer a toy telephone. Wear masks in public and pretend you think grass is currency. Wear elbow pads for no goddamn reason.
IN OTHER WORDS:

WE STAND AT THE TURNING OF THE TIDES, YOUNG WARRIORS!

GIRD YER FECKIN' LOINS!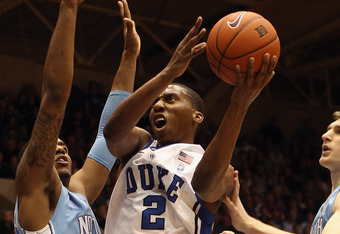 .
.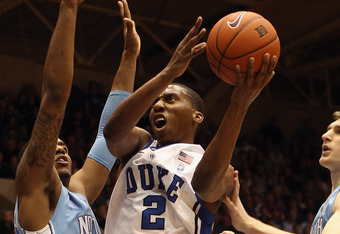 Tonight will be a battle. At least I think so. Virginia Tech is the type of team that can put up 91 points on Maryland and then lose 61-54 to UVA. But they haven't lost at home since early December, and their smallest margin of victory over those last nine wins in Blacksburg was eight (91-83 against the Terps). There is pride in the Coliseum. The Cassell Guard defends its house.
The importance of this game cannot be overstated. Or maybe it can. Let me try: "If Duke doesn't win today, China will bomb Washington, D.C. and enslave everyone from North Dakota." There, I overstated it. But honestly, it's important. I have a gut feeling that Maryland's going to pull off an upset at Carolina tomorrow night. If that's the case, a Duke win tonight would give us a 2-game edge and, essentially, the regular season ACC title. If Carolina holds serve, the win keeps us in line for the tie-at-worst situation. One way or another, you can't drop this game. And believe me, Tech will be gunning. As it stands now, their tourney fate is far from guaranteed. A win tonight, though, and they'll be dancing like Fred Astair, my idol.*
*FUCKING RIGHT I'M SERIOUS THE DUDE CAN STRAIGHT
STEP
.
We didn't get the Hokies at home this season, so there's no previous battle for comparison purposes. Not that it would matter; Virginia Tech lost to BC, GT, and UVA on the road. They're a different team when they come down from the hills. If they can't look in the stands and see 9,000 dudes with pitchforks and tobacco spit cans, they aren't quite right.
But we're not getting them on the road. When the Devils get off the plane in Blacksburg, they'll hear the twangy opening notes of Dueling Banjos resonating somewhere in the invisible distance. They're walking into a hostile arena, even more hostile than they'll face in the sanitized Dean Dome come the Fifth of March. This, you could say, is our last real hostile road test of the season. This one's for pride.
Let's look at the Hokies.
Strengths:
-
Overall defense.
On
KenPom's page
, you can see that they do everything well without doing one thing spectacularly. 30th in overall defensive efficiency. 70th in forcing turnovers. 53rd at defending the three. 89th at defending the two. 67th in blocks, 72nd in keeping opponents off the line. Just solid everywhere you look.
-
Scoring inside.
53.9% of their points come from inside the arc, and they shoot a very impressive 52% in that range.
-Avoiding steals. Top 15 in the country in ball control.
Weaknesses:
-There are no true weaknesses on this team. They don't rank in the bottom half of D-1 in any evaluative statistical category. Their only real mediocrity is
rebounding.
They're 151st on the offensive end, and 102nd on D.
We all know about Malcolm Delaney. He struts around the court like he's king shit, and he scores a lot of points. When things don't go well, he starts whining and becoming distant from his teammates. When things do go well, he's a force of nature. And even when the team isn't at its best, Delaney does damage. In a world without Nolan Smith, he'd be the favorite for ACC Player of the Year. Here's the stat line:
19.1 ppg, 4.2 assists, 3.3 boards, 1.7 steals, 43% from the field, 43% from three, 87% at the line.
Dude is good at basketball. Still, if you play him the right way, things can go bad. Against UVA, he was 6-15 from three. Repeat: 6-15
from three.
At some point, he clearly decided to check out and just start chucking. It didn't help his game, it didn't help the Hokie offense, and it resulted in a 61-54 loss to a bad team.
As you can probably tell from the rebounding numbers, the team does not have a lot of height. Jeff Allen (6'7") and Victor Davila (6'8") are the biggest dudes, with Terrell Bell (6'6") contributing 5.4 boards per game. Like some other recent teams we've faced, the guards are pretty big; Delaney at 6'3", Erick Green at 6'4".
And Tech isn't very deep; outside of their starting five, nobody gets more than 11 minutes per game.
All of which, sadly, leads to an inevitable conclusion: Duke will try to grind them down. We've seen it over and over against this type of team, and it seems to be fairly successful. If we get these guys in foul trouble, they're screwed. Coach K knows it, and there will be plenty of post feeds and guard penetration. Virginia Tech plays a slow tempo anyway, and I can't see Duke forcing the issue on the road. They'll try to run a set offense, stifle the Hokies on D, and win a 65-58 type game.
The only mitigating factor is this: Virginia Tech will sometimes play zone. My basketball brain tells me we won't see much of that tonight, since they match up so favorably on us man-to-man. Their tall guards should limit Curry and Dawkins, and unlike Temple they have taller forwards who can match up with Singler. I can't imagine Seth Greenberg is horribly worried about the Plumlees, so it wouldn't make any sense for him to play zone. If he does, though, we will welcome it with open arms, and the scoring and pace will increase dramatically.
On defense, I'm curious to see who will guard Delaney. I imagine Nolan's the man, and that match-up will be the best part of this game. Singler and Jeff Allen will probably find each other for a nice undercard. Virginia Tech will want to force the issue down low, and Duke's ability to prevent easy interior points will define this game. If the inside is shut down, Delaney might get into bombing mode. He's more or less the only 3-point shooter on the team (Bell shoots a nice %, but has only attempted 51 on the year), and if we can force the game outside, our chances are excellent. But if Allen and Davila do damage inside, and Delaney and Green have success driving, it'll mean trouble for the good guys.
I am absolutely pumped for this game. It's a great match-up, and as much as people want to talk about how Temple was a good tournament test, the real challenges start tonight. I think Duke comes out strong on offense and gradually uses the country's third best defense to push the Hokies outside and let them bomb themselves into submission. I think Greenberg will make a mistake at some point and get burned by going zone. I think Kyle will have a tough game, but that Nolan will thrive.
Prediction: Duke 71, Virginia Tech 63
Before we get to the Hot Potato, a couple fun things from readers. First, from GB, check this out. His comment, followed by the video:
You guys should rewatch the Duke/UNC top 5 on Duke blue planet. During the Seth Curry interview towards the end Curry and Dawkins have an inaudible conversation (they were looking really shifty) that ends with Curry asking Dawkins if he's chicken (presumably) to shit talk Reggie "Duke can't guard me" Bullock for his goose egg of a performance that night. As Dawkins gets up and out of the view of the camera you can hear him say HELLO REGGIE and then something that sounded like "can't hold this". Happens around the 3:25 mark.
Reggieeeeeeee.
And Candice alerted me to this absolute gem from the Onion Sports Network. Their graphics people deserve some kind of award. Maybe an Oscar. Can we give them Best Supporting Actress? Is that being used this year?
Only Martin Plumlee was found under an actual rock.
And from Freaky Jim B the Unrepentant Funkmaster Freakdog comes this side-by-side comparison of two American icons:
...........
Jim says:
Tyler Zeller is a fucking Romulan. That's probably some kind of recruiting violation, right?
Brilliant. I heard Spock used to flop any time an enemy ship came within a few light years.
Okay, let's
Hot Potato
it up. I realize it's been a while since I've posted standings, so here we are:
Carrie was out of the lead for a while, but she's surged back to claim her rightful spot. And just so everyone's aware, Hot Potato ends at the end of the regular season. There are three games left for glory.
Today's Hot Potato is:
+
PlumbleFouls + PlumbleDunks
How many combined fouls and dunks will the Brothers Plumlee commit/execute tonight? Guesses in by tip at 9pm.
There are two other fun ACC games today:
1)
BC at Virginia, noon - Eagles need a win.
2)
Miami at Florida State, 4pm - Battle for Florida, and the Noles want to end any drama about their tourney chances. This is the third straight spoiler opportunity for the Canes, who are 1-1 thus far.
And don't forget Maryland-UNC tomorrow night. With any luck, I'll be in the house. Last but not least, check out BYU-San Diego State today at two . Hopefully Jimmer stinks so Nolan takes the lead for POTY.
I'm going to post "Tin Man" by Future Islands again. I haven't forgotten that I put it up last week, but I'm really and truly obsessed. I suggest you listen to it and get psyched/melancholy/furious. Have a great weekend.