A couple three-four orders of business this morning.
1)
First, a repeat of the DRASTIC CHANGES in the Hot Potato. The HPs for tonight's game against State (6pm) are:
Wojo's Warriors!
It's time to open the doors and let the horses out, gang. I know that doesn't quite make sense, but you get the point: the clock just struck the shake-it-up hour. Wojo is the big man coach at Duke,* so today's Hot Potato is the sum of the points scored by Mason, Miles, RyKell, Dr. Josh Hairston, and Singler. Picks in by tip.
*What came first, the Wojo-can't-really-coach-big-men chicken, or the we-can't-recruit-any-good-big-men egg?
2)
Larry Drew:
really
? UNC's back-up point guard decided yesterday that he'd be transferring in the middle of the season. Which is nuts, because there's no benefit to transferring now instead of when the season ends, and he never gave DaggumRoy any indication that he was about to make a move. This just reeks of a selfish dude who can't take being second fiddle even though he's clearly inferior to Kendall Marshall. Instead of trying to work hard and contribute to the team (which, actually, the last 3 games have shown he can do), he lets his teammates down and abandons his school in February, when things have finally turned around. I don't know all the facts yet, but my gut reaction is: what a pussy.
Also, can't you see this being one of those storylines you read about in the Final Four? About how Carolina just became incredibly tight after the transfer, how a single act of disloyalty cemented the bonds of everyone on the team and turned them from a collection of good players into a tight-knit unit? BLARGH. Andy Katz makes a similar point with some good comparisons to other transfers around college basketball in his
latest commentary
.
Here's my theory:
WAIT JUST ONE SECOND...has anybody ever seen Larry Drew II and Kyrie Irving's toe in the same room at the same time?!less than a minute ago via web
SethCurrySavesDuke!
SCurrySavesDuke
3)
Speaking of UNC basketball, I made my television analyst debut yesterday. Yup. Someone at Reesenews (the student multimedia site where I work) had the idea for a show called "Reese Rivals," where I, a Duke fan, would match wits against Pressley Baird, a UNC fan, in a 5-minute showdown. We filmed one before the UNC-State game, but it failed to record, so this was our first successful effort. In the interest of transparency, I'm going to show you guys. With some warnings and disclaimers:
*I'm at the end of a cold, so my voice sounds croaky.
*I couldn't stop grinning like an idiot in the beginning. Don't look at me.
*The audio is delayed everywhere by about a half-second.
*I sound like a total analyst douche for most, if not all, of the clip.
Seriously, I'm inviting you to laugh at me and also to marvel at my astounding insights. And this is the ultimate transparent moment on this blog. Nobody reads on Saturdays, right?
4)
Here's
an article
I kinda expected to suck about coaches using profanity that turned out to be okay.
5)
Here's a
decently-written article
sent along by Jill from the WaPost Duke deserving respect and not hate. I guess the guy's point is taken, but can we all stop wringing our hands about who loves or hates Duke? This shit just goes on in perpetuity. Kids from Maryland and UNC will always hate Duke. People who root for underdogs on principle will always hate Duke. It's probably time to stop giving a shit. Trust me, Yankee fans learned this lesson a long time ago.
6)
It's moving weekend in the ACC. A lot of sorting should be done by Sunday night. Here are the match-ups, and what they mean:
Saturday
Clemson (4-4) at Georgia Tech (3-5), 1pm:
This is Clemson's chance to stake its claim in the top 5 of the ACC. They're coming off a really bad 2-point loss at Virginia, when they only scored 47 points, but this is a great chance to rebound and move above .500 in conference. If Tech loses, it's end of the line for them as far as an NCAA berth goes. They finally dropped one at home against Maryland last week, and this would be the nail in the coffin.
Virginia Tech (5-3) at Boston College (4-4), 1pm:
Tech's next 5 games are very, very winnable. At BC, home to G. Tech and Maryland, at UVA, at Wake. Today's is the hardest, but it could put them on the path to 10-3 and 3rd place in the ACC. BC just looks terrible lately, with losses in 4 of 5, and only being at home can stop the bleeding. I expect the Hokies to get a big road win and send BC spiraling to where they belong, in the bottom third of the ACC.
Wake Forest (1-6) at Maryland (4-4), 1pm: Maryland will romp, and this doesn't mean anything. The Terps are still the biggest mystery in the ACC. Nothing's going to clarify today.
Virginia (3-5) at Miami (2-6), 2pm:
Miami is by far the best 2-6 in-conference team in America. I expect them to show that today in a rare blow-out. Normally, they're incapable of playing a game that isn't incredibly close. Here are the margins for their 6 conference losses: 11, 7, 2, 2, 3, 4. That 11-pointer was at Cameron, the toughest venue in America. Toss it aside, and the average margin of loss was 3.6. Their two conference wins came by 1 and 2. The rest of their schedule isn't
terrible;
UVA, Wake, Clemson, Duke, BC, FSU, Maryland, Georgia Tech. Just for the sake of argument, let's give them wins today, against Wake, and against BC, and let's say they lose to Duke. That means they'd have to go 3-1 against FSU (away), Clemson (home), Maryland (home), and G. Tech (away) in order to finish 8-8 in conference. Totally possible, right? It'd be a great comeback to respectability, and a strong run in the conference tourney could put them in consideration for a tournament berth. But I'm getting way ahead of myself here.
Sunday
FSU at UNC, 2pm:
Huge. This is for second place in the conference and, for UNC, a shot at first a few days later. As I mentioned in the wickedly astute video above, FSU is 1-2 on the ACC road with the following point totals: 59, 55, 44. You'd expect them not to reach 60 against a defense as good as UNC's (6th in efficiency in the country). That's not going to cut it. The only possible way FSU wins this is Carolina is either shook up by the Drew transfer or looking ahead to Duke. The former seems unlikely, but the latter is possible because they have a lot of youngsters. Should be interesting. As I mentioned yesterday, I'm covering this one for Reesenews, and I'm still taking potential questions for ole Harrison Barnes.
7)
Finally, Duke-NC State.
Here's something really, really sad: In the past 5 seasons, N.C. State has exactly 6 road wins in the ACC.
For a school with such tradition, that's unbelievable. Sidney Lowe has
got
to be fired. That's past the point of debate. Here's the problem: who would want to take that job? State fans like to fool themselves into thinking it's an illustrious and attractive position, but I don't buy it. You're stuck in a state where you're third choice at best in the recruiting wars, and it's not like you can recruit in the rest of the mid-Atlantic either. Which isn't to say you can't get good recruits and have a semi-decent team. But really, who would choose to take the Wolfpack job?
I imagine Lowe is on his way out, and State needs to get really lucky with their next hire. The smartest bet would probably be a young, hungry, untested coach with something to prove. But the Lowe hire was kind of like that, and the anger from fans and alumni will probably push them in the direction of a safe, uninspiring hire. And they may improve marginally, but I doubt they'll get much past .500 in conference with that kind of move. It sucks to be State. But Lowe, Lowe, he gotta go.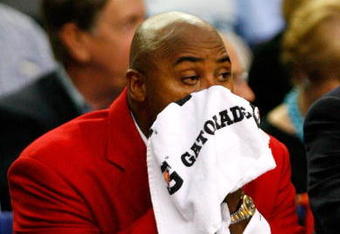 For the good guys, here's what I'm looking for in today's blow-out win:
A)
DAWKINS! Please, please, Coach K, forgive him his trespasses, whatever they are, and let him play a lot and score a lot today. We need him confident and stroking from 3 come March. We need it bad. Don't keep up this absurd merry-go-round of one good game two bad games he seems to be riding lately. Let's break out of it, already.
B)
Mason. Despite the usual array of frustrating Mason-isms, I was shocked, dismayed, and eventually pleased at how tough he played in a very hostile environment at Maryland. He contained Jordan Williams in a way I didn't think was possible. It would be great to see that continue today.
C)
Singler. The shooting was great against the Terps, and commenter Ty made an excellent point that Coach K's adjustment to have him come off screens across the middle was a stroke of brilliance. Not only did it create a height mismatch, but it got him in the groove so the long shots could fall later. Great stuff.
Other than that, I just hope to see some fast, fluid, Duke basketball. I want the kind of blow-out that happens right away, not starting in the second half. Quick starts have been few and far between since Kyrie went down. Let's have another. Go Duke.