Riddle Time
Q:
How is Duke like an unattractive person at a bar?
A:
They start looking way better as the night goes on.
Also, they cry a lot in the morning while you brush your teeth, and it takes them an awkwardly long time to find their coat.
Point is, we're chronic slow starters. Let's took a look at the last few games and compare the score after 10 minutes with the final score, and include the average difference rate for the first 10 and final 30:
Temple
After 10:
13-12, Duke (Average: +1 per 10 minutes)
Final:
78-61, Duke (Average: +5.3 per 10 minutes)
Georgia Tech
After 10:
18-15, G. Tech (Average: -3 per 10 minutes)
Final:
79-57, Duke (Average: +8.3 per 10 minutes)
Virginia
After 10:
15-13, Virginia (Average: -2 per 10 minutes)
Final:
56-41, Duke (Average: +5.6 per 10 minutes)
Miami
After 10:
20-18 Miami (Average: -2 per 10 minutes)
Final:
81-71 Duke (Average: +4 per 10 minutes)
UNC
After 10:
25-19, Carolina (Average: -6 per 10 minutes)
Final:
79-73, Duke (Average: +4 per 10 minutes)
Those were our past 5 games. Here's Duke's total score taking just the first 10 minutes of each:
Duke:
78
Opponent:
90
And now the final 30 minutes of each:
Duke:
295
Opponent:
213
That's pretty crazy, right? We go from an overall average of -12 in the first 10 minutes to +27.3 in any 10-minute period after, a 39-point swing. The obvious question now is 'why?' Why have we trailed in 4 of 5 games (and barely led in the other) after 10 minutes? Why does it take that specific length of time to warm up and start playing good basketball? Are we not stretching? Should we play a 10-minute scrimmage beforehand? Does Coach K make us start out passing the ball 15 times per possession like Gene Hackman in Hoosiers?
I honestly have no idea why this happens, but I'm willing to hear suggestions. I certainly hope it doesn't continue; that kind of habit will bite you against better teams.
In any case, Temple wasn't a very good team. As I thought, the injuries to Randall and Eric hampered their offense to a fatal degree. Where they may have had a chance to keep things somewhat close late into the game with a healthy roster, without those pieces they were totally hamstrung. The Duke game plan was sound; stifle the Temple perimeter, take your chances inside, isolate Singler against small defenders, and penetrate/feed the post to create open threes.
Time to take out the grading pencil.
Ichabod Drain:
A.
Huge, great, fantastic game from Singler. Note the new nickname: did you see post-game interview? Singler is a surprisingly gaunt dude. If Tim Burton ever made a basketball movie, he'd be the star. I thought a new moniker was in order, and I went back and forth between Ichabod Drain (like drain the 3) and Icha-God Crane. Still not sure which one I like more, and outside opinions/alternate suggestions are welcome. My pal Sean had a third idea; he thinks Singler looks like an unknown muppet, second from the right: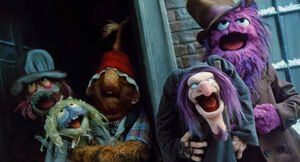 Neither of us know that muppet's name, so if anyone can help, it would be much appreciated.
Anyway, Sing's great game was a little bit predictable, since Temple would always be forced to guard him with someone 4 inches shorter. I predicted yesterday that he'd be our primary scoring option, and it was clear from the first possession that Coach K was hellbent on breaking his senior's slump. 28 points later, mission accomplished. Singler even shot higher than 50% (10-19) within a game for the first time since his great showing against Maryland in early February.
Even more importantly, maybe, he shut down Ramone Moore, Temple's best scoring threat. The Temple guard scored 8 points on only 7 field goal attempts, both well below his season average. Once again, Singler proved that he's among the top defensive players in the country, and last night he was the clear choice for
Player of the Game.
A word of warning: this great effort may break Singler's slump, or it may not. We have to remember that the match-ups were particularly favorable for Singler against a depleted Temple squad. It won't be long before he's back to being covered by the likes of Harrison Barnes; tall, long, quick dudes who have made 2011 something of a disaster for Singler. I'm happy about last night, but we definitely need to see more. Be optimistic, but carry some caution in your back pocket.
Plumblebum the Greater
C+.
What a lunatic. What a crazy, big ole lunatic we've got in Mason Plumlee. By all rights he should have thrived last night, but he didn't. He was just okay; good on the boards, decent at avoiding stupid shots, and poor on turnovers.
My absolute favorite sequence of last night, and maybe of the year, came early in the second half when he tried to dribble the ball upcourt after a defensive board. He's actually shown some ability of late to jumpstart fast breaks with a great outlet pass and occasionally one or two dribbles to create some space. This time, he overreached and decided to take it all the way to half court. You could see the Temple guard sneaking up from behind, and on my couch three people were screaming at him to pass. But the guard caught up, tipped the ball way, and Temple took possession. Mason, attempting to make up for his mistake, ran up behind the Temple guard, hacked the hell out of him, and got a break when the refs swallowed their whistle. The ball came loose, and the whole thing ended with Nolan scoring on a lay-up. Fabulous. Classic Mason.
Speaking of Classic Mason, I mentioned his soul-mama head shake after a slam against Georgia Tech, and Duke Blue Planet came through again. You can see the goodness at the 46-second mark of this video:
GLORY B, THE FUNK'S ON ME-BOP!
KEEP THAT FUNK ALIVE.
Like I said, his work on the boards was decent, but Lavoy Allen made a bit of a killing down low, and Rahlir Jefferson did well too. I really wavered between C- and B+ for ole Mase, but I think the post points conceded and the 4 turnovers push him to the low end.
Kid Shimmy:
B-.
Kind of a rough game, at least by Nolan's standards. 4 assists to 3 turnovers won't raise any eyebrows, and the 15 points is his lowest total since that weird Bradley game when he scored 2. The shooting was off too; 5-17 is his worst one-game percentage since the first Maryland clash on January 9.
Here are two things that concern me:
1)
I'm worried that success for Singler and Smith might be mutually exclusive. Nolan took a big step back to give Kyle free reign, and we've seen how Singler seems disconnected when Nolan excels.
2)
Nolan's shot looked weirdly off. I'm going to worry about this for approximately 5 seconds, because it's a minor, petty complaint that will probably be resolved or proved ridiculous by next game. Still,
something
seemed amiss. Luckily, my gut instincts are usually wrong. That's why I love numbers. YOU CAN'T ARGUE WITH A NUMERAL!
The Koala Apostle:
B.
I thought it might be a tough game for Seth. Temple's guards all average around 6'4", which is great for Singler and bad for shorter guys like Curry and Dawkins. And while he was pretty limited (9 points on only 6 shots, 5 of them threes), he made efficient use of his 34 minutes: 0 turnovers, 3 rebounds, 3 assists, only 1 foul, and 3 timely bombs. That's the Curry intelligence, and it's why he's been so important since January.
The White Raven:
B-.
He needs to stop shooting threes. He had a nice little 3-game stretch against BC, Wake, and State when he was 8-10 from behind the arc, but in the 8 games since, he's only 2-13. In the 8 games
before
the mini hot streak, he was 2-16. Time to start passing, White Raven. You can't fly like you used to. (sad music)
You can't fly like you used to.
(Okay job on the boards, though.)
Young Threezy
:
B.
Coach K needs to play him more. They need to sort out the differences. It's not too late, guys! Look inside your hearts!
The Thorn
:
C
I didn't realize this until a commenter pointed it out, but he's actually been kinda weak lately on the perimeter. It seems like opposing guards can drive past him at will. He also commits a lot of fouls; 4 in 11 minutes last night. Was his great defense earlier in the year an optical illusion? Or is he just a freshman experiencing growing pains? One way or another, this is why Dawkins needs to find his way back into the rotation.
Stupid Fouls
:
Stupid Fouls.
Stupid Fouls gets a grade of Stupid Fouls based largely on his Stupid Fouls.
Team Defense:
A-.
Other than a few easy inside points and a stretch late in the first half when it seemed like we couldn't get a stop, I'd call this another excellent effort. Holding Temple to 61, even without two starters, is good work by any measure. A combination of strategy and skill has elevated Duke to 2nd in the nation in defensive efficiency (only Texas is better), and we're peaking at exactly the right time.
Other thoughts:
-Did anyone see Kyrie's dance on the bench after Mason's big dunk? This guy is friggin' fantastic. They showed him on the reverse angle camera on ESPN, and he was doing some combination of holding his teammates back, shoulder jiving, and running his hands through his hair. I love Kyrie Irving.
-And what about Wojo screaming at the big men during an early timeout? Did he want them to slap the floor more often? Was he sublimating his extreme guilt at not being able to coach big men?
-As I mentioned on twitter last night, Temple coach Fran Dunphy looks like a frustrated office worker at a government job. I want to buy him a beer and hear his complaints about middle management. I want to gently remind him that he has white donut powder on his shirt. I want to ask him about the last he shaved his sad walrus mustache.
-My favorite lineup, Smith-Curry-Dawkins-Kelly-Singler, played the last four minutes of the first half. They scored 10 points and gave up 6. The strengths and weaknesses were basically what you'd imagine; Temple got a lot of offensive rebounds, but Duke moved the ball well and ran a fun offense.
Full ACC rankings and wrap-up tomorrow. Enjoy the day, enjoy the win.