Man, that
Oregon game
was really something, right?
Not to murder this genius metaphor, but it was like watching a brilliant kid who isn't being challenged at school. He perks up momentarily when new material is introduced--multiplication, you say?--and shows the full scope of his abilities. Then he realizes the challenge isn't really a challenge--wait, multiplication is just addition by groups? The
hell?
--and drifts back into a state of sleepy semi-alertness.
Duke's interior monologue during the Oregon game:
"ALL RIGHT, here we go baby, battle of the Singlers, let's get it done, gonna be a holy war...oh shit Kyle is hot, watch out Oregon, watch out. Quack quack, mothercluckers...let's see what you got...no, serious, let's see what you
got,
son...bring it now or bring it never...c'mon, ain't you guys played basketball before?...Damn, 31-12? I thought this team was good...the other Singler just shot an airball. You got to be kidding with this...33-23, Jesus, okay, okay, I'm awake...maybe this is about to get fun...only up 15 at halftime, anything can happen, right?...I'm not much for fast food, but the Wendy's spicy chicken burger is okay by me...gives me heartburn, though...is it weird to think that my pelvis hurts?...anybody want to go see a movie a little later? Doesn't have to be tonight, just give me a ring...nah, I'm not seeing her anymore, things didn't work out...too busy with basketball, you know?...I mean, if she wanted to come back I'd have the discussion, but I ain't about to beg...okay second half, game time...61-31. They're not even pretending they have a chance to win...isn't that part of the fun? Pretending? It's like when you play bedroom games. I know you ain't really a stern female cop, but get into the role or why we even here, right?...to be honest, I'm not even 100 percent sure where my pelvis is located...hey Oregon, maybe you should hit up the career fair or something, maybe basketball isn't your bag...later tonight? Oh I'm probably just going to hit up my Roku and take it down Netflix style, you know, drink some red wine like it's 1999...like I always say, give me thirty minutes and an empty stomach and I'll pull the reverse Jesus, wine into water...she never laughed at that either...gave her a call the other night, sounded like there was a dude in the background...might have been the radio, though...holy the shit, what the hell score is it, I was napping!...never mind, things are cool...hot damn, we might get 100...a cool century, can't knock that noise...seriously, someone just score...just once in the last 2 and a half...DAMN, I HATE BEING STUCK ON 98...I know, I know I should be grateful, but for serious, y'all, 98 is an old school
bummer
...aright, well good playing, let me know if you ever want to hang and get weird with some Madden or whatever...yeah, I hear you, busy time of year for me too...keep it real, homes, but hey listen, I left my wallet back in Durham and I could use a 20 spot to hold me...only if you carrying...thanks brother, I do appreciate that...don't mind me if I'm crying, it's just the weather."
Geez, Duke University is really, really sad when you personify it. I kind of didn't want to be seeing that on a Monday morning. My bad, guys. (The girlfriend? Cal-Berkeley. Total hottie intellectual type, real heartbreaker. Never laughed at the reverse Jesus joke.)
Anyway, I won't bother you with player grades. Singler was fantastic and Irving was spectacular, as usual. It's gotten to the point that the team is markedly different without Kyrie on the floor. This might be another down year for the NCAA, but I'm still semi-convinced that without Kyrie, Duke might be #4 or #5 in the country instead of #1. As for Nolan, his shots fell, but I was surprised to see that he didn't handle the full court press very well. He had a string of turnovers when Oregon showed it late in the first half, and he didn't seem as capable as I expected of dribbling through. With Kyrie in the mix, though, the press seemed nonexistent.
We boarded and assisted well, but 19 turnovers is a bit much. Still, considering our style and considering this was the tail end of a tough road trip, the sloppy play isn't a huge concern to me. I don't think we'll see a repeat of that Wednesday against Sparty.
Other stuff from the weekend:
1)
Holy hell, Kemba Walker, you are
good at basketball
. The UConn junior basically took names against two top-10 schools last week, leading the unranked (for like two more seconds) Huskies to early "upsets." Seriously, he looked amazing. We have an early frontrunner for POTY.
2)
And now, a special message from North Korean dictator Kim Jong-Il. Normally I don't like to invite this type of person to write in my blog, but I have to admit: the guy's a huge Carolina fan. The floor is yours, Kim:
Many glories to Harrison Barnes, glorious player of North Carolina, for his scoring of 8 GLORIOUS points in
GLORIOUS NARROW VICTORY
over less glorious but still mighty College of Charleston. MANY GLORY, HARRISON! MANY GLORY ALSO FOR GLORIOUS 9 REBOUND, 1 BLOCK, 3 ASSIST, AND 1 KIM JONG-STEAL! I AWARD 16 NATIONAL CHAMPIONSHIP TO YOU! HEY DUKE, WHY DON'T YOU TAKE A TRIP TO THE DOG PRISON AND EAT A PIECE OF DOG WASTE! DUKE IS FULL OF COCKY NEW JERSEY MEN! CAROLINA IS TRUE SOUTH AND THIS IS KNOWN TO AMERICA! HEY LOOK I MAKE A JOKE: WHAT ARE YOU CALLING A PERSON WITH ARROGANCE THAT IS ALSO A KNOWN DISSIDENT? ANSWER: A PERSON THAT ATTENDED COLLEGE AT DUKE! EAT A PIECE OF DOG WASTE!
(We don't call them dog prisons here, you big wacko.)
3)
Roger Federer
beat
Rafael Nadal in the ATP final. After the four majors, this is the biggest event of the year, and Rafa has never broken through. It was Federer's fifth title at the event. Rafa was dead tired after a long year and a grueling semifinal match against Murray, but he wouldn't use it as an excuse:
"Everybody saw the match of yesterday, so everybody's free to think his own opinion," Nadal said. "I'm not going to say I lost the match because I was tired. What I'm going to say and what I feel is I lost the match because I played against a very good Roger Federer in one of his favorite surfaces. And when he's playing like this, it's very difficult to stop him, no?"
Reading Rafa Nadal quotes is basically my favorite activity. Not only are they simple in a sort of profoundly humble way, but I also enjoy the way he interacts with the English language. He has a formal, measured approach that allows for extra words in most clauses. And he ends a lot of sentences with "no?", which is a delight. You're the man, Rafa.
4)
Speaking of nothing, I was reading an article about the tea party this weekend and came across this passage, which was close to the best thing I've read in a magazine this year. The article is called "
American Grotesque
," and it's by one of my favorite writers, John Jeremiah Sullivan. If you like any of this, you should absolutely read his
profile on Axl Rose
. It's glorious. Anyway, here's the passage I loved:
In a gas station I heard a conversation about religion. I almost hesitate to reproduce it, because it sounds made up. The woman behind the counter and a bearded, even cartoonishly hillbilly-looking man who'd just bought a pack of generic cigarettes were talking. The man remarked that there were all sorts of religions right there in that part of Kentucky.

"Did you ever see snakes?" the woman said. She meant snake handlers.

"No," said the man. "Did you?"

"Not right out in the open," the woman said. "But I knew people that had 'em in the back room."

While I paid, they exchanged some pieties on how everyone has his own beliefs. Then the woman said, "It's just like, ten people see a car accident, every single one is gonna tell the police something different" (a vivid way, I thought, of localizing the story about the blind men feeling an elephant).

"Tell me which one of 'em gets out to help," the man said, "that's the one whose religion I'll listen to."

The woman and I both stood there. I think we each understood in our own way that Snuffy Smith here had just dropped some Spinoza-level wisdom on us through a parting in his tobacco-browned beard-nest. I went to the car and scribbled it down.

There are people who will ask you why you love Kentucky.
5)
I'll tell you what I'll be doing at 3pm eastern today:
this.
It's Real Madrid v. Barcelona in a match the Spanish call 'El Clasico.' Sounds pretty badass, right? I'm not a dude who goes out of his way to watch soccer matches that aren't in the World Cup, but this one's been getting a lot of hype as a classic Messi v. Ronald duel (that article is great, by the way...it highlights Ronaldo's thinly-veiled resentment that Messi is considered the better player), and it's in the afternoon, so what the hell. I'm pretty sure it's on ESPN or something. I have a few predictions:
*The uniforms will be wackier than I expected.
*The game will be more boring than I expected.
*I'll hate the hell out of Ronaldo while I watch him play. I liked the fat one better. What is that dude up to?
*I'll start to get really into it by like the 60th minute.
*After the game, I'll feel all worldly and cultured because I watched a whole European match. I'll start using words and phrases like 'pure class' and 'ambitious' and 'creative' to describe sports maneuvers. I'll be totally insufferable. I'll demand that my girlfriend speak in a French accident. I'll carry a mandolin with me everywhere.
Soccer:
Okay, whatever.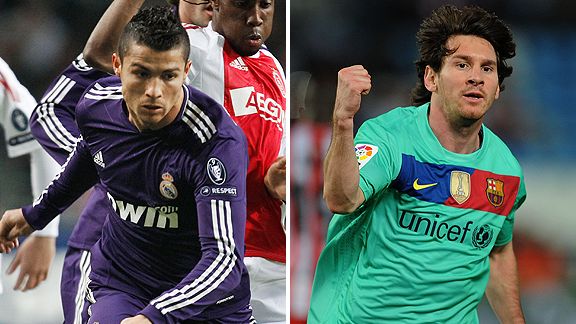 6)
Hey, the
Giants won
! Confession: I'm the worst NFL fan ever. Yesterday's game was on local tv, but I still didn't sit down and watch it. I watched an hour of Federer-Nadal and caught some of the end of the first half, but that's it. Do I have a litany of excuses? I do. First off, the grad school work load dictates that I have one day free each weekend. The sad truth is that I'd much rather take Saturdays off and watch college football. And now basketball, too.
Also, the Giants look an awful lot like they're on last year's trajectory; awesome start, horrible mid-season form, miss the playoffs. I still believe that after yesterday, when they slipped by a crummy Jacksonville squad. That was annoying to watch last year, and frankly I'll take a pass this time around if I have other things to do. I hate Tom Coughlin. One Super Bowl (and let's be honest, it was a pretty fluky win) and our team is entrenched in mediocrity for years. Was that one win worth it? Yes, it was awesome. But bring on Bill Cowher, please. Or even Colin Cowherd. Anyone with cow in their last name. I'll even take Al Cowlings, the guy who drove O.J. Simpson around. Or an actual cow. It doesn't matter, we just want some cow-oriented change here. What am I even talking about?
Last thing on the NFL: I went to the Jets-Bengals game Thursday night, and while I'm grateful to attend any sporting event, especially when I don't have to pay for the ticket, I must say that that shit is
bo-ring.
The NFL is so completely designed for television, with the million breaks in action, that it's almost impossible to enjoy it in living color. Maybe it was just that our seats were in the nosebleeds and nobody would try to sneak down with me, or maybe it was the fact that the game itself was a total snooze, but by the middle of the second quarter I was ready to peace out. You know that commercial where the guy gets tickets to a game and his friends don't want to go because it's going to be super cold? The friends are right. Seriously, it's not worth it. The NFL is better viewed from home.
This has been:
a spoiled asshole.
7)
I was delighted by
Boise State's loss
and horrified by
Auburn's win
. Next week, I'll be in the unfortunate position of rooting for a team coached by Steve Spurrier. GUH-
ROSSS!
* The only good guys left are Oregon and TCU. By the way, this year is setting up for an awesome Wisconsin-Stanford Rose Bowl. Just thought that should be noted.
*This is my new catch phrase, what do you guys think?
That's it for now. Let me know if I'm missing something. It's been a lonnng weekend. Seeing the family was awesome, but spending 20 hours in a car?
GUH-
ROSSS!