Happy Thanksgiving, my friends, from the entire Seth Curry Saves Duke! family.
I woke up this morning on a king-sized bed, facing a giant picture window that overlooks the Central Park reservoir. I got up, wandered around the 4,000+ square foot apartment, and considered activating the sound system that can pump music into any of the 20 rooms in this 7th-floor Manhattan prize. I walked by the gigantic tub where I took the world's greatest bath before crashing last night. I passed the various beautiful televisions, one of which had showed Kemba Walker destroying Kentucky while I lounged on a 15-foot couch and ate sushi just hours earlier. I passed the children's bedrooms, where my girlfriend tells me there's artwork that costs more than a year's tuition at Duke. (Seriously, a small act of petty theft could erase my college loans...hmmm....
SHUT UP, MORALS, I DESERVE THIS!
)
Back when we lived in the city, she sometimes baby-sat for this couple when they went out on weekends. They're filthy, filthy, filthy rich. The kind of rich where they get to be in magazine features about who has the most money in New York City. You wouldn't recognize their name, but suffice it to say they don't worry about things like highway tolls or the fact that most sandwiches cost more than six dollars here.
They're out of town, so we got to experience the high life for a night. I'm thankful for that, for seeing how the other half lives, because God knows I'm never going to be there on my own merits.
I write a blog. I'm pursuing a career in journalism.
Enough said. Then again, I'm thankful not to be rich, too. I'm at least thankful not to come from wealth. I always feel strangely bad for kids born under a golden sign. I probably shouldn't, because a lot of them go on to be very successful and happy, but there's something oppressive about it too. Maybe it's a justification of being average, but I've always felt like I had the chance to learn more than someone born in high society.
I don't need to go on about this all day, but I enjoy going through each day knowing I only have to meet my own expectations. I was thankful to wake up in the lap of luxury this morning, and I'll be thankful to walk out the door and hit the street.
I'm very thankful for sports. In a
nice article
on CNNSI, Michael Rosenberg argues that we really hate Lebron James because he tried to "circumvent competition." We can take sins against society, even egregious ones, and we can take cheating. But we can't take it when someone tries to go around the essence of the game, to win without the toil. It's why, Rosenberg says, we all rejoice when the Heat lose. It's a refutation of the idea that we can avoid the struggle. Human beings love drama, and by the time we're in our twenties we learn that nothing will ever be easy. Sports is the stage on which we can watch our own dreams play out; victory and triumph after the grind. The lottery is bullshit. I don't like people who win the lottery. I'd rather watch an NBA blow-out in late November than an old man knocking on someone's door with a load of balloons and a giant check, delivering them from earthly labor.
I'm thankful for the good guys. I'm thankful for Kyrie Irving, whose excellence leads to
embarrassing blog posts
, and who won his first piece of college hardware yesterday with an MVP in the CBE Classic. I'm thankful for Robbie Cano and Rafa Nadal and everyone else who embodies my particular vision of the ideal sportsman.
I'm thankful for the villains. Sometimes I feel that I'm actually
more grateful
for the villains, which, I admit, is a little sick. I'm thankful for photos like this, that show how close the villains were to being heroes.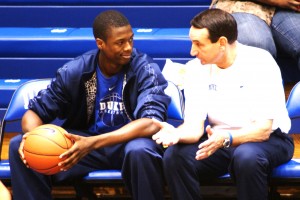 What would we do without Prince Harry? What would we do without the war-like Frank Martin, whose quote in this fun
series of articles
by Eamon Brennan brightened my Wednesday:
"They knocked the living piss out of us," Martin said. "If there's a team better than they are, I don't want to play them."
I'm thankful for the community of fellow-travelers who blog about sports. I like posts like
this one
and
this one
.
I'm thankful for the readers more than anything. I just tried to list a bunch of names, but it became really long and I undoubtedly forgot a bunch. So let me give special props to Carrie, the original supporter, and Spike, the 'guy who's smarter than me that gives me a lot of things to write about.' And to Jill for most of the links in this post. But thanks to anyone who lands on this blog, especially those who do so on purpose and not because they were looking for pictures of
Mason Plumlee's girlfriend
. (So proud to say this blog is the #1 Google hit for this search, and the
picture
of Coach K doing a forward-thrusting hip thing is #1 in the image search.)
I'm thankful for my girlfriend and my family and my friends. Those are nice things to have.
And let's take a moment here to recognize the
real
heroes. Sure, it's nice to gush about folks like Kyrie Irving and the 2010-11 Duke men's basketball team, but in the midst of our passion it's important not to forget those who tested themselves under fire and accomplished something that
really
mattered. That mattered so much more- so very much more, my friends- than a mere championship in the CBE Classic. I'm talking about the heroes who give us hope, who allow us to live in a manner that so many others around the world could never even imagine:
The 2009-10 Duke men's basketball team.
What?! They won a
NATIONAL
championship, guys! It was awesome!
COME ON!
Okay, I should spend time with my family. Have a great Thanksgiving, everyone. And seriously, thanks for reading. Keep calm and Curry on.