I have to tell you guys, I really think this Pick Six is the greatest in SCSD! history. It has fucking charts and youtubes and great Mormon jokes and links back to obscure posts from this very blog and two independent
Friday Night Lights
references and one of the all-time angriest rants in the history of anger. As the great Ian Darke might say, it's an
absolute firecracker
. This is why I got into the Pick Six business all those weeks ago.
Before we get there, though, I have to put in a quick word about Duke's
81-60 win
over Cal-Poly Pomona. There was quite bit of traffic for
yesterday's post
, and the humble folks of Duke University rallied to spur "our boys" to a miracle victory. I want to thank Jake and Doug H. and Mr. Intrigue and all the anonymous commenters for not being cowed by the arrogant Californians. I'd also like to thank everyone who stopped by from The Devil's Den. We did this together, guys.
This is our miracle. Remember, remember, the 4th of November.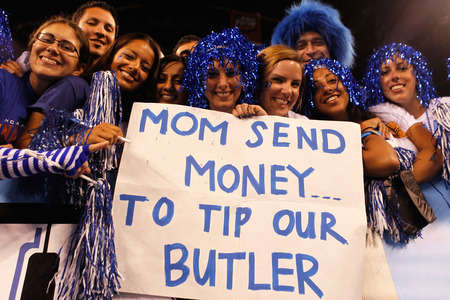 You know what happens now, doggies. Go on and brace your bad selves. Wolf gotta howl, rooster gotta crow. Cock-a-mother-fucking-doodle-
doo.
THE(BEST)FRIDAY PICK SIX(EVER)


VOLUME TWO, WEEK ONE
The Friday Pick Six is an original SCSD! game where six people make six predictions for six weeks. Along with their picks, they're allowed and encouraged to submit a 'sound-off' on any topic, sports or otherwise. When it's all done, the winner earns great honor among the people, while the two losers are exiled in shame and the three middle finishers go to purgatory, with the chance rescue their good name up to three times. To learn more about the rules, and about the current contestants, read below:
-
-The inaugural champ and intros to the New Class
-
Week One
THE HALL OF ANGELS: OLD CHAMPIONS
1.
Tom
.
Here's how Volume Two looks:
Creatures in Purgatory:
Jill, Carrie, Spike
Newcomers:
Swetha & Sabreena, Nick E., Mike L.
Standings after Week One
1.
Swetha & Sabreena: 6
2.
Spike: 4
3.
Jill: 3
3.
Nick: 3
3.
Mike: 3
3.
Carrie: 3
Pick Six aficionados will notice that Swetha & Sabreena notched the first ever perfect score in week on. We'll define a perfect score, for now, as earning the most points of any player in each category. Their only slip-up was picking 3 batters faced for Derek Holland rather than 4, but nobody hit it on the head so they still got their point. A breathtaking performance from the Dukies in their first crack. Spike hustled his way into second, and then it's a cluster at the bottom.
Pick Six Trivia plus Sexism:
Females have led the Pick Six standings after every round but one: Volume One, Week Six. Despite having the edge in 6 of 7 weeks, we have yet to crown a female champion. People are talking. Are females prone to fatigue in the later weeks? Does it take a male's sturdy endurance to triumph in the grueling world of Pick Six? Are women...
too emotional?
And now, THIS WEEK'S DOCKET:
1.
TCU AT UTAH! This game should be awesome.
2.
Baylor at Oklahoma State
3.
Arizona at Stanford
4.
GIANTS AT SEAHAWKS. Revenge for Blazers-Knicks.
5.
The number of blocks PLUS rebounds for Serge Ibaka in Sunday's game against the Celtics.
6.
From Carrie: According to Amherst's (smug) website, they are the only (smug) school with (smug) teams remaining in each of the (also sort of smug, honestly) NESCAC Men's Soccer, Women's Soccer, Field Hockey and Volleyball Championships. Evidently, this weekend, the (universally agreed upon worst mascot of all time even in a conference filled with terribly-named teams) Lord Jeffs will be seeking to take home championships in each of those conference tournaments.
Here's the category: Which of the four will Amherst take, if any? Scoring: One point for each correct answer, -1 for each wrong answer. Also, .25 points for each one you correctly don't pick. That's right, baby: decimals.
We begin with our leaders, the lovable scalawags from old Durham:
Swetha & Sabreena
1. We remember once reading to "
be very [sic] careful betting against Mormons or the Service Academies.
" Granted, this isn't Brigham Young, but no sense in taking any chances.
UTAH.
2. Not buying the Baylor Cinderella story. If Oklahoma State can put up 41 points on Nebraska, the Cowboys can score on anyone.
OKLAHOMA STATE.
3. Totally on the Andrew Luck bandwagon. And speaking of bandwagons, can't waste an opportunity to show
this
, even if it brings up some bad memories for those Cardinal fans.
STANFORD.
4. No Matt Hasselbeck? Giants pass defense? Yikes.
NEW YORK.
5. Serge Ibaka is easily one of my favorite players in the NBA. Great name, super likable team, one of eighteen siblings and
fantastic energy
. I predict he gets
SIX
blocks plus rebounds against the Clips, mostly because this game already happened and he got six rebounds plus no blocks. Not sure what else to say here.
(Editor's Note: Yeah, fucked up on this one originally. It's now the Celtics game on Sunday. Their new guess is 8.)
6. This is the most random category ever conceived, and you'd be hard-pressed to find a paragraph that uses the word (smug) more. Feeling good about
MEN'S SOCCER and VOLLEYBALL.
Spike
Shane... feel free to edit this rant if it's too far...
(Editor's note: I had to print this line from Spike's e-mail. When a rant starts with something like that, you know it's going to be awesome.)
Utah, Baylor, Stanford, Giants, 8, 0-4
(and for the fuck of it... Bowdoin in Men's Soccer, Williams in Women's Soccer, Bowdoin in Field Hockey, Middlebury in Volleyball)
Look, Amherst is the worst. The worst. Just the worst people on earth. Their school was founded when they stole half the books from Williams' library and rolled east until they had burned every one of those books for fuel. Which meant that they burned their wagons. Because they are stupid. They thought cars were invented in the 1810s. WRONG. Idiots.
I just told my roommate I was writing about Amherst and she reminded me that Lord Jeff died of syphilis. Which he got from raping Indians. True story. You know those smallpox blankets you hear about in school? The ones that the evil colonizers used to oppress the innocent natives. Lord Jeff Amherst did that. Yup. Having Lord Jeff as the mascot for Amherst is kind of like having Pol Pot as the mascot at Phnom Phen Tech. Jeff Amherst was the original douchebag. The perfect model for everyone at Amherst. Amherst kids are like smugger Williams kids (and we're smug fucking assholes). Amherst kids are like Duke kids if NC State was literally 1 mile away and there were 1/4th as many of them. They take Duke smugness and square it. To be clear, PEOPLE FROM AMHERST ARE MORE SMUG THAN DUKIES. I'm shaking with rage typing this paragraph. And I genuinely think they are probably not going to win any of those championships (Volleyball is their best chance, but there are 8 teams left so I'll grudgingly take a 7 team field on that one).
So I thank Carrie for not asking who is going to win the Amherst Trinity football game this weekend. Because, fun fact, Amherst is the prototype for Oregon's breakneck offense. They are averaging 43 points a game. They dropped 70 last week. And they are going to win. And then Williams has to go to Amherst in what will be a match-up of unbeatens and a de facto conference title game. And we will lose. Because we don't have the prototype for Oregon's offense. We just have a really good D3 football team. And that means we'll have lost two years in a row. To fucking Amherst.
Jill
TCU v. Utah:
Utah.
Something about supporting the "Horned Frogs" bothered me. And Utah is also at home, which could go a long way in remaining undefeated this week.
Baylor at Oklahoma State:
Oklahoma State.
Baylor is coming off a major victory over Texas and this game may prove to be a let down. The Bears will put up a tough fight, but the Cowboys eke out the victory.
Arizona at Stanford:
Stanford.
Both teams are looking to secure second place in the PAC-10 behind Oregon. Stanford's offense, which has put up at least 31 points in every game, will be too much for Arizona's otherwise solid defense.
Giants at Seahawks:
Giants.
Matt Hasselbeck is out again this week and Charlie Whitehurst will be playing QB. At first, I was like who is this random dude and why does his name sound so familiar? And then I remembered that he is a former ACC guy who was sort of a big deal for approximately fifteen minutes when I was in college. But then, after that light bulb extinguished, I had to deal with my inevitable confusion about which Hasselbeck is married to the crazy Elisabeth, and more importantly, why. Matt or Tim, Matt or Tim? (Tim). I guess that marrying her is somewhat comparable to a major head injury, so I feel badly for both of the Hasselbeck brothers. I still hope the Giants kick ass.
Blocks + Rebounds for Serge Ibaka:
11.
I'm sorry. Should I know who Serge Ibaka is? He is apparently from Brazzaville, Zaire, which sounds like a bitchin' city to me. I am going with straight-up boring logic here: according to espn.com, he averages 7.8 rebounds and 2.0 blocks per game. Do the math and add one for good luck. Lame, I know.
(Editor's note: Jill changed her pick to 8 after learning of the mistake.)
Amherst's (Smug) Pursuit of Championships:
Volleyball, Women's Soccer.
The Lord Jeffs, perhaps the only mascot name that makes me more uncomfortable than the Horned Frogs, are the #1 seed and host for the v-ball tourney; they lost their opening game of the season and only one other time to a non-conference team. Men's soccer is seeded #4 and seems like a long-shot to take home the crown. On the other hand, the women's team is seeded #2 and is the best team remaining in the tournament. They have been solid but inconsistent, producing decent offensive stats; however, dependable mediocrity will be good enough this weekend. In field hockey, I am wary of Tufts, defending conference champion, host, and #1 seed in the tournament. They are also named the Jumbos, which I find rather awesome. Jumbo Gives it Hard to Lord Jeff is a headline waiting to happen.
Team of Jumbos eats Lord Jeffs for Dinner
also has a nice offensive ring to it.
Nick E.
So this is kind of crazy. I was in bed, asleep, when at exactly 12:01 I awoke in a cold sweat. I nearly forgot to do the pick 6. So my life has come to this.
1. I like them
TCU
boys.
2. They play this game at 9:30 in the morning? Wow. Only farmers can get drunk that early in the morning.
Oklahoma St.
3.
Stanford
4. Matt Hasselbeck is out with a concussion, and ESPN says the Giants are "red hot". Lets go with the
G-Men.
5. At first I thought I'd try to just add his game average for blocks and boards. But no, you people deserve better than that.
The above is a graph of Serge Ibaka's performance over the season. Clearly, he's trending downward. I predict.....1 standard deviation from the average. But it's the clippers...so
4.
6.
Field Hockey and Men's soccer.
Goin' with my gut on this one.
Mike
1. Mormon girl stood me up for a date last week. Said her dog fell down the stairs (true story). That cannot go unavenged. All of Utah is to blame.
TCU
2. I bet Baylor couldn't beat the East Dillon Lions.
Oklahoma State.
3. Stanford is the only school to reject me twice (undergrad and law school). But I sure do love me some Spanish tiled roofs.
Stanford.
4. I just can't get a consistent read on Hasselbeck. Also, Eli's watch commercials really speak to me.
Giants.
5. Since the Thunder don't play the Clippers on Friday, I am going to go ahead and say he gets
0
blocks and rebounds against the Clippers. Am I missing something on this one?
(Editor's note: waiting on Mike's new guess. And it's...10.)
6. I'm assuming for this question that any Amherst victory (even if only to secure 3rd place) counts as a victory in the "Championship." Otherwise, I want points for doing my research and knowing for which titles Amherst is legitimately contending. Women's soccer is a home game and the top seed has already been knocked out, so I like their odds. Bowdoin seems fierce in field hockey (feeling based on nothing other than I like saying the word Bowdoin). But really, fuck this. I can't read the NESCAC website anymore so I am just going to make random picks.
AMHERST WINS: Women's soccer and Volleyball. They lose the other 2.
Carrie
1. Even if
Friday Night Lights
did not exist and thereby legitimize every irrational warm feeling I have about Texas and football, I would still pick
TCU
because they are the Horned Frogs, which is a hybrid mascot whose combined wording provides maximum badassery: Horns = menacing, potentially injurious. Frogs = hoppity, slimy (okay, so maybe those last two things are only scary to me.)
2. There's a pretty big part of me that wants to pick the Baylor Bears because saying that out loud makes me smile. It's so sweet! BUT.
Oklahoma State
are the Cowboys (literal and accurate mascot alert!) and play in BOONE PICKENS Stadium. Color me charmed.
3. In my heart, my loyalties lie with Stanford and its truly impressively efficient Jamba Juice franchise location. BUT! They totally burned me last time I was loyal and something tells me this is the week I need to make real the grudge I now hold against them for that. It pains me but...
Arizona.
4. At last! This is exactly the easy category for which I've been waiting! The Seahawks lost to the RAIDERS last week. The Oakland Raiders (not to be confused with the 7-Hills Raiders, my middle school's team. They were super good. For a flag-football team.) By a LOT. So, unless they come out CRAZY pissed (which like, they probably will and then I'll feel dumb for being so cavalier about this), the
Giants
easily have the win.
5. I would like to take this opportunity to point out that the heart shown by the Thunder in last year's (interminable) playoffs made me (almost) care about the NBA. For like half a second and then they were out and so was I. Anyway, I like the looks of Serge. I also like that his name is a homonym that could easily been made into a pun-tastic headline were he to do something extraordinary on the court. So I say, Serge will SURGE (see? fun!) his way to...
5 total blocks and assists
against the Clippers, who are so consistently terrible that I can't believe they still exist.
6. Best category ever, right?!? Everyone loves D-3 sports! Honestly, I don't even know what I was thinking with this omnibus. I feel pretty confident the Lord Jeffs (seriously, the VERY WORST mascot in HISTORY and you know I care about such things) will take
Volleyball.
I am also going to make an uncharacteristically risky move by pegging them to take
Women's Soccer
as well. Don't let me down, Lady Jeffs. (Sidenote: how much more insufferable will Amherst become if they take all four of these championships?)
***************************
Amazing job, everyone. My heart is warm with pride. Enjoy the awesome slate of college games this weekend and for God's sake stay safe.