There are now four men who have had two World Series clinching hits in their lifetimes.
1. Lou Gehrig
2. Joe DiMaggio
3. Yogi Berra

4. Edgar Renteria
In the seventh inning, game tied 0-0, Renteria came to bat with two on and two out. Pat Burrell had just failed to score the runner from third, striking out badly for what seemed like the 50th time this postseason. The best opportunity all game for the Giants looked to be going up in smoke. Then Renteria, who hit exactly 3 home runs in the regular season, put the wood on a Cliff Lee cutter and watched the ball crawl over the fence in left-center. With that swing, the World Series effectively came to an end.
Later, Fox showed Aaron Rowand reacting in the on-deck circle. They had him mic'ed for audio, and as he cheered it was possible to hear Andres Torres off camera. "He told me he was going to do it!" shouted Torres. "He told me he was going to do it!"
Not that you need me tell you, but: this is incredible. It's almost more incredible than Renteria's inclusion on the list above, because it puts him in the company of the greatest player in history.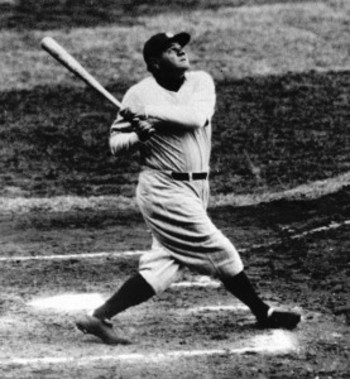 In the video below, Renteria tries to downplay it.
Sorry Edgar, not buying it. He claims he was joking, but first he says "I got confident." I think, or I choose to believe, that he swelled up with the moment and had a sort of mini-epiphany. Renteria is a humble man, but he has a long history of clutch play. I think that some part of him
did
understand what was about to happen. It was more than bravado, and more than a joke. He recognized the pieces falling into place, and saw how his own path aligned with the storyline playing out on the field. It was like two molecules colliding, and knowing in the instant before impact that this was different from destruction; something greater was being created. The Earth is the proper distance from the sun. Lightning struck in all the right places. The fish crawled out of the ocean. In a flash of synchronicity, Edgar Renteria was right where he belonged.
And those moments are beautiful. I liked watching him cry in the postgame interview, I liked watching him thank God and talk about his faith that something good would happen in a difficult year. I liked watching the other Hispanic players chant M-V-P in English while they doused him with champagne. Thirty years from now, Edgar Renteria will be a fable, and hopefully I'm around to tell it.
(Apropos of nothing: there have been exactly zero times in my life when I've heard Edgar Renteria's name and haven't immediately had this go through my head: "I don't practice Renteria! I ain't got no crystal ball!" Last night, I sang it pretty loud while he rounded the bases. It felt right.)
On a separate note, let's talk about karma and not respecting history. What happens when the Texas Rangers have a better team than the New York Yankees? They win. What happens when the presumptuous fans chant "Yankees suck!" and celebrate with presumption and negativity rather than joy? They get to watch another team celebrate on their field in the World Series. That was a pleasure to watch.
You may have seen this yesterday: Chuck Greenberg, the Rangers CEO, was asked a question about Texas fans on ESPN radio. He used the opportunity to
disparage
the Yankees.
Responding to a question about Rangers fans' demeanor during the postseason, Chuck Greenberg digressed into a critique of Yankees fans which included an unflattering characterization.

"I think our fans have been great," Greenberg said on The Ben and Skin Show on 103.3 KESN. "I think particularly in Game 3 of the World Series they just blew away anything I've seen in any venue during the postseason. I thought Yankee fans, frankly, were awful. They were either violent or apathetic, neither of which is good. So I thought Yankee fans were by far the worst of any I've seen in the postseason. I thought they were an embarrassment.
About these words, the less said the better. And I promise to swallow my sour grapes right after this: Good riddance, Texas. May it be another 40 years before you see the Fall Classic again.
I'm very satisfied with this World Series. Tim Lincecum triumphed twice, Matt Cain became the new Cliff Lee, and Brian Wilson entertained while he dominated. The Renteria and Cody Ross and Aubrey Huff stories were fantastic, the Giants fans were great, and the best team won. Another excellent season comes to an end. 4 months 'til pitchers and catchers report.
**********
Today is election day, and SCSD! would like to issue a special goodbye to
Senator Russ Feingold
in the event of his likely defeat in Wisconsin today. Thanks for the years of service, sir. You'll be missed.
**********
Thus ends baseball and political coverage on the blog for some time. I was at the polling place this morning covering the election for
ReeseNews
(Hey guess what? You can find my articles
here
and
here
and
here
), and the guys at the Republican and Democratic tables were whining about UNC basketball. But they did have one piece of news to warm their cold Tar Heel hearts and put a hop in their step: Harrison Barnes is a preseason
All-American
. As a freshman.
GOD, give me a break with this kid already. As the article points out, he's the first freshman preseason All-American since voting began 24 years ago. The reason this has never happened before is fairly self-explanatory: FRESHMEN HAVEN'T PLAYED A SINGLE GAME.
But I guess logic doesn't apply to the chosen one. All hail Prince Harry!
Kyrie is gonna smoke you, son.
In a weird side note, my name appears later in that story:
HORSE RACING: Gio Ponti will run in the Breeders' Cup Mile rather than take another shot against unbeaten Zenyatta in the Classic on Saturday.

Castleton Lyons president Shane Ryan said the 5-year-old horse's performance during a victory on the turf in the Shadwell Stakes last month led to the decision.
I can assure you all of a couple things:
1)
I don't own any horses.
2)
I will be suing the Philly Inquirer for putting my name in the same story as Prince Harry's.
3)
The next time it happens, the sentence will look like this: "Renowned sports blogger Shane Ryan received the Pulitzer Prize yesterday for exposing a prostitution ring on the UNC-Chapel Hill campus. One of the ring's top clients, Harrison Barnes, will not be eligible to play for the team this season. Ryan discovered the illegal activity in the course of shadowing Barnes around campus. 'I knew there was something weird about him,' said Ryan. 'I just wish it hadn't taken me four months of constant stalking to find out what that was.'"
Happy voting day, mon freres.