Oh sweet God, break my heart. Break my heart and mail it to Australia. Put it in a fucking kangaroo pouch and hop it all the way to Melbourne, where you can dump it in the damn ocean, if they have one there. I'm not up on Australian geography. There's probably at least a river, or a community swimming pool. A river would be better; you'll scare some kids by dumping a heart in a swimming pool.
The quest for the Rafa Slam is
over
. He suffered some kind of thigh injury, and his friend and countryman David Ferrer beat him in straight sets.
Nadal, who appeared to have tears in his eyes during a changeover while trailing 3-0 in the third set, took a medical timeout for an apparent leg injury after three games and was clearly out of sorts, failing to chase down balls that he would ordinarily return easily.
Rafa crying, and I didn't even see it. It started at like 3:30am, and I woke up this morning all ready to preview the possible Federer-Nadal final. We're one match away, I would have said. Then I would've reviewed all the classic slam finals when the two met. The French blowouts; the Wimbledon classics; the Australian miracle.
After losing the second set, the usually fidgety Nadal slumped in his chair at the changeover, completely still with his head bent.

The crowd cheered almost exclusively for Nadal -- "Come on, Rafa," -- they roared, while often applauding Ferrer's errors.

All, eventually, for nothing.
What a downer. It's raining this morning, and this is a real poor way to start the day. I'm having a second orange, I don't even care. I need two oranges to get through today. Even the pine trees out the window seem sad that Nadal lost.
I can almost hear them whisper, guys. I can almost hear them weep.
As usual, though, there's something uplifting about Nadal's loss. He carried himself with incredible dignity, and refused to talk about his injuries after the match. He wanted Ferrer to get the credit, despite the fact that he hit a wall and couldn't compete at a high level.
This article
talks about his resilience, even when victory was impossible.
Rafael Nadal had already broken every tennis heart around the world when he soldiered through his quarterfinal match against David Ferrer, clearly injured, clearly in pain, but refusing to do himself or his opponent the ignominy of retiring. And the Spaniard clambered even further into the public's affections when he sat in front of the world's tennis media to explain the reasons behind that decision.

"I had a problem during the match, in the very beginning," said Nadal. "After that, the match was almost over. So that's what I can say. But you know what, for me is difficult come here and speak about. In Doha I wasn't healthy. Today I have another problem. Seems like I always have problems when I lose, and I don't want to have this image, no? I prefer don't talk about that today. If you can respect that, will be a very nice thing for me. Thank you."
Rafa, you are a fucking warrior.
Nobody
thinks you're weak, or a malingerer.
"The tennis career, you have higher moments and lower moments. I had almost all the time very, very happy moments and very nice moments in my career. That's part of the sport. Last year I was very lucky. I was healthy most of the year. I was playing unbelievable during all the year. This year I did I think all the right things to start the season playing really well. And, seriously, I was playing like this in the first exhibition in Abu Dhabi. After that starts the problem. Was a difficult month for me, no? That's part of the sport. Accept; keep working; try my best in the next tournament. That's what I can do."
Can people see why he's my favorite athlete? How the hell does someone get that wise and that classy at 24 years old? And he's been that way since 18! I'm not exaggerating when I say this guy is the #1 role model in sports. What a good, good person.
And he inspires a lot of support. Search "Nadal sad" on twitter. You won't find that kind of emotion for
any
individual athlete. He's got the kind of spirit that creates fans around the globe.
And now, you'll probably be happy to know, you won't have to hear about him in this blog until the French Open this summer. As for the Australian, I'm pulling for Ferrer. He's a class act too, and he plays Murray the whiner next. On the other side, you've got Djokovic, who nobody can stand, and Federer, who desperately wants and needs this title, and whose constant eye on his legacy means he's probably very glad Rafa didn't get the calendar slam.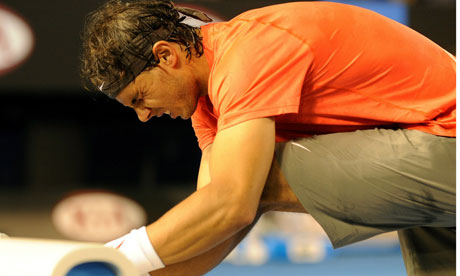 ***************************
Okay, you've probably noticed we've taken a three-day hiatus from Duke basketball. After the Wake game, which was hugely uninspiring and frustrating, I thought it would be a good time for a break. Consider this the brief holiday before the final push. February is almost here, we're in the thick of ACC action, and we've got a tough Boston College team coming to Cameron tomorrow. In the morning, we'll get back to the good grind.
For now, check out the
Moody Blues post
from yesterday. We're finally revealing ourselves as the incredibly partisan extreme wing of the Cameron Crazies. And there's also a
facebook group
. Join it or don't;
If I gave a shit, I wouldn't be a Moody Blue.
Here's a couple quick Duke hits to get you through to tomorrow:
-The good folks at DukeHoopBlog wrote a
great piece
about how Dawkins is being under-utilized. Somehow, he's used in less than 15% of Duke possessions, even lower than his numbers from last season.
-Here's a
good interview
from ACCSports' David Glenn with Coach K.
-In other college basketball news, OSU
established themselves
as the deserving #1 with a laugher against Purdue, and two more ACC home teams rolled, with Clemson
topping
NC State and Georgia Tech
beating
Virginia Tech on Shumpert's triple-double. In the first inexplicable Boeheim-loss of the year, Cuse got
rolled
by Seton Hall at home. What? And finally, UConn is looking
better and better
all the time, even on Kemba Walker off nights.
***************************
I know it totally got overshadowed by the more-important Rafa news, President Obama gave his State of the Union address last night. To close out today's post, here's a few of his actual lines followed by how he
should
have ended them if he was a total douchebag comedian. The model:
Actual Line:
Mr. Speaker, Mr. Vice President, members of Congress, distinguished guests, and fellow Americans:
New Ending:
We're fucked. Thanks for coming out, and have a great night.
AL:
It's no secret that those of us here tonight have had our differences over the last two years. The debates have been contentious; we have fought fiercely for our beliefs. And that's a good thing.
NE:
(long, awkward pause)
Sorry, I was holding for laughs.
AL:
Many people watching tonight can probably remember a time when finding a good job meant showing up at a nearby factory or a business downtown.
NE:
And by "good job," I mean "horrible job." But it was work. Now you can't even get a horrible job. Unless you win a presidential election. HEY, I'M JUST KIDDING, FOLKS! But seriously, this is awful.
AL:
You didn't always need a degree, and your competition was pretty much limited to your neighbors.
NE:
Not some some son of a bitch in India whose first words out of the crib were "java script." Am I right?! How about a little anger, gang? How about a little anger for India? How do you all feel about them as a possible scapegoat? Times are
roughhhhh.
AL:
Just recently, China became the home to the world's largest private solar research facility, and the world's fastest computer.
NE:
That's right: it came in second to Usain Bolt in the latest 100m sprint world championships.
(look of defeat)
Jesus, who wrote that one?
AL:
So, yes, the world has changed. The competition for jobs is real. But this shouldn't discourage us. It should challenge us.
NE:
In some ways, it should challenge us to be discouraged. Can you do that for me? Because I'm sort of at a loss. Feeling pretty iffy in terms of stability, you know? I have a feeling I'm going to stop making sense in a second here. Tigers coconuts and a bashful salamander. The cry of midnight. Jefferson Davis and the Moonshine Quartet. Hogwarts.
AL:
No country has more successful companies, or grants more patents to inventors and entrepreneurs. We're the home to the world's best colleges and universities...
NE:
...and we also have N.C. State. HEY-OH!
AL:
We have to make America the best place on Earth to do business. We need to take responsibility for our deficit and reform our government. That's how our people will prosper. That's how we'll win the future.
NE:
But look, I'm not optimistic. I'll be completely honest and tell you I don't think I've got the talent on my roster. I was out for a walk on the mall today, and sweet Jesus, there are a
ton
of fat people in this country. I mean, a
ton.
What am I supposed to do with that?
AL:
Half a century ago, when the Soviets beat us into space with the launch of a satellite called Sputnik, we had no idea how we would beat them to the moon. The science wasn't even there yet. NASA didn't exist. But after investing in better research and education, we didn't just surpass the Soviets;
NE:
WE BEAT THEM INTO THE COLD SIBERIAN GROUND! REMEMBER THE MIRACLE ON ICE? U-S-A! U-S-A! PS Vladimir Putin is evil.
AL:
Within 25 years, our goal is to give 80 percent of Americans access to high-speed rail. (Applause.) This could allow you to go places in half the time it takes to travel by car. For some trips, it will be faster than flying — without the pat-down.
NE:
But hey, some of us don't mind the pat-down, right? I'm looking at you, Pelosi.
(nervous laughter)
I don't want to tell tales out of school, but the last time Nancy went through airport security, she had her first orgasm in years.
(a few scattered giggles, mostly silence)
I mean, really, it was the first time a guy had his wand out in her presence since the Ford administration.
(silence)
AL:
There are 12 different agencies that deal with exports. There are at least five different agencies that deal with housing policy. Then there's my favorite example: The Interior Department is in charge of salmon while they're in fresh water, but the Commerce Department handles them when they're in saltwater. (Laughter.) I hear it gets even more complicated once they're smoked. (Laughter and applause.)
NE:
And even more complicated when Todd and Sarah Palin are slapping each other in the face with the Alaskan kind in some kind of weird sex game.
(stunned silence, angry boos)
Come on, folks, you know it's happening.
AL:
And on the Korean Peninsula, we stand with our ally South Korea, and insist that North Korea keeps its commitment to abandon nuclear weapons.
NE:
But keep in mind, we're talking about Kim Jong-Il here. That's like asking a crazy guy not to play with his own shit.
AL:
Let's also remember that after parents, the biggest impact on a child's success comes from the man or woman at the front of the classroom. In South Korea, teachers are known as "nation builders."
NE:
In North Korea, they're known as "Glorious Instructor of Many Fact of Peoples Divine Leader Glorious Nation Kim Jong-Il or Become Execute."
AL:
This March, I will travel to Brazil, Chile, and El Salvador to forge new alliances across the Americas.
NE:
My hope is that the next American war will be fought entirely by El Salvadorians. They're stupid, but
fierce.
AL:
And yet, as contentious and frustrating and messy as our democracy can sometimes be, I know there isn't a person here who would trade places with any other nation on Earth.
NE:
But if there are options on Jupiter, let me put it this way: I'm listening. If they can overcome the toxic gas issue, I'll pay a visit. Of course, I could say the same thing about Biden. Ask my wife; you always know when Joe's been in a room.
AL:
That dream is why I can stand here before you tonight. That dream is why a working-class kid from Scranton can sit behind me. (Laughter and applause.) That dream is why someone who began by sweeping the floors of his father's Cincinnati bar can preside as Speaker of the House in the greatest nation on Earth.
NE:
Hey, I didn't say it was all good. Sometimes the American dream makes mistakes. That's part of the deal too. Hey, Boehner, your tanning bed called. They said you're overdue on rent again. No, I'm teasing, but seriously, I worry. The other day I was in the White House garden, and Bugs Bunny was sitting there chewing on John Boehner. No, but really, you have to give him credit; he's the tallest oompa-loompa I've ever seen. Great, guy Boehner. Wonderful man. If he ever goes to prison, he'll be the only guy who doesn't have to wear a jumpsuit.
AL:
We have to do better. America is the nation that built the transcontinental railroad, brought electricity to rural communities, constructed the Interstate Highway System.
NE:
But between you and I and the assholes in the Supreme Court over there, it's pretty much sucked since FDR.