Let's start with Brazil, 3-2. I'm going to be quick about it, since I feel a little phony playing the 'soccer fan' role, but I'm also going to act like I know more than I do. In other words, a typical blog post.
Yesterday was a reminder of how much fun international soccer can be when it's experienced in a group. Myself and a couple friends tried to make our way into a famous soccer bar in the village called Nevada Smith's, but by 2pm the place was packed to the gills and a humorless Irish person turned us away. The runoff crowd took us to Bar None, which lived up to its name by admitting the bulk of the latecoming riffraff. Here are some things that happened:
*I confirmed my theory that Bud Light only tastes good in the afternoon. Any other time, it's like drinking the flat gingerale your great-grandmother offered you from her cupboard, and you don't recognize the brand name, and you learn by turning the bottle around that it was manufactured before people took stock in things like expiration dates, but your mom is giving you this urgent wide-eyed look like it's more important to be polite to a person living on borrowed time than to protect yourself from diseases the UN finally eradicated during the Reagan years. On a sunny afternoon, though, yeah...Bud Light is good. Especially if you're rocking four different hangovers and need some hair o' the dog. (I'm being paid $500 to post the following picture.)
*Also in the beer department, both US goals were timed to coincide with the moment after my friends and I refilled our glasses. When the ball found the net, the place erupted, we went nuts, and beer spilled everywhere. After goal one, the guy in front of me turned around with a slight smile and pointed out that his back was covered with splashes of Bud Light. After the second goal, he was less amused. In the second half, I accidentally jostled his elbow a few times and then dropped some more brew on his shoulder without a good excuse. Then things got serious: he gave a half-turn, almost looked at me, and
pursed his lips
. The ultimate sign of passive annoyance- nobody likes to see it.
*Brazil came back from a two-goal deficit to win 3-2, because that's what great teams sometimes do. Still, I don't look at it like a US choke, or a collapse, or anything negative. We got beat by a better team. I think deep down, everyone knows that US Soccer is maybe ten years away from fielding a truly world class team. In the meantime, our big wins are going to be a little bit flukey, relying on grit and luck. And they came out with guns blazing, and scored two great goals before a superior team broke them down. That's good enough for me.
Soccer will never be bigger than basketball or football in America, in my humble opinion, and it will probably never have the country's best athletes. But the passion you find in nooks of the country, along with the growing youth program, have me convinced that it'll grow enough to make us a force in world play. The teams of the past thirty years, then, including the current bunch, should be seen as trailblazers. When we finally win a World Cup, which will happen by 2030, guys like Landon Donovan and Clint Dempsey, along with players already retired, will be seen in a clearer light; as pioneers of a sport that struggled, pressed on, and finally established its foothold.
Donovan himself seems like a gutsy guy, and a good representation of what American soccer is all about. He's been a star on the national team, albeit one who's faced his fair share of criticism, and his stints in European league play haven't panned out. But he scored a beautiful goal yesterday, and had the US on the verge of their first win in a FIFA tournament. When the final whistle blew, nobody was more upset at the difficult reversal. He's a grinder, and he embodies the clawing, scrapping character of American soccer.
Respect.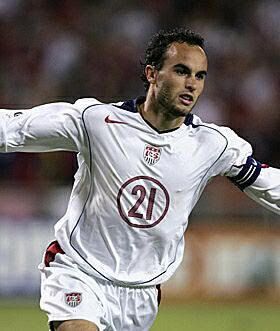 Yesterday's big news, and the happy ending to the weekend, came with Mariano Rivera's 500th career save. It wrapped up a weekend sweep of the Mets, and extended the Yankee winning streak to five games. Mariano is only the second human to reach that milestone, and it's just more proof of his legendary status. I wrote more about his career in
this
post, so today I'll limit myself. But watching him finish off the Mets at Citi Field, a few months shy of his 40th birthday, it was impossible not to feel a kind of familiar affection.
I'm not someone who generally makes too much of the athlete-fan connection, but I've sort of grown up on Mariano. He joined the club in the mid-90s, only a few years after I became a big fan, and he's been with the team ever since. He's put his mark on all the great moments in my Yankee life, and some of the devastating ones as well. But he's always been the closest thing to a surefire proposition you can have in sports, and his quiet manner and tireless ethic (how else could a player possibly maintain such a high level into their 40s?) make him a model athlete. It would be awesome if Mariano Rivera was my dad, and taught me life lessons on camping trips.
(Shit, I told myself I wouldn't go too far.)
Sweeping the Mets was great, no doubt, but late in yesterday's game, I found that I wasn't completely content. Sure, three wins is nice, but what could this missing element be, this vacancy in my satisfaction? Then, when Mariano stepped to the plate in the top of the 9th with the bases loaded and 2 outs, in only his third career at-bat (0-2 lifetime), I remembered: I would like the Mets to have just one moment of pure humiliation. They wouldn't be New York's second team without that defining instant of utter embarrassment, and I craved it. Lucky for me, K-Rod took advantage of the potentially disastrous situation and
walked Rivera, the guy who has literally stepped in the batter's box three times in his entire professional career.
It forced in a run, gave the Yanks some insurance, and increased Mo's career RBI total to one. Touche, Metropolitans. Even I didn't expect something that bad, but once again you made my night.
Last thing. On a somber note which everybody in the world already knows, Michael Jackson died last week. The one thing I hate the most in life is when people try to piggyback on the grief of others, and so I won't pretend the death had as profound an effect on me as it did on those who were true fans. Really, all I did was scan the stories and resist the impulse, inherited from my dad, I think, to make stupid, dark jokes. Then I came across today's Achewood comic, and for the first time I got a little bit teary-eyed. And that has less to do with Michael Jackson than the comic itself, but I still thought it would be worth sharing.
I've never been a comics guy, but Achewood is an internet strip that's always smart, weird, and really funny. I try to recommend it as often as possible. The strip below, which I've re-run below in piratical fashion, without any kind of permission, is a typical effort from Chris Onstad- intelligent, strongly character-based, and shot through with an undercurrent of sadness. In my mind, it captures the essence of Jackson's passing better than anything I've seen. And it has the added benefit of featuring Cornelius Bear, the strip's "old" character, in the last two panels. You might have to click it to see the full comic, or something. I don't know how this internet stuff works. Or you can just go visit the
Achewood
home page.