The blog jinx continues. Two days after I posted a sprawling novel that treated a Federer-Nadal French Open final like a foregone conclusion, what happens? The greatest clay court player of all time loses his first best-of-five-set match on the surface to some Swedish guy nobody's ever heard of. As they say in Paris, merde. I brought the shadow on you, Rafa. My bad.
(If past history is any indication, by the way, that picture will garner about 200 hits per week from gothic teenagers or some other niche occult audience. Every morning when I check the site traffic, I find at least 50 page views that occurred between the hours of 2am and 6am from
this
post, which contains a 'sultry' picture of Gabriela Sabatini. The visitors are from all parts of Europe, Asia, and South America, and I imagine a strong majority don't speak English. And even if they did, the fact that they're googling pictures of Gabriela Sabatini is probably a good indication that reading my sports blog isn't at the top of their priority list. Seth Curry Saves Duke: the blog of choice for horny foreigners.)
The match wasn't on live tv, so when sportscenter threw up a little notice that his streak was in jeopardy, I followed it via the Roland Garros website, starting in the middle of the fourth. Even though Rafa was down two sets to one, I was pretty positive he wouldn't lose. The set went to a tiebreaker, and still I had faith. I would the confidence lasted up until the score was about 5-1, favoring Soderling, in the breaker. At that point, I called it "anybody's match." Then it became 6-1, the Swede had five match points, and it started to dawn that Nadal was finished.
I'll admit to a sort of sinking sensation at the outcome. And not just because I invested myself even more than normal with Friday's post. The feeling was akin to watching a major golf tournament, except Tiger Woods is struggling and not in contention. Once he's eliminated, you sit there staring at the tv going "why the fuck am I watching golf?" Individual sports, for me, are driven by personalities, and aren't necessarily interesting if there's nothing at stake in that department. Losing Rafa is a blow.
However, it's mitigated somewhat by the fact that Federer has his golden opportunity to notch a career slam. In the modern era, only two men have accomplished that feat: Rod Laver and Andre Agassi. And only Agassi did it on three different surfaces. Loads of fantastic players, from Connors to Edberg to Becker to Sampras, have been denied because they couldn't solve the French. Winning on the red clay is a uniquely challenging obstacle for players who thrive on hard and grass courts, which is why 'specialists' usually come out on top. But Roger's played in three straight finals in Paris, and watching his quest to overcome this last hurdle and stake an irrefutable claim as the Greatest Tennis Player of All Time keeps the tournament very, very interesting.
Shifting gears, the NBA finals are now set. I didn't get to see Cleveland's inevitable game 6 loss, but reading the recaps afterward, I came across the mystifying tidbit about Lebron storming off the court without so much as shaking anyone's hand. He also declined any media interviews. In a later statment, this was his explanation:
"It's hard for me to congratulate somebody after you just lose to them," he said. "I'm a winner. It's not being a poor sport or anything like that. If somebody beats you up, you're not going to congratulate them. That doesn't make sense to me. I'm a competitor. That's what I do. It doesn't make sense for me to go over and shake somebody's hand."
It makes sense, Lebron, because of an old but very important concept called sportsmanship. It doesn't exist just to keep people from fighting or cheating; it's also a reflection of a player's character, and lets us see into his depths a bit (and by the way, you still haven't 'won' anything). For contrast, here was Rafael Nadal, a younger man, after losing the first French Open match of his life:
"All of us athletes, we know that when we walk on the court we can either win or lose," Nadal said. "I know it for a fact anything can happen, and I have to accept them both in the same way. You cannot collapse either because you've won a match or because you've lost it. This is sport, and you can have victories or defeats."
And this is against a guy who tried to humiliate him last year in Wimbledon, and who he probably hates more than anyone on tour:
Not only did he shake Soderling's hand and congratulate the young contender on the greatest victory of his life; after the Swede hit the showers, Rafa stuck around to give thanks to a French crowd who had seen him win four tournaments on their home clay. When he finally walked off, the stadium rewarded him with a lengthy, passionate ovation. They appreciated the winning, of course, but the applause swept down on the departing champion for more than just the titles. It was a response to character.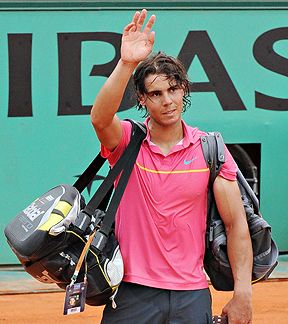 Okay, I could sit here all day gushing about Rafael Nadal. Seriously, I could. Just typing away, no awareness of time or audience, rattling off reason after reason why the dude is awesome. But I won't. I'll save that for my diary. Point is, while Lebron's actions after game 6 are maybe excusable- he's a young man facing a lot of pressure, and there's no denying he had to shoulder a heavy load- his explanation is not. It exposes a fundamental lack of understanding about how a person, much less a star, should behave, and it makes him seem like a whining, entitled baby. A lot of light has shone on Lebron in the past month, and it's not the glossy, artifical type manufactured by Nike or NBA marketing. It's the harsh light of truth, and frankly, it hasn't been kind to the alleged messiah.
Hopefully, that's the last I'll have to say about Lebron for a long, long time.
Hey, did I mention the Yanks have won 14 of their last 17? First place in the AL East? Time to put the focus back where it belongs. Today we go for another series win in Believeland. Life is good.