Michigan State is tough. For real, hats off. From what I heard around the Duke fan camp leading up to the game, the expectation was that we'd win by about 15. In hindsight, that was probably a foolish prediction. But didn't it seem like we maybe
should have
won by that margin? It was one of those games where we constantly teetered on the brink of opening up a big lead, and then Sparty would hit a few big shots and climb back to within 6-8 points. Then they got absurdly hot at the end to bring it down to 5, but I don't think anyone believes the
final score
was representative.
Still, we learned a few things that aren't glaringly positive:
1)
Teams with big, tough dudes will out-rebound us. The margin last night was 35-30 in favor the Spartans. They've have the potential to do a
ton
of damage on the offensive glass in particular. On Duke's defensive end, the Devils' final edge was only 19-15. In other words, the bad guys had a 44% chance of grabbing any board on their offensive end,* compared to 35% for Duke on their offensive end. MSU showed that in some ways our big men are pushovers. Mason Plumlee ended with respectable stats, but it seemed like Green and Roe and Sherman were pushing him out of the way far too often. How many times did we see our bigs almost directly under the basket, completely out of position for a rebound with any kind of bounce-back?
*And that's not even counting the number of times our big men, particularly Mason, couldn't hold on to a rebound, had it poked away, and lost the loose ball to the scrappy Spartans.
2)
By the same token, our inside defense is poor. Sherman absolutely destroyed Mason a couple times, and Green basically had his way underneath. And after Mason, the defensive talent underneath doesn't get better.
3)
Kyle Singler, for all his greatness, is slow. I almost feel bad writing that, because he's done so much for the team and has so much left to do, and I honest-to-God think he's a great human and a great Dukie. He crashes the boards hard, he's the clutchiest of clutch shooters, and he plays with maximum effort at all times. But those who build him up as a dynamic offensive threat are a little off base. Last night, it seemed like he had one move- the lean forward, step back jumper. And it wasn't effective. When he tried to drive, he had to use his whole body since the defender would inevitably be faster. What I'm saying is that despite his intelligence and excellence under pressure, it's still possible for Singler to be taken out of the game's flow. He's not a POTY candidate, because he'll have too many games like yesterday where he scores 12-16 and is largely limited on offense. Also, he gets toasted on D when he's matched up on the perimeter with a guard.
4)
Nolan Smith is still a little out-of-sync. As Irving said in
this interview
, the guards aren't quite on the same page offensively. Is it strange for he and Singler to suddenly be the 2nd and 3rd best players on the team? Despite their positive attitude and leadership, is it weird that a freshman has arrived and proved that he's on a different level? According to Nolan, no:
"He'll be like, 'Get out of the way, I've got it,'" Smith said. "You don't really hear that too often, when a freshman will tell two seniors on the wings to get out of the way. We have no problem letting him do it."
Kyrie is saying all the right things too, with his "this isn't my team" quote. But there were times when Singler seemed to be going past his limits, forcing shots that weren't necessary. And was it just me, or did he hold the ball unnecessarily near the end a few times, with teammates open, so he could get fouled and head to the line? I don't have a serious problem with that, just saying.
And here's an odd thing: last year, I would get annoyed near the end of games when Scheyer had the ball up top rather than Nolan. I felt the latter was better equipped to initiate offense from a standstill, which is what Coach K requires when he sends us into the stall. This year, Nolan's role is reversed. Whenever he's holding near the end of a game, I'm practically off the couch, shouting 'GIVE IT TO KYRIE, FOR GOD'S SAKE!'
5)
Michigan State seemed to have zero qualms about fouling Mason Plumlee and sending him to the line. It worked for a while, but Mason hit two big ones near the end to finish 4-8. It's something to keep an eye on, though.
TRANSITION TIME: ACCENTUATE THE POSITIVE
As a fan, one of my big challenges this year will be fighting my own expectations. So let me get it down for posterity: this was a great win. And HOLLLLY HELL, howsabout
this guy: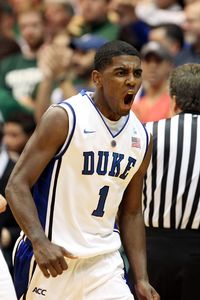 ..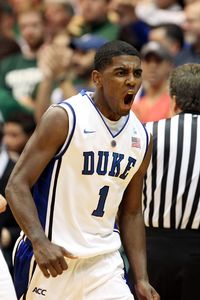 ..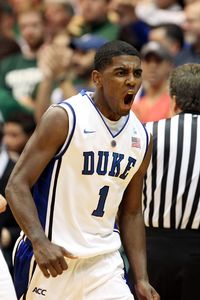 ..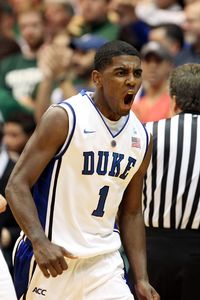 It's been a long time since I've seen a performance that dominating on the college level, especially from a point guard and especially in a game between two excellent teams. Maybe the last one I can remember is Ty Lawson against these same Spartans in the '09 championship (21 points, 4 boards, 6 dimes, 8 steals). The pace and style of play changes so drastically when he's involved. He is absolutely the most important part of our team, a fact shown by his 36 minutes of playing time. I don't think he sat the entire second half; Coach K knew we couldn't afford it.
After the game I called my stepfather and told him we would have lost the game without Kyrie. But he contended that it was impossible to say since we wouldn't have been playing the same style, a strong point confirmed by Coach K in this fun
Kyrie-lovin' article
by Dana O'Neil.
"I haven't coached him like a freshman; I've coached him like a really good basketball player," Krzyzewski said. "And that means you've got to let him make mistakes, which he's done, but you also have to let him have some freedom. He's really good and he deserves to have the freedom to follow his instincts. We're changing the way we play because of him."
His sheer talent is also reflected in the fact that I nearly shit myself when he twisted his ankle in the first half. It was like an awful premonition coming true; there will be odd times during the day, between assignments and work, when I'll have this random thought: "I hope Kyrie doesn't get hurt this year." Seriously, it crosses my mind. Last night I was terrified that he'd have a horrible fracture and be finished for the season.
Also in that article, there's more talk about how the seniors are encouraging Kyrie's emergence. That hypothetical area of potential controversy can probably be put to rest, but still, you have to wonder...emerging as a new piece of the triumvirate is one thing, but how will they deal with Kyrie being far and away the
best
piece? I trust Nolan and Kyle, but I'll be watching anxiously anyway.
I've gushed about Kyrie enough for like 4 full years by now, so I'll turn the floor over to Spike, who came up with this severely badass motto for Kyrie:
Spike:
There's no I in team, but there's two in Irving... so he has the depth perception necessary to pass to other players and also judge the distance necessary to shoot the basketball into the basket.
BOOYAH
END SPIKE
Also, get this: Kyrie Irving was the #10 trending topic on twitter last night immediately after the game. That was pretty cool, but the really fascinating part is that when you looked closely, the other 9 trending topics were about Kyrie Irving too. BEHOLD:
#9
- Chabelo. This is apparently a Mexican actor who does some kind of children's morning show and has a statue in the "Garden of Great Values" in the Distrito Federal. FACT: Kyrie Irving was approached to do a children's show in Mexico when he graduated 8th grade. Recognizing talent, they offered him Chabelo's time slot. Kyrie nearly accepted, but negotiations halted when Mexican tv executives realized Kyrie's Spanish was too sophisticated to resonate well with the younger children.
#8
- World Aids. Kyrie Irving is on the record as saying that the one thing he'll never joke about is World Aids. Everything else is fair game, including syphilis. Kyrie Irving has some sick syphilis jokes.
#7
- Grinch. Kyrie Irving was director Ron Howard's first choice for the role of Mayor Augustus Maywho in his 2000 remake of the classic children's story. Irving declined, feeling he had to begin extending himself more in his roles, and the part eventually went to Jeffrey Tambor.
#6
- Nominations. Kyrie Irving has been nominated for 95% of all awards, including Soviet bureaucracy ones that became obsolete before he was born. He won Top Siberian Prison Warden in 1972, for example. The 5% he hasn't been nominated for are negative joke awards, like the Razzies.
#5
- Hanukkah. Kyrie Irving is on every list of great Jewish baseball players, usually mentioned after Hank Greenberg but before Sandy Koufax.
#4
- #Frasesquemarcaron - This is actually three Spanish words, frases que marcaron, or 'phrases that make history.' The top history-making phrase in the Spanish world was "my name is Kyrie Irving, and I'm coming to Duke." Number two? "Generalissimo Franco, tu eres nada mas que asesino!" Kyrie Irving, 1968.
#3
- #lilkimmustfeellike - It took me roughly 16 readings to decipher this: Lil Kim Must Feel Like. As in, 'damn, Lil Kim must feel like Kyrie Irving is the subject of every song she wrote, especially 'Queen Bitch.'
#2
- #2010disappointments - You guessed it: everyone but Kyrie Irving. And Anderson Cooper. Guys, he is
amazing.
#1
- #share - This is some kind of thing where Starbucks pretends they aren't corporate villains and that they care about people. The poster for the PR campaign is Kyrie Irving dishing out an assist. Confusingly, the other side of the poster shows him draped in an American flag, greedily eating a turkey leg while a hungry family from eastern Europe looks on in sadness.
Hey, speaking of twitter, I now have an obscene amount of followers: 98. I'm pretty sure I'm close to breaking the all-time record held by Janeane Garofalo. If you act now, you might become the 100th follower and I'll mention you on the blog with great fanfare. I also plan to start 'tweeting' more. I've spent far too much time away from the computer lately; it's unhealthy.
A few more positives and neutrals from the game that don't involve Kyrie Irving:
1)
Despite looking a bit listless and out of place at times, both Smith and Singler stepped up in a big way at crucial points in the second half. Last year's experience gives us another edge on the competition, and we already have a lot of edges. Once the guards figure out the best way to get open looks when teams double or sink on Kyrie, the danger factor will be sky-high.
2)
Young Threezy, aka Baby Dawk, hit a couple huge treys. Speaking of him, we learned a lot from last night about this team's rotation in the big games. Here were the minutes for everyone:
Singler - 39
Irving - 36
Plumdog the Better - 35
Smith - 30
Dawkins - 28
Kelly - 17
Plumblebum the Worser - 8
Seth Curry - 7
Conclusions: the preferred lineup is the 4-guard set, with Irving-Nolan-Dawkins-Singler-Plumlee. This despite the fact that Dawkins starts on the bench. Seth Curry is the odd guard out, it would seem. Miles has utterly lost Coach K's faith. Kelly is slowly gaining more trust.
3)
As I predicted, the ACC/Big-10 Challenge came down to the Purdue-Virginia Tech game, and Tech lost in OT. So huzzah for the Big 10, I guess.
Solid win. Tomorrow we're Pick 6'ing (there's a bonus category called 'The Temptress'), and Saturday I might post a little something before the Butler throwdown. Carry on you Devils.