YEEE-IKES.
Hold on, hold on one second...
Here we go...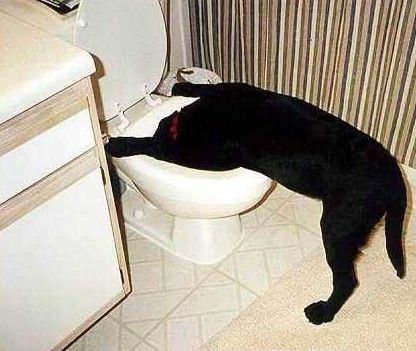 That's it. That's your official picture for 2010-11, ACC.
A dog puking in a toilet.
That doesn't include Duke, though. Let me revise that...
ACC 2010-11: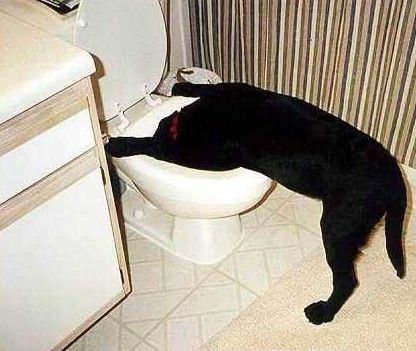 .....PLUS.....
If I reversed those images, it would look like Coach K was ordering the dog to puke in the toilet bowl. And while that might be more accurate...
I'm just not ready for it.

Not yet.

Give me some time.
So. Down goes
Carolina
. Down goes
Florida St
. Down goes
Clemson
. Down goes
Georgia Tech
.
I watched bits and pieces of each game, and man, they all looked like crap. The one team that
came through
, Wake Forest, might have been the worst of all during their horrible first half. They needed an absolute bomb with 2 seconds left to win by 3 (though Terrell, who shot it, scored 32 and looked quite good). Clemson seems to have nothing, and the 8-point loss is actually a poor indication of how much Michigan dominated. Carolina simply has no point guard and will struggle to make the NCAAs again. FSU played an excellent defensive team, so I'll give them a pass for now, but I expected them to put up more of a fight at home.
And Georgia Tech? They gave up 91 points to Northwestern, the one team in America where the players look forward to being benched so they can play with their graphing calculators. You know how some coaches have instituted twitter bans? The Northwestern coach came
this
close to banning the cosine function. It was that bad.
(I'm so sorry for that joke.)
Seriously, though, I know Northwestern doesn't suck, but 91 points is a lot. Duke should score 200 on Tech easily. In the first half.
Let's take a look at the ACC/Big 10 Challenge. As of now, it's 4-2 bad guys, and it's a lot closer to being 6-0 than it is to being 3-3. Here's what he have left tonight:
1.
Indiana at Boston College
2.
N.C. State at Wisconsin
3.
#18 Purdue at Virginia Tech
4.
Maryland at Penn State
5.
#6 Michigan State at #1 DUKE
We need to take four of those to win the challenge. Duke is a lock, of course, but not even one of the others seems to favor the ACC by that much. However, the good guys are Vegas favorites in four of the games, with Wisconsin-State as the only exception. I think the ACC wins two of three with BC, State, and Maryland. The key game will be #3, Purdue at Virginia Tech. Can Delaney and company show some pride in Hicksburg? I mean Blacksburg? (That one's for you, Saunders.) We shall see.
Ugh. I really hate this next part of the blog, guys. Before I get to Duke-Michigan State talk, I have a confession to make. A few weeks ago, the money situation was getting pretty dicey here on SCSD! The banks were sending a lot of letters, and I finally got my first foreclosure notice. I knew I needed some financial backing, but I would never ask you, the readers, for that kind of thing. So I looked for an independent wealthy donor.
Let me tell you, it was not easy going. I had a lot of conversations, but nobody saw the profit potential. I couldn't even beg ten bucks to keep the servers firing for another month. Only one man showed any interest. In fact, he kept sending letter after letter, and he even found my cell phone number. At first, I was totally against it. This wasn't a savory dude. But the harder things became, the more I realized that I could either accept his money or go down in flames. And let's face it, this blog is too important.
So I sold out. I'm sorry to say it, believe me. I sold out to one of the worst men on the planet: North Korean dictator Kim Jong-Il.
Part of the deal is that he gets to say a few words now and again about Carolina basketball. I'm not sure how or why, but he's a really huge fan. You saw him the other day for the first time, and how he's back. As fair warning, he loves the word 'glorious,' writing in all caps, and making puns on his name. He also really, really seems to hate Duke. Again, I have no idea why. But here we go.
TALKIN' CAROLINA, with KIM JONG-HEEL
Glory for my best friends on the planet! AMERICA KNOWS FOR WHO I AM SPEAKING, AND IS
NOT
THOSE NEW JERSEY REPUBLICAN INFORMANTS WEARING CLOTH OF DARK BLUE! HAVE I SPOKEN TOO MUCH SUBTLE?! I MEAN DUKE! TO PRISON CAMPS WITH YOU! I WISH YOU ONE THOUSAND YEARS OF BEING CHASED BY HUNGRY DOGS! AND BELIEVE KIM JONG-IL, EVERY GLORIOUS DOG WE OWN IS HUNGRY! THEY PROUDLY SHOW EACH RIB!
I WISH FOR YOU TO SPEND ONLY ONE DAY IN MY COUNTRY DUKE FAN WHEN I WOULD PUT YOU TO SLAVERY AND WATCH YOU DIGEST ONE SLICE OF SODA BREAD IN MANY HOUR! THIS GLORIOUS RATION IS NORMAL, BUT FOR YOU I WOULD HAVE SPECIAL EYE! I HAVE ALREADY MADE TORTURE ON 3 MILLION PEOPLE SUSPECTED OF LOVING DUKE BASKETBALL! WITH YOU I WOULD HAVE SWEET SATISFACTION OF NOT MAKING IT UP FOR FUN!
PREPARE FOR THE HOUR OF JOKE. What are you calling the number of Duke freshmen changing a light bulb at once? YOU CALL IT ZERO FOR THEIR TRAITOR MOTHERS AND FATHERS HAVE BOUGHT AND PAID FOR GOOD HONEST SOUTHERN PEOPLE TO WORK WHILE THEIR FAT CHILDREN MAKE SLUMBER! THE MONEY OF THE GREAT SATAN POURS FROM YOUR POCKET! YOU ARE NOT THE TRUE SOUTH, DUKE! ADMIT IT TODAY OR FACE YOUR DEATH!
NOW FOR GOOD NEWS. GLORIOUS CAROLINA HAS DEFEATED ILLINOIS BY REVERSE PSYCHOLOGICAL TRIUMPH 67-79. JUST LIKE THE HONORED DAY I AM SHOOTING 18 ON A GOLF COURSE. GLORIOUS HARRISON BARNES, MANY GLORIES TO HIM, HAS GROWN VICTORIOUS OVER OPPOSITION WITH 8 MASCULINE POINTS. MIGHTY HARRISON IS THE PRINCE OF PYONGYANG AND SHALL LEAD US ALL TO THE SHINING SUN OF THE MAGICAL MOUNTAINS!
IN MY PANTS IS CONTAINED THE UNIVERSE LARGEST PENIS. IT IS AGREED BY EVERY SCIENTIST.
AFTER MUCH THINKING, I AWARD CAROLINA 17 NATIONAL CHAMPIONSHIP AND MAKE ROY WILLIAMS COMMANDER OF TORTURE AND HATRED! I HAVE SUMMONED THE CURRENT COMMANDER OF TORTURE AND HATRED TO RECEIVE GLORIOUS EXECUTION.
MEMORY! WHEN ROY WILLIAMS LAST YEAR DICTATE THAT CAROLINA BASKETBALL WAS MANY WORSE THAN HAITI EARTHQUAKE?
I BELIEVE HE WAS CORRECT.
LAST: TELL ME WHY THE DUKE FOOTBALL ARMY IS LIKE AN OPOSSUM. TOO LATE! BECAUSE IT PLAYS DEAD AT HOME AND IS MADE INTO MEAT ON THE ROAD! OH-HO-HO-HO! I HAVE TOLD THIS JOKE IN PYONGYANG AND MEN LAUGHED FOR 14 YEARS WITHOUT SLEEP! THIS IS NORTH KOREA HUMOR! WHEN THEY CEASED TO LAUGH, THEY RECEIVED GLORIOUS EXECUTION!
God, I'm really sorry guys. I didn't think he'd go as far as he did with some of that Haiti stuff.
Okay, so we've got Duke-Sparty at 9:30 tonight. I'm a lot less scared of these dudes since they lost to UConn and snuck by Washington, but their frontcourt defense will probably be the toughest we've faced yet. Still, call it hubris if you will, but I truly believe Kyrie Irving nullifies the defensive prowess of other guards. And our own defense just flips the script anyway; the Spartans are apparently prone to turnovers, and if they can't keep the ball we'll run them straight off the floor without even bothering to ask about their families. Their D won't matter if they're constantly playing catch-up. And lord knows Cameron will be rocking.
Anyway, enough pre-game analysis. We're going to learn even more about our team tonight and Saturday, and my gut tells me we'll like the results.
To get us all pumped up beyond reason, I now present a ridiculously awesome highlight video from last season. I'm pretty sure this was made by a gal named Lara Lee; at least that's what it says on the site I stole it from. Enjoy the goosebumps, and happy December.