Or:
Rafa and Robbie, Redux.
Or:
A really awesome weekend for me, except I was getting a place in Chapel Hill and flying home to New York on Sunday and only got to see the first set of the French.
1.
He's done it. With a dominating performance against Robin Soderling, Rafa is back on top in Paris, boasting 5 French Open championships. The Once and Current King of Clay didn't drop a set on his way to the title. He avenged last year's 4th-round loss to the Swede, and proved that he's the greatest clay-court player in history. This latest, most definitive proof came with a resounding clarity, more coronation than contest.
And it was a restoration, too; after his miracle win against Federer in the 2009 Australian Open, Rafa experienced his first major bump in the road. His knees failed him in Paris, he was held out of Wimbledon, he managed a gutty semi-final charge in Flushing, but only lasted to the quarters in the Australian. To make matters worse, his parents separated in June, a split which undoubtedly affected the family-oriented star. Greg Garber wrote a
strong piece
on the subject last summer, and noted that it might have played a larger role than anyone suspected in his troubles. Meanwhile, the knee tendinitis had experts (and Nadal himself) questioning whether he could ever return to championship form. 2009 was a year of breaking down.
But those who love Nadal love him because he's a warrior. Resilience is one of his greatest weapons, and just as it never fails him on the court, it powered him to a full rehabilitation in Mallorca. He roared back to dominate the clay circuit, and was the heavy favorite in Roland-Garros. The return was triumphant; he never saw a fourth set. And on Sunday, he was rolling around in clay again, biting the silver Coupe Des Mosquetaires and smiling at the flashbulbs. But an even better moment came in the immediate aftermath, when Rafa sat courtside and sobbed into his towel. That emotion had built up for a year, not just a match, and the outpouring was a catharsis.
2.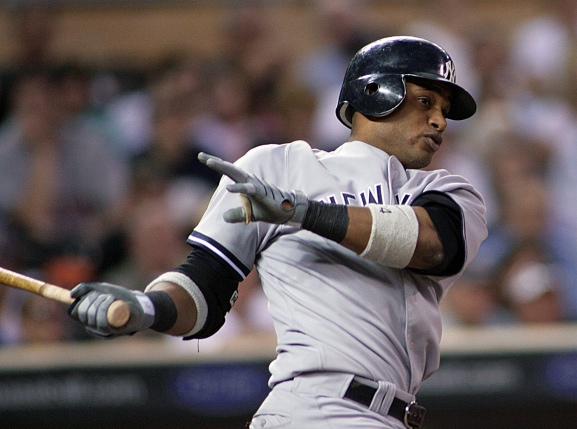 Sweet Robbie knocked in the go-ahead hit with two outs and men on second and third in the 8th, saving the Yanks from an embarrassing sweep in Toronto. We were lucky to salvage even one win; up to that inning, the Bombers scored 3 runs in 25 innings. But Robbie came through, lining an inside fastball the opposite way for a 2-RBI single. The pen held the lead, and the Yanks maintain a speck of momentum going into this week's series with Baltimore. You can watch video of the hit
here
, and Robbie's post-game interview
here
. I love the look in his eyes with the pressure on; it reminds me of A-Rod. They both transformed into badasses after struggling in the big moments early on.
Check out Robbie's "clutch" runners in scoring position numbers from 2009 and 2010.
2009: .207/.242/.332
2010: .355/.403/.629
3.
The Boston (long yawn) Celtics evened (eyes coming unfocused) the NBA Finals at (head nodding forward twice, waking with a start) one game apiece with (stretching out the arms luxuriously) a big win (mouth opening wide) against the Los Angeles SNOREEEEEEEEEEEEEEEEEEEEEEEEEEEEEEEEEEEEEEEEEE.
4.
Blackhawks go up 3-2 in the Stanley Cup Finals. We're getting closer to my ideal scenario of Philadelphia having their hearts broken in overtime of game 7.
5.
I'm running a World Cup Pool. You can read the format below, and e-mail me at shane dot spr8 at gmail dot com if interested. $15. See you this afternoon.
The format is as follows: there are 32 teams in the World Cup, and they start in 8 groups of 4 teams each, playing 3 round robin matches. You can check out the groups here:

Groups.

After the round robin play, the top 2 teams from each group advance into a 16-team elimination tournament.

This will be a 2-part pool.

Part 1

Pick the top 2 teams from each group. Scoring:

Top 2 correct: 6 points
Top 2 correct, wrong order: 4 points
Only #1 correct: 3 points
Only #2 correct: 2 points
Only 1 team correct, wrong placement: 1 point

Part 2

Pick the 16-team elimination tournament bracket. 1 point for each elite 8 team, 2 for each final 4 team, 4 for each championship team, and 8 for the winner (and yes, I know they don't call it the elite 8 and final 4 in the WC, but I'm limited by my American vocabulary).

There will be a prize for the winner of part 1, a prize for the winner of part 2, and a grand prize winner. If the grand prize winner also wins either part 1 or part 2, those lesser prizes will go to second place. The nice part of this format is that even if you tank the group stages, you can still win the elimination portion. The tournament starts on Friday, June 11, and the championship is on July 9. Feel free to forward this to friends and family and romantic interests.