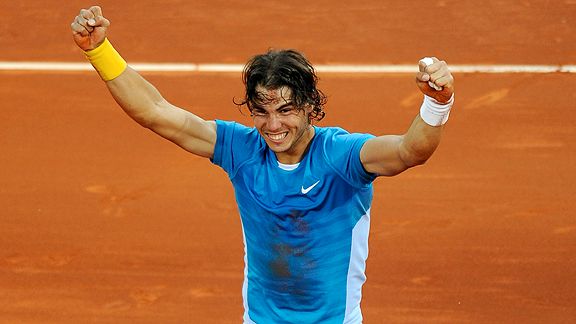 Back in the day, the Spanish tennis association wanted Rafa Nadal to leave his family and come to Madrid for training. He wasn't more than a kid, and his family had a tough decision to make. Eventually, they said no; Uncle Toni thought he could coach him up without national facilities and money, and the Nadal family didn't like the implication that a player had to leave home and enter the academies in order to succeed. The boy would be home-schooled.
But it didn't mean he'd never go to Madrid. He went there quite a bit, in fact, including last week, when he set the record for Masters titles on the capital's clay courts. His opponent, as usual, was Federer, and Rafa
took him down
6-4, 7-6. It was his 18th Masters win, vaulting him ahead of Agassi on the all-time list. He also improved to 14-7 lifetime against Federer, the greatest champion to ever pick up a racket. The man from Mallorca is now 15-0 on clay this year, and will vie for the French Open title beginning a week from today. If you're desperate for content, there's an
article
on ESPN by someone called Peter Bodo with like 5 factual errors and a bunch of stupid opinions. But it's about Federer and Nadal, so I checked it out.
Here's the second-set tiebreaker from Sunday's final. Federer appears to whiff on his last stroke, and after a polite handshake, Rafa collapses to the clay. You think it means anything for him to be back and competing with the Rogers of the world?
It's nice to have tennis back. As I've said time and again, Nadal is my favorite athlete. After his amazing win in the '09 Australian over Federer, he had a tough summer. Soderling upset him at the French, knee troubles kept him out of Wimbledon, and he ended the summer with an inspirational run at the US Open that ended in the semis. But he's back, he's healthy, and he'll be the favorite as usual in Roland Garros. Could we see another French-Wimbledon double, like the glorious summer of '08? It's possible.
Oh man, I just found out from Wikipedia that Rafa was in a music video for a Shakira song called 'Gypsy.' I can't
not
post this. And wow, it's pretty hot and heavy, with Shakira looking just as fit as a fiddle. I'm not sure if this a present to my guy readers, my girl readers, both, or just me. But one thing's for sure: definitely me. An agreeable lass, Nadal,
and
a banjo? Awww hells yes, son! That's how this grown man
rolls
.
Pretty awkward and arousing, huh? It seems like Rafa is on the verge of cracking up the whole time. I'm not sure how this will affect his legacy; come back to me in a few days.
That's it for now. Tomorrow, some World Cup content. Get some rest, you fatigued youths.