1.
I have to lead off with Kenny Strasser, who also goes by K-Strass and Kenny Strassburg. He's been touring the Wisconsin morning show circuit claiming to be a yo-yo champion who visits schools to teach kids about "going green" in a fun way.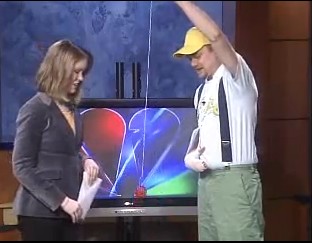 I'm going to spoil the surprise: it's a hoax. But what a friggin' hoax. I hope it means something when I say that
this
article is the funniest thing I've read in a very long time. I highly recommend reading the entire thing, but here are a few of my favorite excerpts:
"He got us," said Bridget Blevins, the station's news director. "I hate that we got duped."

And how good was he with the yo-yo, a skill Strasser has said made him a champion? "He did some really lame things. He hit himself in the face and the groin with his yo-yo," Blevins said.
and
In each case, producers at the television stations received an e-mail from Joe Guehrke, saying he represented Strasser and ZimZam Yo-Yo, "the world's first 'green'" nonprofit toymaker.

The e-mail solicitation stated that Strasser was a runner-up for Rookie of the Year in 1995, grand champion at the Pensacola Regional and was nominated for the Walt Greenberg Award in 2000.

There is no Walt Greenberg Award in yo-yo, and there is no evidence Pensacola ever hosted a yo-yo tournament or that Strasser won a rookie of the year award.
and
In one particularly bizarre segment on WSAW's "Sunrise 7" show in Wausau on April 20, Strasser told interviewer Amy Pflugshaupt that he is just a 35-year-old kid at heart. "I don't have a girlfriend, don't want one. My parents, they live in Denver, they just got divorced. My dad is now in Oshkosh. . . . I have a brother in Portland who I don't get along with very well because of his wife."
and
At WISC in Madison, Strasser was booked and ready to go on "News 3 This Morning." But things took a strange turn when Strasser said on the air, "Do you want to hear a scary story?"

Colin Benedict, the station's news director, said the anchors were confused. They thought a yo-yo champion was supposed to be on.

Instead, Strasser started talking about his personal story of alcohol and drugs.

And the yo-yo tricks? Benedict said Strasser tried one but the yo-yo fell apart and onto the studio floor.
This morning, Deadspin gathered the three known videos into one place. You can watch them
here
. They're fucking hysterical. In particular, you don't want to miss the second one where he unleases the helicopter move. Every time I think about this story, I start giggling like a demented person.
2.
Rojo Johnson
The Venezuelan fireballer made a minor league appearance last week, and was ejected after only one pitch.
This is undoubtedly meant to promote the latest horrible movie from Adam McKay, but the clip made me laugh. As did the name 'Rojo Johnson.'
3.
Josh Beckett
This guy is the largest douche in baseball. You'll say I'm biased because I'm a Yankees fan, to which I respond: wrong. I like and respect a lot of Red Sox players. Youkilis, Pedroia, Lester, and V-Mart, to name four. But Beckett is a snarling loser and a horrible human.
Friday night, after we started to destroy him in the 6th inning, he hit Robinson Cano. He threw at Cervelli's head. He hit Jeter in the back. And, despite FOX blowhard Tim McCarver defending him for five hours straight on Saturday, every single one was intentional. Someone with impeccable control doesn't lose it that quickly, to that degree. "Oh, he would never hit someone on purpose with the bases loaded!" Wrong. Jeter's at-bat came after a Randy Winn single, which had to piss Beckett off more than anything. The game was already over. Plus, we know Beckett is a petulant child who likes to smirk and pout when things are going south.
Did you see CC's retaliation pitch on Pedroia? It was a fastball aimed right for his derriere. That's how you hit someone if it absolutely has to be done. You don't start targeting their upper back and legs, where they can be hurt. God, Beckett is such a piece of shit. And because he doesn't have to bat, he can continue to do whatever he wants without fear of retribution. "But his teammates will feel the results!" you say. Yes, but is JB the kind of guy who gives a fuck whether or not Pedroia or Youk gets hit? Doubtful.
The worst part is, this is how he's dealing with the twilight of his career. He's not the same dominant pitcher he was in '07, and he never will be again. He's turned in 2 good starts out of 7 so far, and his ERA is 7.46. But instead of trying to regain his prowess with anything like grace, he acts like a baby and starts throwing at Yankees. He's a classless bum, and he always has been. In the next couple years, we're going to start seeing Beckett for who he really is.
Here are 5 'What's the Difference?' jokes about Josh Beckett.
-What's the difference between Josh Beckett and me, right as I'm about to get in the shower after a long day of rolling around in mud?
Josh Beckett is already washed up.
-What's the difference between Josh Beckett and Ben Roethlisberger?
Roethlisberger has a
gray penis
, while Beckett is just an aging dick.
-What's the difference between Josh Beckett and the Grand Canyon?
The Grand Canyon is a massive
ditch.
-What's the difference between Josh Beckett's hand and his ass?
He can only fit one baseball in his hand.
-What's the difference between Josh Beckett and Conferedate General Robert E. Lee?
They both lost to the Yankees, but at least Lee wasn't a total MOTHERF*$%ING F*HEAD SH*#BIRD C*%&BAG B*&$#!.
Also, Lee never wore a stupid hemp necklace.
That we know of.