Good morning, pals. Happy friggin' Friday. It's time for something I've been looking forward to for about two weeks now: a brand new feature! Hold your collective breath as we unveil:
THE FRIDAY PICK SIX


WEEK ONE
Here's how this works:
1)
Every week, a panel of six readers will predict the results of six events. Some of the predictions will be football games, some might be other sports, and some might be completely off the wall.
2)
With input from the panel, I choose the six events to be predicted each week. Every panelist picks the same events.
3)
Standings are kept. At the end of six weeks, the bottom two panelists are
DEMOTED.
Demoted where? To the hell of obscurity. Two new readers will take their place.
4)
Yes, I am a member first panel (Bloggers' rights, dude: it's in the constitution), and yes, I am subject to
DEMOTION.
5)
Along with their picks, each panelist will have a chance to
SOUND OFF.
Again, this can take any form.
Now that you know the format, let's meet the first six panelists in Pick Six history! I'm giving them all intimidating pictures to accompany their bio.
1. Spike!
Spike is a native of the Pacific Northwest, former resident of NYC, and current resident of Seattle. He was in Amsterdam for the World Cup, and wrote an
awesome dispatch
for this blog. He's a fan of the Mariners, Seahawks, and the former Sonics, as well as MLS' Seattle Sounders. He hates bed bugs. He's frequently mentioned on this blog as a source of much humor and wisdom. He's a practicing theater director, and once appeared naked on stage during a performance. He knows more about baseball than I probably ever will (and I know a thing or two about baseball), and he's also one of the funnier people I've known. Good fellow, that Spike.
2. Jill!
On paper, Jill and I are basically soul mates. She graduated from Duke my year, went to grad school at UNC, lives in NYC, and is a huge Yankee fan. Unlike me, though, she has a profitable job (big city lawyer). She might even have more swagger. Check out this excerpt from an e-mail she sent a couple days ago: "And not to be arrogant or anything (I love when sentences begin that way), but I have already won the trifecta for 2009-2010: yankees, duke, my central park softball team. All champions. Sigh. Now I have to win this too. I swear, I'm not competitive or anything." She went on to mention that while at UNC, "I was that bitch who wore my duke jersey to class on big game days and dealt with the onslaught of middle fingers, fuck yous, and random verbal harassment on the mean streets of Chapel Hill." On a very primal level, Jill is a badass.
3. Tom!
Tom is my stepfather, and another huge Duke and Yankee fan. He's a Long Island native, and has attended both the 1980 Miracle on Ice game in Lake Placid (which he announced for local radio) and Game 6 of the 1986 World Series in New York. He's a great guy to watch a game with, if you enjoy undying pessimism. Sometimes I do. He's a big golfer. He'll often send me chain e-mails written by an outraged neocon, comparing Obama to folks like Hitler. My mom doesn't let us talk politics in the house after an incident in college where I called him a 'fucking idiot' and stormed out of the room. Despite all this, he's hilarious, and we are very close. I nicknamed him T-Bone at some point, and now he signs at least some of his e-mails that way.
4. Carrie!
Carrie is another great friend of the blog. Like Spike, she's from "out west," but moved to Maine for college. There, she fell under the influence of a rotten crowd (Red Sox fans) and was slightly corrupted. Yesterday in the comments, though, she said she was switching her allegiances to the Rays for this year. So on the issue of baseball, Carrie has some trouble. Otherwise, she's a total delight, and a blog favorite. She likes baseball the most, and she wanted to mention that her predictions in football will be based on the following priorities (in order): uniform colors, mascot cuteness, player soundbites, when they introduce themselves at the Super Bowl and say that they went to college at "The School of Hard Knocks," when people shave Tim Tebows head in the shape of a monk, and stories about football that do not actually involve the actual game of football being played.
5. Nick!
Nick is a fellow Tar Heel (graduate school only, other terms and conditions apply) and one of the more knowledgeable sports fans I've met. He's a fan of the Florida Gators, where he went to undergrad, and pro teams from Chicago. One of the first nights we hung out, he sang most of the "Super Bowl Shuffle" song. He wrote a British Open
live blog
for SCSD. The dude loves golf. He also has a
great blog
of his own, can drink like no human I've ever seen, and has withstood have another guy's finger in his
nostril
. He's also of German descent, which I like to think accounts for his prodigious beer-guzzling ability.
6. Me!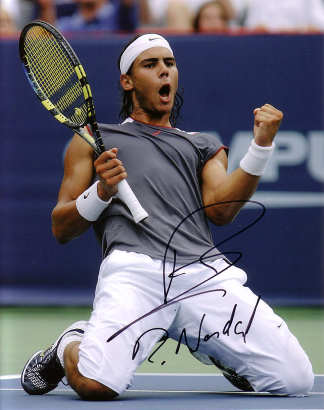 You all know me. I don't fuck around. I've never lost at anything in my life. I can have any woman I want. I am the current record holder in every sporting event. I build architecture. I live on the edge. I do yoga twice a week. I eat french fries with a fork. My name is on walls. When I order water at a restaurant, I go "don't spare the ice cubes,
sweetheart
."
Okay! Now that you've met the team, let's get this baby rolling. As I mentioned, we'll be making six predictions every week. Below is the roster for Week One. In all football games, the picks will be straight up, no spread.
1.
Miami vs. Ohio State, college football
2.
Georgia vs. South Carolina, college football
3.
Panthers vs. Giants, NFL
4.
Packers vs. Eagles, NFL
5.
Federer vs. Djokovic, Wimbledon semifinals
6.
Tom, esteemed panelist, is playing in his club championship this weekend. His best round ever is a 78, and his best round this year is an 81. His average score this year is between 84 and 88. He has a club championship under his belt, so he's shown the ability to play under pressure. However, on a bad day you might find him in the 90s. Predict his Saturday score. Closest guess gets 2 points, two next closest get 1 apiece, the rest get zilch.
Current Standings:
1. Shane 0-0
2. Jill 0-0
3. Spike 0-0
4. Tom 0-0
5. Nick 0-0
6. Carrie 0-0
Let's have it! Time for predictions and sound-offs!
Spike
Miami, Georgia, G-Men, Packers, Federer, 100
Golf is a mental game. A game that lives in that mysterious chunk of matter between the ears. A game that requires the ability to focus and calm the nerves even with the ultimate pressure. Even with the whole internet watching. I'm sure that if I knew that a half dozen people were publicly guessing my score in any given round on a blog as heavily trafficked and influential as SCSD, I would blow up.
It would start with a missed tap-in. I'd be all, "can I take it as a gimmie, I don't want to mess this up in front of the internet?" from 4 feet out, and someone in my foursome would shoot me a look that said, "really?" and shrug and I'd be all exasperated, and three putt. Then I'd follow this up with a huge slice on the next tee shot. Followed by an even bigger slice on my mulligan. By hole six I'd have a broken 5-wood, ("WHY DO I EVEN CARRY THIS FUCKING CLUB"), and an awkward cloud of silence would hang over my group. By hole 11 I'd be down a shoe, ("WHY DO I EVEN WEAR THESE FUCKING SHOES"), and I'd start begging the rest of the group to let me post an 88, because, "guys, I need this, for in front of the internet." By hole 16 it would be a full blown Richie Tennenbaum meltdown. Quiet sobbing, sitting on the green. But it's golf. So I'd have to play out the round.
Essentially, my prediction is that Tom will be pantsless ("WHY DO I EVEN WEAR THESE FUCKING PANTS"), on the 18th green, as he taps in for an even 100.
Good luck!
Jill
1.
Miami.
The 2003 Fiesta Bowl was one of the best football games I have ever watched. My gut tells me to go with Ohio State, but I am going with the upset. I am an ACC girl at heart, so in a toss-up, I have to go with the team that is closest to my interests. More importantly, the Canes feel like they are on the rise again, and winning in Columbus would solidify that. For some reason, the fact that Miami annihilated FSU in a 45-0 drubbing really stood out to me. Beating FSU is not exactly something to rave about, at least not like it once was, but it is still pretty damn impressive. This game will come down to the QBs and I have to go with Harris, who led the ACC in passing yards last year (although it should be noted that he also led the ACC in interceptions. Fun times.).
2.
Cocks.
This is the one I struggled with the most. A tough SEC match-up all around. But I like home field advantage. I also like Garcia, he is fun to watch. I respect Spurrier. They were surprisingly awesome last week. South Carolina is closer to North Carolina, where I spent a decade of my life. Yeah, my reasons aren't fantastic. It's really sort of a push, but we are going with the Cocks.
3.
Giants.
Here is my betting weakness: I cannot root or bet against "my" teams (no matter how ill-advised) - those being the Yankees, Blue Devils, Giants, Rangers, and I guess sort of maybe perhaps the Knicks (I would be a fool to ever bet on the Knicks, and I do not consider myself a fool, so it is the one exception to my loyalty rule. When they can competitively play against a Division II team, I will reconsider my position. Until then, James Dolan can suck it.). So there you have it.
4.
Packers.
I like Aaron Rodgers. Haunted by the ghost of the elderly Brett Favre, he shut the hell up and just did his thing. I also do not know what to make of Kevin Kolb, and until I see otherwise, I am going with the proven leader. I would wager a guess that Philly fans will eventually hate him no matter what, though.
5. Gotta go with
Rog.
He not only has incredible hair, he is pretty decent at tennis. I also do not think he likes all of this nonsense (read: the truth) about him getting "old" and losing his A-game. He totally is, but that is not the point. Rog wants this, Rog needs this. And Rog will have this. (Sidenote: I always want to cheer for R.Fed, and then I remember his treasure trove of ridiculous press conference comments about how awesome he is, and then I also remember that I sort of hate him and want to see him lose. Sigh.).
6. Anyone who signs emails with "Tbone" is pretty f-ing amazing in my book. I am going with
83.
Better than average but not a record-setting performance. A pretty satisfying Saturday when all is said and done. The year I was born. Who the hell knows? Golf is not exactly my strong suit. I just hope you kick ass, Tbone. May the force be with you.
Tom
My picks:
Ohio St., Georgia, Giants, Packers, Federer,
and 1st round score of
84.
This was suppose to be a stress free week for me as the Club Championship weekend is approaching quickly. Early week rounds have modest scoring in high 80's, but beginning to read the greens better. Performance under pressure is what I live for, whether it be in the classroom as a substitute teacher or supporting a family on a teacher's salary, especially when the child you're feeding is 6'2" and eats like a bear before hibernation. So a day off tomorrow, a 2 hour practice session on Friday and no single malt and pint chaser that evening. Tee time will be early morning, so the
CPAP sleeping machine
has to be working correctly. This is pressure, but
performance under pressure
is what I live for.
Carrie
1.
Miami
over Ohio State
Though I am quite possibly the least thuggish person on the entire planet, I am bizarrely fascinated by The U's sordid history. This was a tough call, though, because I really like how people call Ohio State "THE Ohio State."
2.
South Carolina
over Georgia
Hi, "Gamecocks". That seems super obvious. And if SC's mascot wasn't enough, I find it sort of unsettling that Georgia is on their seventh "Uga". Typically a lover of all things traditional and nostalgic, I actually think that's sort of twisted.
3.
Giants
over Panthers
I find Eli Manning precious in that he seems at most 13 years-old.
4.
Packers
over Eagles
I was recently debating the merits of a green and yellow pairing for bridesmaids dresses (none) and made the point that that color combination was solely reserved for sports teams. It looks fierce on the field.
5.
Federer
over Djokovic
Turns out, I have less to say about sports I actually love. Federer may be the easy and obvious pick, but usually, he's also the right one.
6. Tom's first round score in his Saturday round at the club championship:
84
As I've clearly established myself as something of a football expert, it may surprise you to learn that I know even less about golf. But I am nothing if not optimistic. Part of me feels like Tom could get match his ALL TIME low score, but I am going to play slightly more conservative than is my wont and settle at the low end of his average for the year. I'd also like to point out that I feel that this category is a little rigged.
Nick
Here's my picks,
I did all six,
Even if they suck,
I've still got more balls than Kruk
1. Miami v. Ohio State -
Miami.
The U is back. Randy Shannon has the best recruits within a 7-mile radius of campus. Jim Tressel has the entire state of Ohio and a closet full of sweater vests. Advantage Shannon - Jacory Harris becomes a Heisman candidate, Tyrell Pryor becomes a wide receiver.
2. Georgia v. South Carolina -
South Carolina
I hate Georgia. I hate Mark Richt more
3. Panthers v. Giants -
Panthers.
Matt Moore is better than you think. John Fox is going to be coaching the Giants next year.
4. Packers v. Eagles -
Packers
Kevin Kolb's a joke. Philly fans will be booing him worse than Santa Claus in a Cowboys jersey.
5. US Open Semi:
Djokovic
If there's one thing I love, its Serbians.
6. Tom's first round score:
81.
Go get 'em T-bone.
Me
Miami, Georgia, Giants, Packers, Federer, and 87.
As editor and compiler, I have the advantage of seeing everyone's picks before I make mine. If things get close, I'll forfeit this right, but for now I'm loving it. I think my favorite of all the above material was Spike getting in Tom's dome and predicting 100.
Miami is a heart pick (hate OSU), but not an outrageous one. If you had to pick the most overrated team from the past ten years in CFB, it would be the Buckeyes, right? The two options for that team are disappointing everyone in the regular season by losing to a school that recruits mainly on corn farms, or surviving a crappy Big 10 and getting murdered by an SEC team in the BCS Championship. I'm picking Georgia because I enjoy seeing Steve Spurrier have meltdowns on the sideline. He reminds me of evil geniuses in movies who think they have the perfect plan, and then watch human error ruin it for them. He's even a little like Buford T. Justice in 'Smokey and the Bandit.' I think we'll be seeing him hit his QB with his visor at some point.
I included the Giants game just so I could start the "I Ride with Eli" campaign for 2010. Like a lot of people, I think the Packers will break out this season and get close to the Super Bowl. Federer is magic. He won't lose to the Djoker. Sad as this sounds, I had a dream last night that he beat Nadal easily in the final. It was disappointing.
As for Tom's score, this is one where I really used the knowledge of the other picks. Cheap? Probably. But as long as I picked above 84, I'd be at least second place if he didn't have a great round. I just checked the weather, and it's 76 and sunny in Saratoga tomorrow. But this is the club championship, and he's averaging between 84 and 88 this year. You're telling me he's gonna come out gunning and go sub-84?
PLEASE. 87
at best.
I'm with Spike on this one. Watch those four-footers, T-bone!
YIP! YIP!