Remember when people were pretty enthusiastic about Barack Obama before the election, but there was still some uncertainty, and a few idiots were like "OMG MCCAIN JUST CHOSE SARAH PALIN WHAT A MAVERICK MOVE THAT WILL CHANGE THE WHOLE ELECTION!"? And all you heard was that every single woman was going to vote for McCain now, and maybe the polls weren't looking so hot anymore, and you got kinda worried? And then, overnight, the whole fucking economy collapsed? And McCain flew back to DC for no reason (note: I'm going kind of free and easy with the facts at the moment) and looked like an idiot, and all the sudden people were like SHIT, we probably need Obama now?
Well,
last night
was CC's collapsing economy moment. After throwing 8 shut-out innings, earning his league-leading 19th win (the 16th straight at the Stadium!), and lowering his ERA to 3.02, this shit is starting to look real. Because here are the facts:
1.
Rightly or wrongly, 20 wins is a big number in Cy Young voting.
2.
Sabathia is going to get his 20 wins. My guess is that he'll end with 22.
3.
Nobody else in the American League is getting 20 wins. Each pitcher has 5-6 starts left, at the most, and David Price is the closest with 16. I guess it's sort of possible that he manages to land exactly on 20 with a hot September, but it's not likely. Smart money says CC is the only one to make it.
4.
He's 2 scoreless innings away from that ERA dipping below 3. Again, that's a big milestone.
5.
He's a hoss. His 202 innings are second only to Felix Hernandez (the loser from Seattle who can't win more than 10 games because he's not mentally tough, according to stats). If voters are looking for a supporting argument to go along with the 20 wins, this is it.
Look, we all know the Sabathia
Cy Young
Campaigns
are a little tongue-in-cheek. Buchholz still deserves the award as things stand today. But the truth is this: there are compelling numbers to support the man they* call Ursa Major. Yesterday's shut-out was all over the news, and his 20th win will be front and center too. There's nothing like being fresh in a voter's mind to boost your chances. Two to three more quality starts, and the whole Yankee train's gonna be pulling into Cy Young Station.
Choo choo, motherfucker.
**
*I
**Unnecessary.
Good God, I just realized we have to play the Jays again this weekend. How many times do we face that team, 50? And it's not even the last series! Sweet fuck. Games against the Blue Jays are just not fun. It's like listening to an old woman showing you her stamped passport after a trip to Europe.* At least Ivan Nova is pitching...maybe he'll hit Jose Bautista with a fastball and a bunch of steroids needles will drop out of his uniform when he falls over.
*This is the most common shared annoying experience I could think of.**
**I'm killing it with the asterisks today.
Speaking of beanballs, here's something I've always wanted to see happen: a pitcher hits the batter, the batter charges, but the catcher picks up the ball and throws it back to the pitcher real quick. So as the batter charges, the pitcher winds up and beans him
again.
Wouldn't that be great? Here's another one: the pitcher beans a batter, and then charges him. Like just immediately dashes in to start a fight after delivering the beanball. Tell me both of these situations wouldn't be awesome.
I promised some college football content, so here we go:
Did you guys know college football started last night? The best game was Utah's
27-24 OT victory
over Pitt. This game produced TWO sweet pieces of content for SCSD!, and there they are:
1. THE LINE OF THE NIGHT!
From Spike:
"There's gonna be some heavy petting tonight in Salt Lake. Or wherever the fuck the university is."
2. THE DOUCHE OF THE NIGHT!
Kyle Whittingham, head coach, Utah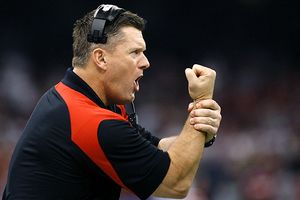 I actually feel kinda bad about this one, because he might be the nicest guy in the world. But man, he looks like a dumb, mean football coach. He's got the kind of cocky jock face that really pisses me off. He's real smirky, you know? It got me viscerally angry watching him go up and down the sidelines.
Am I the only one here? If I'm the only one, I'll shut up...
Close second for Douche of the Night:
ESPN announcer Joe Beninati. Holy shit, is this guy insufferable. If you don't know him yet, believe me, you will. He's got this raspy, smarmy vocal thing going on, where you can tell he's real arrogant and thinks he's hilarious, but his humor is cutting and snide. Not a fun dude.
Hey, readers, check this out:
I want to have an NFL prediction contest this season on the blog. It's not for money, just pride...basically, we pick every game of the season against the spread and then keep track of who makes the best picks. My pals Nick and Spike and my stepdad Tom are in (I haven't told Spike or Tom about this yet because Nick and I came up with it during the booze hour last night, but hopefully this sneak coercion attack works), and I would like you to join as well. Do you have a unique angle on things? Do you enjoy the NFL (or not)? Would you like to write a paragraph (of a length you determind) for SCSD! every week, probably on Fridays? Do you mind paying one thousand American dollars* for the pleasure? If so, drop me an e-mail at shane.spr8 at gmail dot com, or just be in touch if you know me in real life. I'm looking for a mixed bag, so don't let a lack of football knowledge scare you away. This is geared more toward hilarity than having precise football picks. And I know I have some funny-ass readers.
*Price lowered to zero dollars if you write a flattering haiku about Eli Manning.
Have a great weekend, enjoy the college games.