So.
Swisher got pie
.
Which is cool. I'm not saying it's not cool. But before his blast, the Yank were 2 outs from getting swept by the Orioles. Granted, we reeled off 8 in a row very recently, but still. It's the Orioles. Which leads me into our first feature:
The Mysteries of Baseball, 2010
1. Has there been a worse 'best team in baseball' than the Yankees?
The answer to this question is probably yes, but we have to be up there. I don't mean that we're bad in terms of talent, or games won during the regular season, or any of the typical measures. What I mean is how we're shaping up for the playoffs. Our ace pitcher is capable of great performances, but he can also give up 6 runs to the Orioles on a given start. I wouldn't call him dominant by any stretch. Even his ERA is just "above average" at 3.14. And after CC, it goes wayyyy downhill. Nobody knows what the hell we're going to get from Pettitte, if anything. Hughes has had a rough second half, and his 16 wins might be the most deceiving stat in baseball. Then there's AJ (wildly inconsistent), Javy (totally unreliable), and a slew of peripheral guys who will never see a start.
On offense, it's difficult to complain since we've scored the most runs of any team by 50. But like any offense, we're always liable to go into a prolonged slump. In this three-game stint with the Orioles, for example, we scored 3, 2, and 3 runs, respectively. And each game was against a pitcher with a sub-.500 record and an ERA north of 4.7. In the playoffs, the quality of pitcher increases, as does the tension. The environment favors low-scoring games. And if our offense chooses the wrong time to hit a rough patch, we don't have the starting pitching to atone. You never want to enter the postseason counting on your offense to win games. Look how well it worked for the yanks between 2004 and 2007. This seems like one of those teams.
2. But really, where are the great teams this year?
In the AL, Texas' fortunes have changed overnight. Lee is a question mark, Hamilton might be done for the season, and you have to wonder if they'll win even one playoff game. Tampa has good pitching and good offense, but somehow they seem to fade every time they get close to the AL East lead. Minnesota is probably the best team in the league at the moment, with 6 straight wins, a powerful offense, and depth at starting pitcher. But they're missing Morneau, and they still have to prove they can actually win a playoff series.
In the NL, San Diego may be in the process of blowing a great season. Atlanta and Philly are dueling in the east, and the loser will probably get the wild card. Halladay gives the Phils a nice advantage, and he'll probably be the best pitcher in the playoffs. But both teams have been a bit lackluster in a division that is frankly pretty weak. In the central, Cincinnati has dropped 4 straight and will probably end up holding on for dear life as St. Louis makes a run.
So where are the world-beaters? Are the playoffs really as wide open as they look?
3. Speaking of St. Louis, why aren't they way better?
They have three starting pitchers with an ERA under 3! No other team in either league has more than one. That's incredible. And they have Albert Pujols!
Looking at the stats, they've allowed the second-fewest runs in the NL (Atlanta), but their offense seems to
only
have Pujols. They're middle-to-low end in all the major offensive statistical categories. This is the classic example of a team built to tread water in the regular season who could be very, very dangerous if they sneak into the playoffs.
4. What's the deal with Tampa?
Are they getting ready to blow everyone out of the water? Why are they 23rd in team batting average and 25th in hits, but 3rd in RBI? How does that make sense? Will Carlos Pena stop being terrible soon? Is their starting staff the best in baseball, or slightly overrated? How do they stack up with Minnesota?
I don't know exactly what to think of this team. They play the Yanks seven times in the next two weeks, so I should have a better idea by playoff time.
5. Can Carlos Gonzalez win the Triple Crown and lead the Rockies to the playoffs?
All the sudden the Rockies outfielder is leading in RBI and average, with a hefty .14 point lead in the latter. He's only 4 home runs off the pace, which seems like a lot but can be made up with a really great day. He's red hot, and so is his team. Colorado has won 6 in a row, and are now just 4.5 games out of first place. Standing in their way are the Padres, who until recently could not buy a win. It could be another exciting finish, a la 2007, for the rocky mountain boys.
That'll have to do for now, though I have more questions. Moving on, I have to address Google.
Dear Google:
You guys rarely make a misstep. But this instant search thing is annoying. I know it saves "
2-5 seconds
." Great. But there's something satisfying about typing the search out, hitting enter, and watching you guys go to work. I don't like the instant feedback as I'm typing. It's unnerving. I want to collect my thoughts, get it all in the search bar, and feel good about what I've entered before I commit. Instant search is not working for me. It lets me see too far into the inner workings of your machine. I just want the machine to work. I don't want the machine telling me how it works. It's impressive, sure. But in the end, it's too much information. You need to back off.
(For the record, it's easy to turn off. I'll give you that.)
Now that that's off my chest, time for some
tennis.
I expected a classic match between Soderling and Federer last night, but instead it was a
laugher
. The Swede looked like his old self, letting the wind and minor failures rattle him. In the third set, he looked to be back on track when he broke Federer twice to give himself a 5-3 lead and a chance to serve for the set. But the Swiss champ broke right back, and didn't lose another game on his way to a straight set win.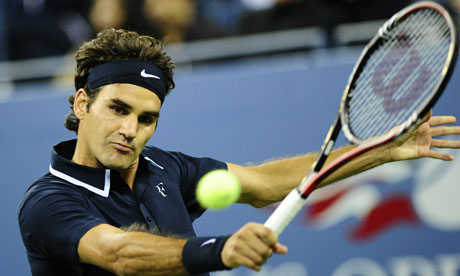 It was really a master class from Roger. He has the most beautiful tennis game of any player in history, and it was on full display last night. The really remarkable thing is his ability to turn defense into offense. Over and over, he hit winners from positions where ordinary players would have struggled to even find the court. He actually seems to enjoy being on the defensive, and he definitely enjoys the way difficulty can be turned to triumph in a clever instant. And it has nothing to do with the spirit-breaking mental effect it has on his opponent, which is significant. Federer seems almost unaware of the man across the net, and his pleasure in the game is fairly private.
That's a direct contrast to Nadal, who is unabashedly confrontational. His style, and his celebrations, and his entire bearing are designed to work their magic in the mind of the opponent. It starts right at the coin toss, when he jogs in place, muscles bared, staring down the enemy, and it persists throughout. The aggression isn't dropped until the gracious handshake at the net. Which is why his matches against Federer are so interesting. Nadal's grinding nature and his relentless focus are direct assaults on Roger's secret realm. The warlike Spaniard is insistent; Federer may win, but he'll be forced to depart his private kingdom and confront Rafa on cold, hard earth.
That's why the few breakdowns in Roger's career have come against Nadal. He's unsettled; he's in a strange land. Someone had the nerve to confront him, and it's not a pleasant experience. It's a little like watching a wizard fight without his powers. The long robe and the white beard seem a bit less intimidating, a bit more vulnerable. In their last major clash, the 5th set in Australia, Roger looked like he wanted to escape rather than win. The memory of Wimbledon was fresh, and this second loss brought him to tears. He's not a fighter by nature; he prefers to win from a distance.
Can you tell I'm really, really excited for the possibility of Federer-Nadal in the finals? Rafa has to beat Verdasco tonight, and that should be a match of incredible difficulty. If he pulls it off, he'll face either Wawrinka or Youzhny, an easier match. Federer has to play Djokovic in the semis, and I can't imagine he'll lose. Put it this way: it's close enough for pondering. The added drama of Federer trying to regain his championship form, and Rafa going for the career slam, makes it totally irresistible.
See you tomorrow with an exciting new feature:
The Friday Pick Six,
where readers like you sound off on the world and compete for honor.