Happy Monday, gang. Since I'll be attending a lot of local college football games this year, and since I decided to
follow
the Tar Heels as they slowly lose their entire team to academic or NCAA infractions, I figured it would be a good idea to start a new feature.
THE TOBACCO ROAD FOOTBALL REPORT:

DOCUMENTING MISERY
-First things first: UNC lost to Georgia Tech
30-24
, and Duke lost to Alabama
62-13
. I was at both games, and am in a position to give you all the "inside dope."
-Look, I know people are going to see that Duke score and look at the negatives first. Yeah, they'll make their jokes, tell their stories, have their fun.
But let me tell you something:
those Duke kids left their heart out on that field. Unfortunately, they left their dignity, pride, football skills, and the 'fight' part of their fight-or-flight response on the sideline. It happens.
-Still, I saw a lot of good things from the Devils. There were a couple times where Cutcliffe's offense nearly strung together two complete passes in a row. You could see the Tide fans sweating, and I think they learned that Duke has arrived as a football school.
-Speaking of the folks from Alabama, they absolutely took over Wallace Wade Stadium. There were 39,000+ fans, and I'd say 25,000 of them wore Crimson. We arrived at the end of the first quarter, coming from the Carolina game, and met a steady stream of Dukies leaving the game. The walk from the parking lot to the gate took about 10 minutes, and my stepdad Tom was listening to local radio on headphones. He kept us updated as we walked across campus. "14-0," he'd say. "Ingram got another." When we started walking, it was 7-0. By the time we found our seats, it was 28-0. Anyway, it was a little embarrassing that a team from over 500 miles away turned this one into a home game. Word has it that a lot of Alabama fans actually bought Duke season tickets just for this one game, since the price was cheaper than whatever the school was charging for a single away ticket.
-I met one of the Alabama fans on Friday when we were on campus. Like a lot of Bama fans, he thought he was Coach Eric Taylor from Friday Night Lights. He was around 50, and he wore khaki shorts, tennis sneakers, a tucked-in short-sleeved Alabama polo, and sunglasses. His expression never changed from stoic while we spoke. He kept answering my questions by calling me 'sir.' I think maybe he thought he was an assistant coach. Anyway, I found out from him that this was Alabama's longest trip of the year, and that they basically have a very large bevy of fans who travel to each away game. Sometimes they can't all get in, but they go anyway to tailgate and see other campuses. I concluded that college football is the closest America comes to European hooligan culture.
-I bought this shirt on Friday at the Duke Team Store. I think it's amazing:
Whoa! It's a
showdown,
everyone! Only one team can leave this stadium alive! Seriously, who the hell would think to make this shirt? Talk about presumptuous, Duke. I saw a guy in the parking garage elevator wearing the same one, and he joked that the Alabama helmet should have been pristine and polished, and only the Duke one should have any cracks.
But I'll admit: after buying the shirt, I was kinda hoping for a blowout. If Bama romped as expected, it would instantly become the most hilarious article of clothing I own. I can wear for this years now and never stop being amused. "THE SHOWDOWN AT WADE!" I might take it to every Duke game I attend this year, starting with Army next weekend.
-Guys, Alabama is incredible. It was worth the price of admission to watch them at work. They're huge, unbelievably quick, and so well-coached. Saban is a little genius, stalking the sideline with that slouching gait, his head down, dreaming up ways to win. And the players are goliaths. The best moment of the day came with Duke on offense. They ran a pass across the middle, and it was tipped incomplete. But Dante Hightower, the gigantic Bama linebacker, didn't see the tip. He leveled the receiver as he came across. But during the tackle, he seemed to realize the ball wasn't coming, and immediately after he drove the wide-out into the ground, he grabbed him by both shoulders and lifted him back up. It was instantaneous. One moment you saw a guy being demolished, and then the next both players bobbed up as if pulled from behind on a string. I think Hightower was being nice, but it was absolutely the most intimidating thing he could have done. He treated the receiver like a very light sack of wheat. When it happened, everyone in our section responded. The reaction went from a groan of pain to a plea for a late hit to an almost silent 'whoa' to amazed laughter. My stepdad and I looked at each other and just shook our heads. Both teams had D-1 athlete, but the difference is absurd.
-Sitting across the aisle from us was a college-age kid wearing Duke gear. When we arrived, he looked absolutely miserable. It was clear he was the kind of dude who thought that maybe, just maybe, Duke had a chance to pull off a stunner. He had a long
hunting horn
on his lap, and every time Duke got a first down, he'd blow it. But because Alabama had already broken his spirit, he maintained his devastated expression. One of the highlights of the day for me was watching him blow that horn. The deep, plaintive sound, combined with his look of utter hopelessness, might be the most perfect summation of Duke football I've ever come across.
-On to Carolina: they blew this one. Georgia Tech had one of those boring college offenses where they all do is run the option. Sometimes they pass out of it, and sometimes they run a reverse, but everything starts with the option. As any college fan realizes, this kind of offense hasn't produced a national champion in about 20 years, but it can succeed in limited situations against bad or depleted defenses. UNC falls into that second category, and in the first half they looked absolutely hopeless. But adjustments were made, and the option was basically shut down after halftime. That's when the offense took over the reigns of haplessness and blew the game.
-It was 17-all at halftime, and in the concourse fans were making comments about how the last team to have the ball would win. There were no punts in the first half, so it certainly looked like that might be true. But the UNC defense put Tech on the ropes early on. UNC had not one and not two but
three
possessions with a chance to take a two touchdown lead. On the first, Butch Davis ignored the fact that Johnny White was running roughshod, and called a pass play that failed. It set the team back, and they had to punt. On the second, near midfield, a missed hand-off resulted in a fumble on the first play. On the third, again near midfield, Zack Pianalto lost a fumble after a catch. By that point, the defense was dead tired and conceded 13 points before the end of the game. The offense had more chances to win, but couldn't make any progress.
-I feel bad for Pianalto. I really do. He's the guy who dropped the 2 balls in the endzone against LSU. And I realize there are many reasons why UNC is 0-2, the suspensions chief among them. But if the senior tight end had played mistake-free both weeks, the Heels would be 2-0. It's that simple.
-Sad to say: this season is basically over. It started out with such hope, and then the suspensions kicked in. Everyone thought two guys might be done for the year, and now there are twelve sitting out. The two close losses rankle, because everyone knows they would have been wins with the right personnel in place. Two games in, and already the chief emotion among fans is regret. That's not a good sign. Unless the Heels magically get their guys back next week, I can't see them recovering from an absolutely crushing start to the season. I'm not even sure I expect them to go .500 this year.
-My thoughts on the atmosphere at the game: eh. Not much passion, to be honest, despite the full stadium. I realize the suspensions may have taken a bite out of the student body, and it was a hot, hot, hot day for a noon game. Still, though, you expect more in a close game, in a home opener, against an ACC opponent. When UNC's final drive stalled out, the fans streamed away, as if grateful the day in the intense heat was ending. Afterward, my friend Nick reported that the general theme at the post-game parties near campus was "when does basketball season start?"
-Note to UNC: Basketball season won't be much better. Sincerely,
this guy.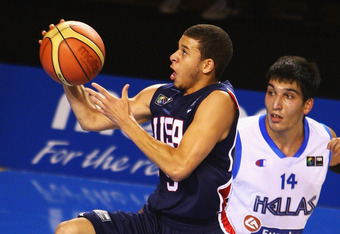 -The crazy part is that despite the blow-out, I'm more excited to watch Duke football this year than Carolina. At least one program is ostensibly on the rise. You couldn't have scripted a much worse start for the Heels, short of writing in a plane crash.
-Sometime during the first half, five Georgia Tech students came and sat in the middle of a Carolina section. Granted, they were among the adults in the second tier, not the rowdier student body area, but nobody gave them any shit. They were proud as peacocks to be showing their colors amidst the enemy, and nobody took them to task. I can't imagine this would be possible at an SEC school. It wasn't as embarrassing as the Red Crush in Wallace Wade, but it was sad nonetheless. There were some mumbled comments from the UNC faithful, and that was it. To me, this is the kind of situation where you need a classless goon to throw a soda at them, or something. Or at least a wisecracker to talk shit until they feel so uncomfortable that they leave. But nothing like that was forthcoming; they felt totally at home cheering their hearts out for the Jackets in a sea of powder blue.
-They should rename Kenan Stadium "Bottleneck Stadium." I didn't realize it when I was there in the preseason, when the place was largely empty, but the design at that place is really, really poor. The concourses and gates are far too narrow. It took me out about a half hour to even enter the stadium through the student gate, and at halftime there was almost no movement in the concourses. In the press of bodies, you were lucky to make it fifteen feet before turning around to get back to your seats.
-Important note: the bands at Duke and UNC both played "California Girls" by Kate Perry.
That'll do it for the first Tobacco Road Report. Tonight, the final Yanks-Rays series of the regular season starts in the Bronx. It's going to be four days of total intensity, and I can't wait. In other news, the Giants secondary still stinks. I'm not sure what our d-backs are doing out there, but they're certainly not covering the other team's eligible receivers. It's going to be another long year. 8-8, here we come.