Baseball is never easy in the American League, particulary in the AL East, but the Yankee schedule to start the year seemed especially daunting. Three games in Boston, three games in Tampa Bay, and then a home set against the Angels. Each of those teams has a great chance to make the playoffs, and, along with the Yankees, may form a complete list of the elite teams in the AL.
But today, hours away from surviving the nine-game stretch, the Yanks have a chance to emerge with an excellent 6-3 mark, and three series wins. On paper, it's exactly how you want to start the World Series defense.
Off paper, I could nitpick. Javier Vazquez
looked like hell
for the second time yesterday, lending credence to the belief that last year's 2.87 ERA was an anomaly that owed a lot to pitching in the National League. If last year taught me anything, it's not to panic too early in the season, but have a look at his ERA numbers with the White Sox, D-Backs, and Yankees, starting in '08 and working backward: 4.67, 3.74, 4.84, 4.42, 4.91.
I'd take that 3.74 in a heartbeat, but the current 9.82 total isn't gonna fly. A great year for Vazuez would be 14 wins, an ERA hovering around 4, and something approaching 200 strikeouts (a total he's surpassed in 5 of 12 major league seasons, though he's gone past 190 in 10 of those 12). It's probably too early to look at advanced metrics, but through two starts there's nothing very alarming. His walks are way up, and opponent BABIP (batting average on balls in play) is up, but his line drive rate is normal and the batter swing percentages aren't alarmingly high. His first pitch strike rate is pretty far down, which could be an indication that he's losing confidence. The most worrisome of all is that his average velocity is below 90, the lowest it's been in the past three years. But again, it's early.
Otherwise, the starting pitchers look terrific. CC's already flirted with a no-hitter, AJ had a nice second start after struggling in Boston, and Andy is being himself. We get to see Hughes for the first time today, which should be exciting.
In annoying news, one of my fantasy pitchers is starting agaisnt the Yankees for the second time already. First Lester, now Kazmir. I suppose this is to be expected.
Time now for a new weekly feature:
THE ROBINSON CANO WATCH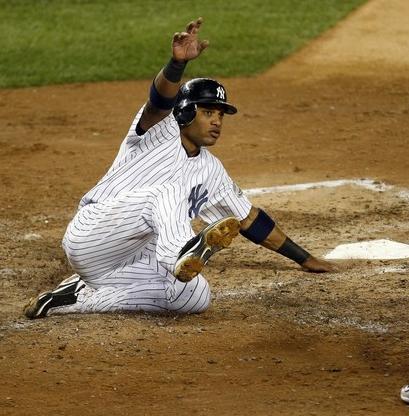 Thursday, April 15th
: After 8 games, Robbie is 9th in the league with a .382 average. He has 2 home runs and 6 RBI. He still never walks (1 on the year, for a terrible 2.8& rate), and he still swings at bad pitches (34% outside the strike zone, compared to a 26% league average). But his line drive % is way up so far, at 28%, and he's hitting fewer weak grounders. Woo-hoo!
He's flawless in the field, sporting a nice 1.000 fielding percentage.
That's it for the morning, more later.