(SCSD now has multiple daily posts. Don't miss the others below.)
I've decided not to screw around with fantasy baseball since you can find rankings and what-not on one out of every five internet sites in the world. No need to slightly increase that ratio. Instead, a few links and things.
*Dana O'Neil, who is absolutely knocking it out of the park with her Duke coverage lately, delivers again with a
great article
about Singler and Thomas. Both are visual arts majors, and seem more active in the academic world than your average college athlete. Sing spent time over his summer vacation visiting museums in France, and Lance Thomas made posters for each of his teammates as a capstone project. Check out Sing's t-shirt design to commemorate our undefeated home record this season: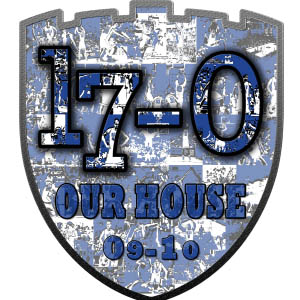 The full size, detailed version is too big for the blog, but you can see it on the ESPN page. Not bad, in my humble unqualified opinion. Will I buy one if they're on sale? Yes. OUR HOUSE!
*Stewart Mandel from CNNSI writes a
nice article
about the Dukies. In a sea of media hate, it's nice to see someone recognize the difference in this year's team. I'll never understand how a group of scrappy overachievers who out-work every opponent can be considered the most hated team in America.
*In a fun
ESPN chat
, resident curmudgeon Jay Bilas picks his alma mater to win it all. And I loved this exchange:
Carey (NY)
Some people are saying Boeheim caused the Cuse the game agaisnt butler? How do you feel?
Jay Bilas (2:43 PM)
I feel great. A little tired, and I am just getting over a cold, but I feel great. Thanks for asking.
*The 96-team tournament
is happening
. Like everyone else, I think this sucks. Can we all agree to just ignore that first round, and tune in when the field is down to 64? Here is Bilas' take, from the chat:
"It is happening, so get used to it. The NCAA will do it because it now owns two tournaments, the NCAA Tournament and the NIT. It costs less to administer one bigger NCAA Tournament than two tournaments, and the NCAA can get more money by rolling the NIT into the NCAA Tournament. Plain and simple. Then, the NCAA will be chock full of lousy teams that have no chance to win, and the Committee will be completely lost in seeding. There will be automatic bids for conference regular season champions, so we will have multiple bad teams from tiny conferences instead of just one. I would love to say that this is a great idea, but it is not. But, it is not the end of the world. It will still be a great event, but it won't be as great."
*UNC plays for the NIT title tonight at 7pm against Dayton. I really, really want to buy an "2010 NIT Finalist" t-shirt in Carolina Blue. Actually, though, I'll be watching and rooting for the Heels. Dual titles would be pretty awesome.
See you bright and early tomorrow. I'm already starting to feel the nerves.