1.
You know who I'm talking about: Sweet Robbie. The man with the magic bat.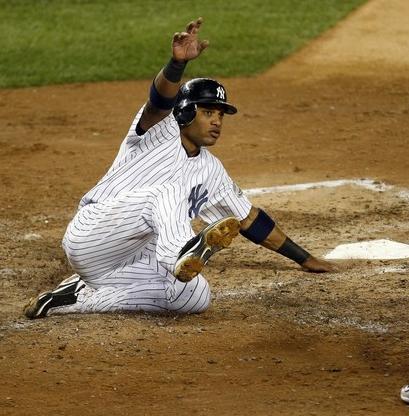 Last night, he hit two more home runs and a double to increase his league-leading average to .407. After last night, his numbers looked like this:
AVG: .407
OBP: .444
SLG: .790
OPS: 1.235
wOBA: .510
HR: 8
Hits: 33
Runs: 21
Total bases: 64
He leads Major League Baseball in every one of those categories except home runs; Konerko has 10, and Kelly Johnson 9. He'd also probably be leading in RBI if Teixeira or A-Rod could ever get on base in front of him. He has 17 at the moment, and Miguel Cabrera leads with 25.
So you know what this means: today is April 30th. Unless he runs out to second base tonight, drops his pants, does a lewd dance in front of some kids, gives the middle finger to every camera in the Stadium, and burns an American flag on the pitcher's mound, the dude is
PLAYER OF THE MOTHERFUCKING MONTH
.
I've never seen a hitter catch fire like Cano has this month. The last week in particular has been spectacular. He's 13 for his last 21, and most of the outs have been smoking liners right at a fielder. I get excited every time he comes to bat, and each new hit actually makes me giddy. I've spent the last few Yankee games jumping up and down, waking up my girlfriend, and calling my stepfather to rave about the current best player in baseball.
On the Yankee message board I frequent, spirits are equally high. "How many times can a guy play in an infield with three future Hall of Famers, and be the best of the bunch?" one poster asked. Others are saying he'll someday be known as the best second baseman to ever play the game. It's getting hyperbolic, yes, but even that is a sign of someone's greatness. Another obvious sign is that people are striving for nicknames. I've always liked calling him Sweet Robbie, because of his free and easy style, but there have been some other good contenders:
Obi Wan Canobi (the force is with him)
The Holy Crow
The Holy Crow is my favorite right now. I'm trying to find out where it comes from, and I don't quite get it, but it's awesome nonetheless.
2.
Just when you thought I couldn't rave about Cany anymore, DID YOU SEE THAT PLAY HE MADE IN THE FIELD???? DID YOU SEE IT??
Go to
this
site, and scroll down to the listed highlights. The Cano video is in the second row. Click on where it says "Cano throws across his body for the out." You also might be able to see it directly by going
here
, but don't quote me on that; MLB video always foils me. Let me embed, you bastards. Anyway, don't miss the casual bubble blowing as he goes around the horn, and the shit-eating grin. That's the look of a guy who knows he's awesome, and doesn't need to say anything about it.
The play is ridiculous. It's absurd that a human being could make that throw. I don't think anybody playing the game today could have done it. Joe Morgan, the greatest second basemen of all time, has said before that he's never seen anyone make that play better than Cano. Granted, Joe Morgan is kind of an idiot as an announcer, but second base is one thing he knows.
Afterward, Jeter just stared at him and didn't say a word. When they asked Girardi after the game what it takes to make that play, he said the following: "it takes great range, a great arm, and it takes being able to throw a strike without looking."
Without looking! Here's what the
Times
said
:
And on Thursday, Cano supplied a defensive play so superb that, as he watched it from beside the mound, Burnett put his hands on his head in appreciative disbelief.

"When he threw it, I was like, I should be backing up first," Burnett said. "But when you're that good, I guess I don't have to."
An ESPN
article
claiming Cano is having the best April in Yankee history said the following:
He also completed a defensive play that was so spectacular Yankees starter A.J. Burnett nearly cried out, "Oh, my God!" on the mound, while Cano's manager, Joe Girardi, said he has never seen anything like it.
...
The play Cano made in the third can be classified as utterly ridiculous. Nolan Reimold hit a hard grounder up the middle. Burnett was already kicking himself, thinking Cano had "no chance" to get to the ball.
Quick aside: what does it mean when someone "nearly cried out"? Does that mean he actually
didn't
cry out, but the journalist wanted him to, so the whole 'nearly' gambit comes into play? Interesting, ESPN.
Anyway, Cano is a damn beast. He's a baseball messiah. He's bringing joy and awe wherever he goes. Tonight, I get to see him live and in person on the last day of a month he's owned. Guess which t-shirt I'll be wearing? I am so psyched.
3.
Here's a
great piece
by Yahoo sports on Jorge Posada. They interview about the best pitchers he's ever caught. My favorite tidbit was that he was afraid of David Cone. Oh, and the revelation that Pettitte used to throw a nasty knuckler in the minor leagues:
"When I got to two strikes, I was going to throw a knuckler as hard as I could," Pettitte said. "I struck everybody out with it." His coaches ordered him to scrap it. One of the coaches was Hoyt Wilhelm, a Hall of Fame knuckleballer. They promised him when he was in the major leagues for 10 years, he could start throwing it again. So? "I can't," Pettitte said. "I lost it." As he recalled, he threw two to Posada. One hit him in the shin, the next in the foot. Posada took off his mitt and warned, "I'm not catching you again if you throw it." Pettitte: "My nickname was 'Knucksie.' I'm not kidding.")
Thanks to Spike for the link.
4.
Apparently the Yankees are not the
most hated
team in baseball. Based on a survey by the
Wall Street Journal
, that honor goes to the Cleveland Indians. Apparently there's some complicated formula that goes into determining positive or negative feelings based on online-brand reactions, and the Tribe topped the list. It sounds like bullshit to me, but whatever. Isn't Cleveland the lovable loser team? I mean, they were even the good guys in the Major League movies. The Yankees were the Evil Empire. I can't think of anyone I know who hates Cleveland. Pity, sympathy, empathy...sure. But hatred? The only people who could possibly hate the Indians are their own fans. And self-loathing is different than the kind of hatred opposing fans reserve for the Yanks and Sox.
5.
Yankee starters continue to roll.
AJ went 8 scoreless innings, giving up only three hits, in a performance that deserved more attention than it received. Besides Vazquez, our highest starter ERA belongs to Sabathia at 3.12. And he's still the guy I'd most want on the mound in a big game. If Teixeira and A-Rod ever start hitting, this team will be totally unbeatable.
Okay, that's it for the morning. The official A-Rod blog launches this afternoon. Until then, here's a gift for those of you who want to watch the Cano play on repeat. This .gif doesn't it justice, and I highly recommend the version on MLB video, but it's still fun: